Annick Goutal Les Orientalistes: Ambre Fétiche, Myrrhe Ardente, & Encens Flamboyant {New Perfumes}, New UK Annick Goutal Boutiques {Scented Paths & Fragrant Addresses}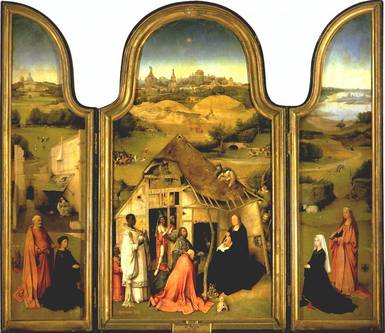 Adoration of the Magi by Jerome Bosch, Prado Museum
As previously announced, Annick Goutal parfums will launch a triptych of perfumes centering on three different ingredients seemingly illustrating a Magi theme, just on time for the Holiday season.
More information is now available; the new fragrances are called Ambre Fétiche (Amber-Fetish), Myrrhe Ardente (Perfervid Myrrh), and Encens Flamboyant (Flamboyant Incense) and compose a collection called Les Orientalistes. They will debut in France in December of 2007 and be internationally distributed in 2008.
Ambre Fétiche has notes of: amber, incense, labdanum, styrax, benzoin, orris absolute, vanilla, cuir de Russie........

Myrrhe Ardente has notes of: myrrh, vanilla, tonka bean......
Encens Flamboyant has notes of: black pepper, rose, incense....
A fourth musk fragrance will be added for Valentine's Day 2008.
The 100ml EdP is priced at €120 and the gift set of 3x 50ml parfums is priced at €500.
Also, Annick Goutal is expanding and will open its first store abroad,
The brand will also open its first boutique outside France by year's-end. The 100m² store in London's Motcomb St, in the posh neighbourhood of Knightsbridge, will be Annick Goutal's biggest store yet. The store is strategically placed to capture the international, affluent clientele that frequents this area,
A second store in Mayfair is planned to open in 2008. In France, the company is focusing on strengthening its existing network of boutiques. In June, it opened its largest French store in Paris on the Boulevard Victor Hugo, as well as an e-commerce website. According to Hemeury, the brand's boutique channel is its most profitable.
You can read our reviews of Les Orientalistes

(Source: Cosmetic News)