The New In Colors - Le tricolore revient en vogue - 130 Street Photographies after the Paris Attacks {Paris Street Photo}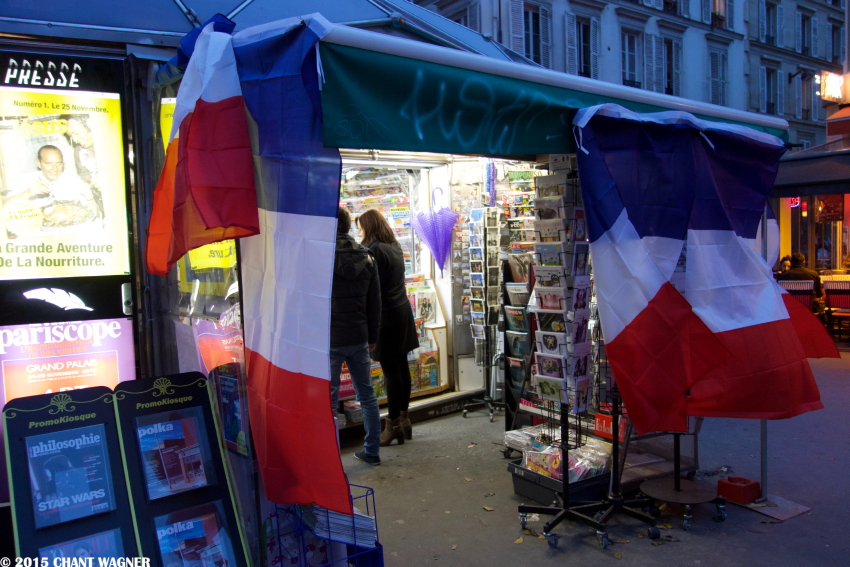 The New In Colors - Le tricolore revient en vogue - 25/130 © 2015 CHANT WAGNER
130 Street Photographies after the Paris Attacks - 130 photographies de rue après les attentats de Paris - In Memoriam
Paris, a city reputed for its fashion scene, had never really professed a love for the tricolor flag, unlike the British playing with the Union Jack motif without any complexes...
Relegated to being a symbol of has-beenhood and staunch, primal patriotism only seen in soccer supporters, the urbanites would have rather frowned upon bleu, blanc, rouge as being oh-so not ironic enough to merit the Parisian seal of approval.
Things changed after November 13, 2015, especially around the time the French government requested to bedeck with the national colors.
It remains to be seen whether this movement of patriotism will leave a lasting mark - and not be just another fashion trend. As of today, you can spot lasting displays of tricolor flags on Parisian buildings. It works. As you lay eyes on them, they remind you that there is a new sense of collective French destiny, not felt so tacitly and emotionally since WWII.
This photo is part of a series capturing the atmosphere of Paris after 11/13 in 130 pictures, one each day for each of the 130 Paris Attack victims.
Previously:
Drawing Resilience with Tealights - Dessiner la résilience avec des bougies - 24/130


Fascination - 23/130
Everything Happened, Nothing Happened - Tout est arrivé, rien n'est arrivé - 22/130

Patriotic Street Art - Un art des rues patriotique - 21/130
Keeping Emergency Services in a Central Paris Hospital - Maintien des urgences à l'Hôtel-Dieu - 20/130
Semiotics of Insult - La sémiotique de l'insulte - 19/130
Hacking It - Le système D - 18/130
Habit Rouge Impression - Une Impression d'Habit Rouge - 17/130
Recueillement - Meditation - 16/130
Saving Memorial Art from the Rain - Sauver un art de la mémoire de la pluie - 15/130
A Month Later - Un mois plus tard - 14/130
December 13, 2015 - Le 13 décembre 2015 - 13/130
Quentin Mourier, 29 ans - Quentin Mourier - 29 years old - 12/130
I Love You - M - Je t'aime, M - 11/130
Game Over: Culture Shock - Fin de partie : le choc culturel - 10/130

The Blood of the Republic was Shed - Le sang de la République a été versé - 9/130
Under Shock - Sous Le Choc - 8/130
Bullet Holes at the Laundromat - Impacts de balles au Lavratonic - 7/130
A La Bonne Bière Reopens: Shades of Emotions - Une Palette d'Emotions - 6/130
Peaceful Day at République - Jour Paisible à République - 5/130
Eagles of Death Metal - Still up on the Marquee II - Les Eagles of Death Metal sont toujours là-haut sur la marquise II - 4/130
Eagles of Death Metal - Still up on the Marquee - Les Eagles of Death Metal sont toujours là-haut sur la marquise - 3/130
Woman with a Tricolor Turban - La femme au turban tricolore - 2/130