•• July 2008 Issue of Vogue Italy Will Feature Only Black Models •• Naomi Campbell New Face of Yves Saint Laurent {Beauty & Society - Beauty News}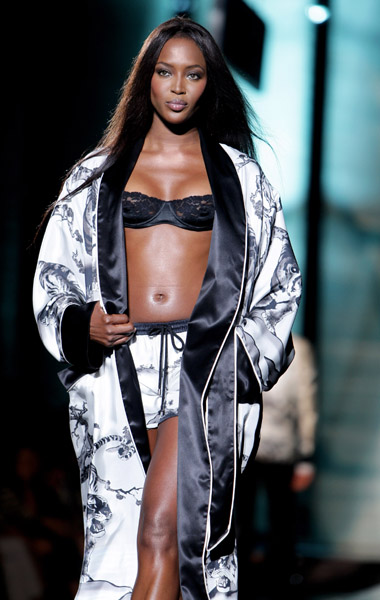 Naomi Campbell at the Dolce & Gabbana show, Milan Fashion Week Spring, June 21, 2008. Photo © Wireimage
Vogue Italy has announced that in order to protest against the racial discrimination existing in the world of fashion today, they will consecrate their July 2008 issue to solely featuring fashion models of black ancestry together with other celebrities. In particular, Vogue Italia is resisting what they see as the dominance of models coming from Russia and Eastern European countries in general.....
Franca Sozzani, the editor-in-chief of Vogue Italia, reportedly said according to The Star that,
"the time also seemed right for an all-black issue now that Barack Obama will soon become the first black nominee for president of the United States.
The July issue, which comes out next week, will feature a wide range of women of all ages and will include actors, models, and singers such as Naomi Campbell, Tina Turner, Jody Watley, and Iman."
Fashionmag.fr which is also reporting the news commented that the past few years has seen the disappearance of dark beauties such as Naomi Campbell, Iman, Alek Wek, Mounia, and Katoucha.
In related news, Naomi Campbell will be the new image of Yves Saint Laurent for the fall-winter 2008-2009 season starting in August 2008. The ad campaign was shot in March 2008 under the stewardship of YSL artistic director Stefano Pilati and will go through despite the fact that Campbell was recently condemned to 200 hours of community service due to an altercation with the police.
Read more about the issue also in The Independent