Soap and Glory Sexy Mother Pucker Lip Gloss {Beauty Product Review - Lips}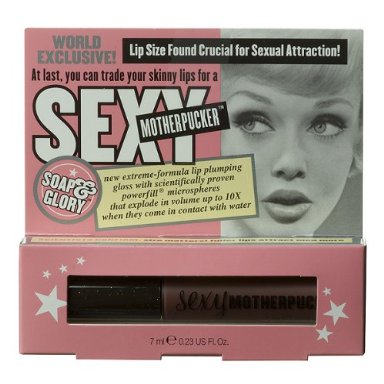 While being on the subject of plumping action in lip glosses, be it visual as with the Ultra-Gloss Reflect series by Dior or attempting to be real, I remembered a really bad gloss I tried from the brand
Soap and Glory
:
Sexy Mother Pucker Lip Gloss
.
There was this hell of a cute retro vintage packaging with all the catchy lines printed on it that can turn it into a billboard in any shopping aisle. It makes you think the lip gloss might be as trendy as the outside shell.
The reason I bought it was that it is so easy, too easy, to throw an untested tube of anything at Target into your cart...
Sexy Mother Pucker Lip Gloss
turned out to be completely medieval in concept. It advertises a 10 X volume enhancement, which might be a bit much and exaggerated a claim, but you think that at least the packaging is hip, the nude color versatile and the price($9.99) does not make you waver.
It does have a tangible effect, the 1000-fine-needles-torture effect. This is an overly literal lip plumper that attempts to break the competition by overdosing on the tingle factor. It was simply unbearable to wear after a short while, unless unlike me, you are ready to imagine cruel little ants are dancing on your lips while you are smiling to people and thinking "
Il faut souffrir pour être belle
". It does have the effect of making you want to curse saying "Mother Pucker!" though, an insightful line in retrospect.
The amped-up pillow-y effect is obviously there, to some extent, because it hurts, but is not sustainable for the reasons cited above. The texture is overly sticky. The shine is on the patent-leather side of the idea but going in the direction of vinyl and plastic, and I thought that in this case, it lacked subtlety, like the rest of the product.
It ended up directly in the trash.