Color On Eye Envy (2008) {New Beauty Products - Eyes}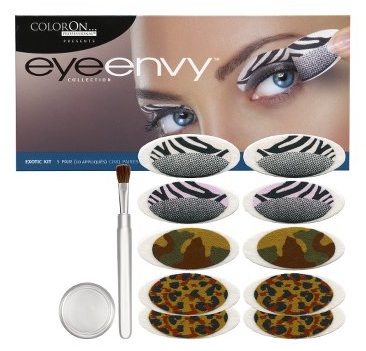 Makeup artist
Irina Losilevich
patented an instant-beauty technology with her press-on eye-shadows 16 years ago, yet it is only last year that her
Color On Professional ™
eye-shadow kits, dubbed
Eye Envy
, started garnering national attention.
These mineral eye-shadows are ready to apply and are meant to last a long, long time. The brand promises to deliver the kind of polished look only a professional makeup artist could easily achieve and in a jiffy too...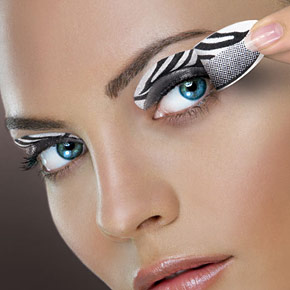 They offer several palettes of classical and trendy colors and effects. What caught my eye, of course, was the most dramatic one in the lot, the one that would make you look like you had some real hitherto non-broadcast skills: the
Exotic Kit
.
Want a change from or a complement to the
Shu Uemura dreamy false lash looks
? Look no further than to these "eye envies" that will make part of you look like a zebra, the savanna, or seemingly be dressed in military camouflage fatigues.
These eye shadows are reported to be "...100% hypoallergenic, long-wearing, and crease-proof" [...] each box contains five pairs of eye shadow appliqués, one jar of GetSet setting powder, and one powder application brush. Step-by-step instructions with application tricks and tips are also included."
You can watch a video explaining how to do it on the
brand's website
; it looks simple enough.
The Exotic Kit is priced at $ 25. Color On Pro also proposes
Rhapsody in Grey Kit, Smokey Kit, Flaunt Kit, Precious Metals Kit
and
Tropics Kit
, which are all exclusive to
Sephora
. Other kits are available on Color On Pro's website.
Other source:
Spa Trends