Carol's Daughter to Launch Disney Princess Tiana Line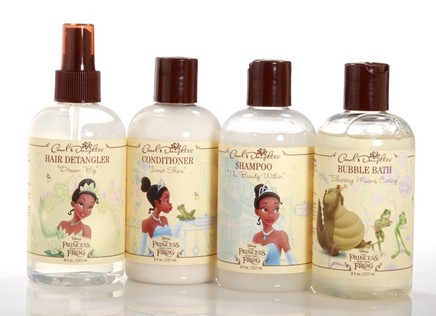 Carol's Daughter is thrilled to be able to contribute to what the brand considers a landmark moment with the release of the new Disney movie The Princess and the Frog featuring for the first time an animated character of African-American heritage in the lead role. To accompany this event, Carol's Daughter has created a limited-edition line of hair and bath & body products which they say is very effective and made with natural ingredients such as aloe leaf juice, cranberry extract, sunfloower seed oil, olive oil etc. Although everyone can use them, African-American hair was specifically kept in mind when devising the products...
The collection comprises a shampoo, conditioner, hair detangler and bubble bath. Decorated with characters from the movie, they are not explicitly reserved for children.
Founder Lisa Price comparing herself to Princess Tiana who is an aspiring chef said,
"We both started in the kitchen with a strong work ethic and believed in our dreams," Price said with a smile, calling the moment "an event with significant social importance. I'm thrilled and proud that African-American girls everywhere will see the movie and see someone to identify with, someone to be proud of and someone to emulate," Price continued. "Princess Tiana will tell African-American women that they can be beautiful and successful by being themselves. That is such a powerful message, and that can't be underestimated. This moment has been a long time coming."
"The collection comprises four items, each $10. Each product is intended to highlight a specific lesson that Tiana -- an aspiring restauranteur in New Orleans during the Jazz Age who falls in love with a frog prince and becomes a princess -- learns during the film, explained Price."
The movie is set to be released on November 25 and then December 11 everywhere but the line will be sold from October 2009.
You can watch a teaser for the movie,
The reactions to the movie have not been all positive as many fear the impact a Disney movie might have on diffusing further racial stereotypes. You can read
Her Prince has Come. Critics Too
.
Via
WWD