King of Shaves Azure for Women (2009) {New Beauty Product - Body}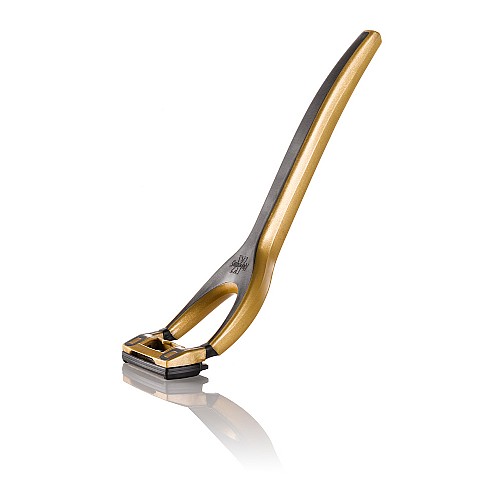 The
King of Shaves
has decided to done on the crown of the queen of shaves with a new, reportedly super-performance razor for women. It's the feminine version of Azor and it's called
Woman Azure System Razor.
The design looks sleek as can be and it even seems actually to be wearing high heels!
You are also put in the hands of woman master barber
Diane Wood
, the daughter of Adrian Wood, owner of famous NYC barber shop, Paul Molé, who has
some great tips for improving your shaving technique
. An anecdote worth telling is that she was on the Letterman show as she was asked to give their first shaves to the writers at the end of the national strike....
What they claim:
"TST (Touch Skin Technology) Reflex™ Living Hinge presses blades firmly yet comfortably onto skin for a super close smooth shave.
• Endurium coated blades stay sharper and last longer.
• Unique hybrid synergy design minimises carbon footprint.

The Azure is designed to be light, easy to hold and use. The head of the razor flexes to follow the contours of your body, whilst gently pressing the blades onto the skin to deliver a super close, comfortable, silky smooth shave. The Azure has been designed to be made with minimal energy using as few components as possible making it kinder to the planet too."

The new razor is available at KMIshop.com and priced at £ 4.49. It is also available at Boots.


Photo:
ezinearticles