The Lisptick that Won't Quit: L'Oréal Infaillible / Never Fail Lipcolour Compact in Target Red (2008) {Beauty Review}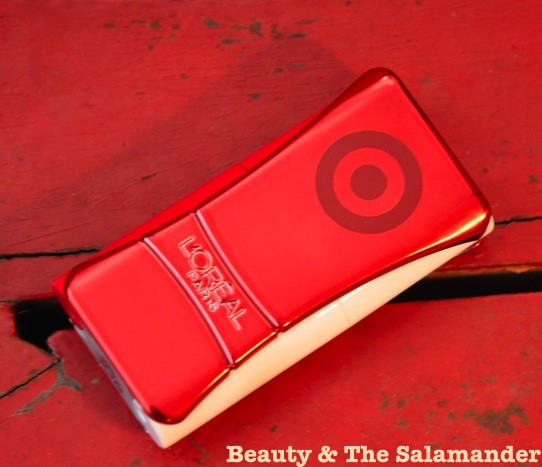 Infallible
/
Never Fail
by
L'Oréal
is the signature
Target Red
which first came out in 2007 inspired by the red bull's eye logo that greets customers looking for a bargain with a dash of hip at Target stores. In August 2008, they added the
Lip Colour Compact
.
For these two reasons, one dealing with the culture of (red) color and the other with a vanity implement, I had to review the Target Red Lip Compact. Except that in reality, I just noticed the frank red and then when I opened the package - not even then -, when I read a press release, I discovered there is supposed to be a built-in mirror,
"Featuring a patented, transfer-proof formula that offers uncompromised comfort and beautiful, luminous color hour after hour. With a richly pigmented basecoat with superior elasticity and an ultra-glossy topcoat with moisturizing Marine Collagen and Vitamin E, Infallible redefines longwear lip color. Packaged in a revolutionary lip color compact with a built-in mirror and precision applicator, color goes on - and stays on - beautifully." (cf. pressroom.target.com)...

It turns out that the "built-in" mirror is the shiny surface of the box case, unless I missed something.
Oh, but that red lipstick is the absolutely most tenacious color-on-the-lips I have ever encountered. You can drink and eat with it, it stays put. You could take a shower and swim with it, I bet it would not budge. It is the best lippie you could take with you on a social occasion where you want to be sure 100% that the lisptick won't travel on your face.
The red is vivid. I was a bit concerned it would look too garish, but no. The Lip Color Compact contains a tube of color and a tube of sealant. You have to apply the red first, wait a couple of minutes for it to dry, then apply a layer of the sealant. The transparent, shiny coat adds luster to the color and is what makes it fast to your lips.
It stays on for hours and passed the test of a long Holiday meal with flying colors. It was still there after everything had been said and done. Indeed, it's called "Never Fail."
It is for the reason of the application time ( a few minutes) which creates a different kind of lispticking gesture that I would probably not use it as an everyday, carefree lipstick to swipe on the way out but it is definitely a platinum standard in my book as a professional- and social-setting embarrassment-free lippie.
Target Red is available at
Target
for $9,99
See also:
Rouge Crazy Lipstick for Sephora Brand
Hanky-Panky Red
Elizabeth Arden Red Door Red