Vajazzling: The First SFW Public Pictures {Beauty and Society}
I wrote last time
about how the pubis, which some confuse with the vagina curiously, has become the new grooming terrain for the thumb up and the thumb down on Swarovski crystals being applied "down there." Historically, both beauty professionals and fiends have done their best to delineate new body parts to focus on with special, refined treatments. Now tattoos on the derriere would be considered a sedate option so the new buzz-worthy beauty frontier to be pushed has been the pubis. And vajazzling. The term was apparently coined by actress Jennifer Love Hewitt.
In a valiant effort to put images on words, New York City based blogger Bryce Gruber of The Luxury Spot was contacted to go on a vajazzling mission. She went, was filmed and photographed and offers us the first pictures of the treatment. She said,
"I'm here to cover up my C section scar. I'm here to give the women of America options."...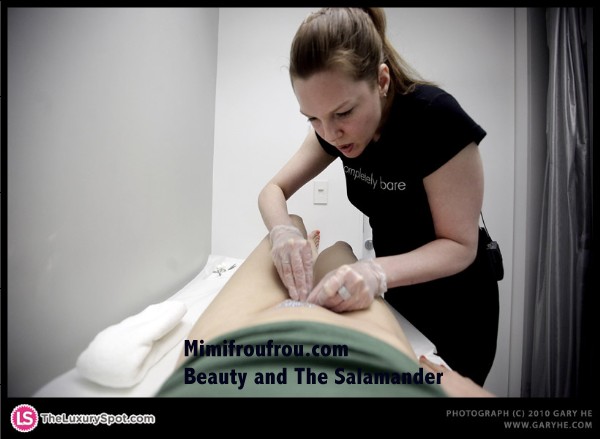 She also said
that it was plain bizarre getting filmed and photographed during her vajazzling session. I think we could have told her that in advance but she was bold and we reap the benefits of her courageous action. We get to see what vajazzling really looks like in America instead of imagining it confusely.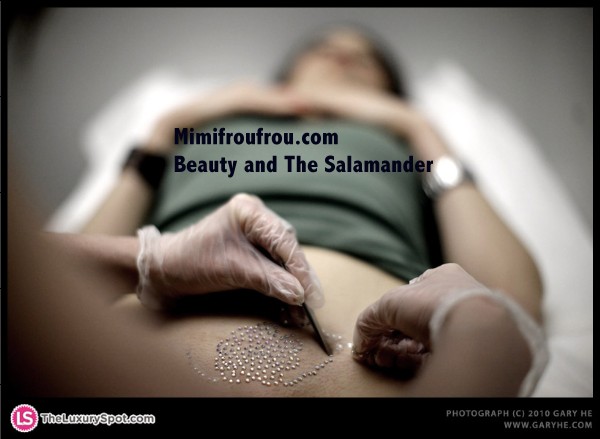 From the press release,
"
A play on bedazzling and a part of the female body, Vajazzling is the adornment of crystals and beads to the bikini area after waxing. According to the Completely Bare website, "Accessorizing your privates is the hottest rage. From crystal flowers to customized favorites, you too can now decorate your own jewels. Whether it's a special occasion or you just want to sparkle everywhere, you can choose from an assortment of real Swarovski crystal designs so you can shimmer and shine."