The Body Shop Tantalizing Lip Butter Yes, Yes, Yes / Oui, Oui, Oui (2009) {New Beauty Product - Lips} {Beauty Review}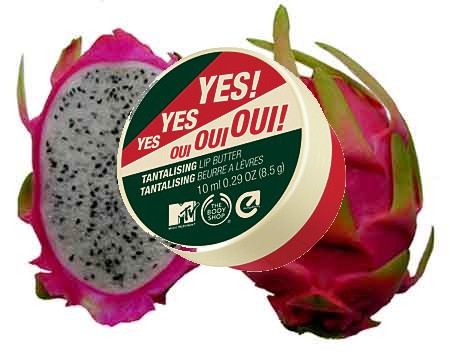 The Body Shop
have a new limited-edition extra-rich lip butter called
Tantalizing Lip Butter
, plus it stands for a good cause: Safe Sex. TBD have partnered with MTV and the Staying Alive Foundation to promote information on HIV and AIDS. Proceeds will go to further that cause. You can check out the dedicated site at
http://www.yestosafesex.com
Finally, the shea butter is sourced from Africa and respects Community Trade standards...
Tantalizing is made with dragon fruit extract to derive benefits from its antioxydant properties. Its moisturizing and softening properties restfor the most part on shea butter from Ghana, castor seed oil and beeswax. This butter does not belie its name as it is incredibly luscious and rich...
When you open the little pot and start digging in, you can see that the texture is solid but ready to melt. On the lips, it feels like kid glove. It is so "present" that I feel most comfortable using it at night like a night cream on the lips. The fruity scent is also pretty strongly flavorful, so it feels more practical to keep it for times when I won't feel too distracted by the effluvia of dragon fruit right under my nostrils. The pot itself is as cute as can be and manages to look iconic, already!
A 10 ml balm is priced at $8.