Nivea Creme On Your Dry Ends {Beauty Tip of the Day - Hair}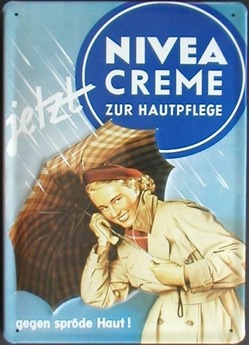 Everybody knows
Nivea Creme
, the legendary cream created in 1911 by Dr. Oskar Troplowitz in Hamburg, and almost everyone loves it since it sells at the rate of about 10,000 tons a year.
But what do people do with it? We all know the usual drill: face, neck, elbows, knees, feet...everywhere where the skin is dry and in need of a quick fix...
A vintage ad from the 1950s on the left: "against dry skin" (and the elements).
A less common way to use it, but which is adopted by people in the know especially the ones working in show business, is to use it in lieu of a hair serum or conditioner to hydrate your dry ends. Just take a little in your fingers and run it in the length of your hair while separating them, fluff them up,
et voilà
!
It's also a convenient way to travel with a hair conditioning cream and constitutes one more reason to call Nivea an all-purpose cream.
If you want to buy the original German formulation as opposed to the one sold in the US drugstores which is made in Mexico, you can find the "
authentic German Nivea
" at
Small Flower
for $6,95.
Previous Posts in Beauty Tip of the Day: