Sunscreen Q & A with Dermatologist Dr. Neal Schultz from NYC {Beauty Interview}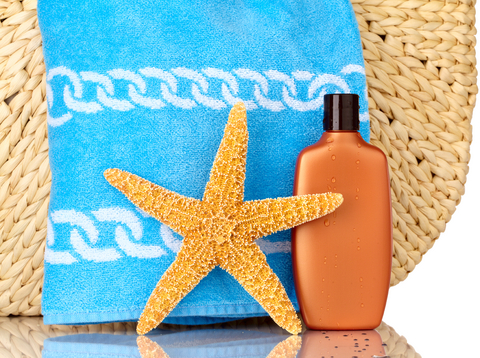 I had questions to put to
Dr. Neal Schultz
after I viewed his video on sunscreen on
DermTV.com
(check out episode #11 on How to Apply Sunscreen). Here are his answers.
Can adults use sunscreens for kids? (Kiehl's has a new one coming out) and why or why not?

Of course yes....separation for adults and kids is marketing and has no medical basis.

Should kids use

sunscreen

when they live in the city in the spring and summer? Yes, all year round. The time to imprint daily

sunscreen

use is in children. Then, as adults they are already optimally protecting themselves. Everyone needs

sunscreen

every day...rain or shine...
Is the highest degree of protection always the best for an adult or a child?

No...see upcoming segment on how to choose sunscreen. Choose 15 to 30 with uv-a protection or broad spectrum protection...30 gives 95% protection from uv- b. As spf increases so does viscosity or thickness- making necessary reapplication of sunscreen less likely.

If I use a foundation with SPF + a regular sunscreen, do they add up? S

orry! Arithmetic doesn't apply here... The spf that you get is the one in the layer that goes directly onto washed skin (ie...the one applied first).

Is a lip balm with sunscreen really effective?

Yes, it's needed more on lower lip than upper because sun rays hit lower lip perpendicularly and therefore have max effect for sun damage. Lips are prone to worse skin cancers than regular skin- and lip balm sunscreen of course needs to be applied VERY frequently and especially after u eat

What are the best sunscreens or ingredients in sunscreens that are best for adults and for children?

Same ingredients for both. Let me make this easier for you...because of the strict FDA oversight of sunscreen labeling for products sold in USA, ingredients don't matter. Only SPF rating and terms "uv-a protection" which is functionally equivalent to "broad spectrum protection" ...choose spf 15 to 30 with uv-a protection or broad spectrum protection... see upcoming segment on how to choose sunscreen

Do men have different skin needs that require different sunscreens? Y

es- for 2 reasons.... First, they don't like heavyweight or oily products on their face and second, they tend to have oilier skin... For both reasons, they need lighter-weight/water-based or oil free (functionally equivalent terms) sunscreens...but same spf as women.

What do

you,

Dr

.

Schultz

, think of sun protective clothing?

They are effective, but way overkill for most people and don't obviate the need for sunscreen anyway. However, for very fair celtic skin that seems to burn DESPITE proper use of sunscreen, it may be helpful. I think the marketing unfairly feeds on the fears of a small segment of the population.
Thank you very much to Dr. Neal Schultz for taking our questions.
"
Dr. Neal Schultz is a cosmetic/medical dermatologist in private practice in New York City, who has been helping his patients' achieve healthy, beautiful, and younger-looking skin for over thirty years. Dr. Schultz is consistently awarded "Top Doctor" by New York magazine and Castle Connolly Medical. He received his Medical Degree from The College of Physicians and Surgeons of Columbia University and received his dermatology training and board certification at The Mt. Sinai Hospital in New York City, where he is as a clinical professor."