Bags Are So Out, Shoes Are So In {The Look}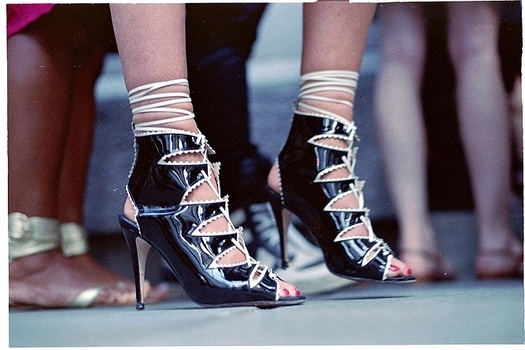 I loved this reportage by photographer
Bill Cunningham
of the New York Times where he discusses and shows all the incredible shoe styles seen on the street. He detects "without the shadow of a doubt" a trend of bags disappearing as main focal points while the shoes and legs take center stage. At least in the moments where they are wearing them, the ladies who wear the spectacular heels are well-advised to let them shine by calling less attention to other accessories...
Wonderful pictures and piece of ethnography as Cunningham's sharp eyes follows the development of this fashion and beauty obsession over the course of a day and reveals that, yes,
il faut souffrir pour être belle, mais pas trop tout de même
. This means that the lovely shoes which quickly turn into torture instruments after, say, 2-4 hours are taken off with due diligence by the belles. Yep, these flattering accessories of the new silhouette are but transient platforms of sartorial showmanship.
Enjoy the fashion show on the streets of New York!
Groundswell
Previous Posts in The Look: