Bioderma Hydrabio Brume - Mist for Dehydrated Sensitive Skin {Beauty Review}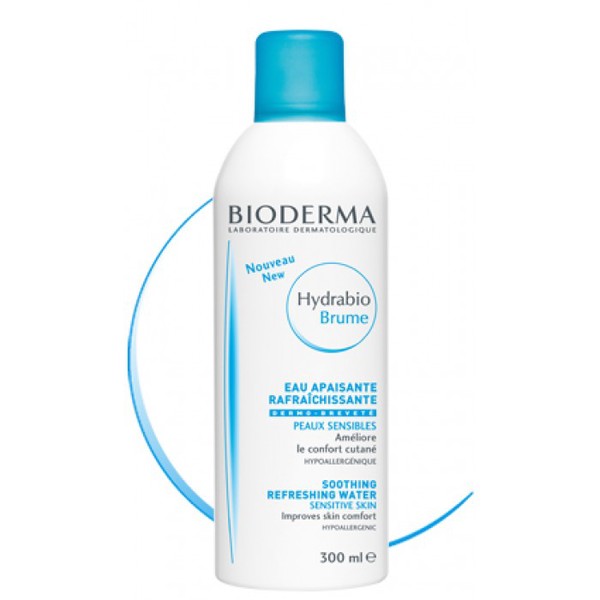 My Best French Pharmacy Find as Far as H20 Spray Mists Go
Bioderma introduced this new mist Hydra Bio Brume - Soothing, Refreshing Water / Eau Apaisante, Rafraîchissante towards the end of 2013. It's fairly new and I've been wanting to call attention to it for a while...
If you have sensitive skin, like me, I can tell you that it's the best all-H20 spray mist that I've used so far, compared to brands like La Roche Posay, Avène, Evian, etc.
Why? Because it has durable effects and it's really soothing & hydrating.
So before the summer ends, and in preparation of winter, I wanted to point out what a great face mist this is. It can be used all over the body for a refreshing pause, or after shaving or suntan, but it's particularly excellent on the face because it was designed to be let to dry without your needing to pat the product dry. The other products instruct you to pat dry. And this is a plus for people with both sensitive and seasonally dry, or usually dry skin.
I'm spraying on some right now, because it's also to do with sensory pleasure. The mist is fine and very pleasant.
The problem with aqua face mists is that they can be great for some reasons, but in the end, they can contribute to renewed dryness. Not so with Hydrabio Brume, I've found out. This is coming from someone, who is not a big fan of one of their bestsellers, their famous Eau Micellaire. I really don't like it for my skin - plus it tastes awful.
It's not just water that's sprayed out here. It uses a "patented natural D.A.F. complex" which "raises the skin's tolerance threshhold". There are anti-inflammatory and anti-aging ingredients like zinc, xylitol, Rhamnose...Rhamnose, for instance, is considered an anti-aging natural sugar which stimulates collagen production and lowers production of aging byproducts.
The full list is below:
Ingredients : Aqua/Water/Eau, Zinc Sulfate, Mannitol, Xylitol, Rhamnose, Fructooligosaccharides, Potassium Phosphate, Magnésium Sulfate, Sodium Citrate, Calcium Chloride, Sodium Bicarbonate, Sodium Chloride, Citric Acid, Disodium Phosphate, Potassium Chloride, Nitrogen. [BI 472]
It's fragrance free. It's gentle enough that babies can use it. Men could use it as part of their shaving routine too.
You could give it a go if you're afraid of putting too much water on your skin - I'm talking to you the Cetaphil-cleanser tribe.
Price: 4-6€