Bourjois So Delicate Lip Cream (2009): Cheeks to Lips: # 55 Fuschia Delicat {Beauty Review - Lips}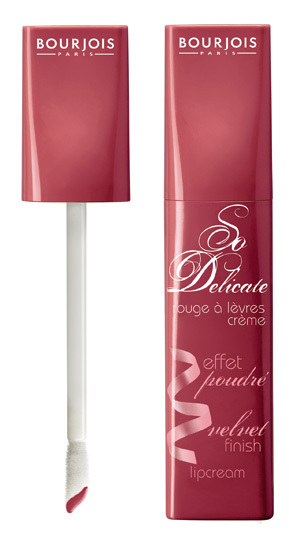 So Delicate
Lip Cream
is the latest lipstick concept by
Bourjois
which just launched this month. Its originality is to propose a delicate new powdery texture for the lips. The traditional look you achieve by applying powder and lipstick and then biting in a Kleenex is recreated efficaciously here and even - important note - improved upon with just a few precise sweeps of the foam brush.
You may be yearning after a matte look but be weary at the same time of the drying effect. Or you may like the sophisticated, slightly retro powdery look but find it not versatile enough and aging and/or hardening. So Delicate is like a sheerer yet saturated, more luminous and truly powdery rather than matte version of this look...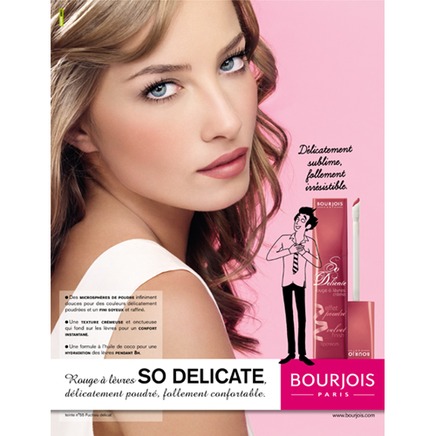 From the ad copy,
"Enriched with coconut oil, Bourjois So Delicate lip colour gently nourishes lips for over eight hours. The soft powder microdots transform into a velvety smooth film upon application. The foam applicator has been designed to make application quick and easy and So Delicate's contemporary, slim-line pack is colour matched to the product making shade selection simple. Available in: Rose poudré (rose pink), Voile de pêche (peach), Rose velouté (pink with a hint of caramel), Rouge blush (blushing red), Fuchsia délicat (delicate fuchsia), Prune sophistiqué (velvet plum), Rouge chic (femme fatale red) and Brun raffiné (chocolate brown)."

What I liked about
So Delicate
are 1) the matte-without-being opaque colors: the tints are luminous and pass the inner light-bulb test, which is to feel that the lipstick is illuminated from within the color which seems multi-layered rather than flat and unidimensional; 2) The texture is truly original here as it is powdery without being drying or cakey; it feels like a specialized powder for the lips; 3) the colors are well-saturated and seem to be inspired by the blush concept except it was transferred to the mouth area and adapted to a new function. You do not seem to need a blush anymore thanks to the pop of color on your lips. I tried a similar product by another brand last year but was not impressed and cannot recall the name 4) the staying power and the hydrating factor are very good.
This is a little product full of qualities.
I tried three colors out of the collection of 8 tints. For reasons of personal preferences but also because I thought it was a prettier hue and a rarer effect, I appreciated
# 55 Fuschia
Délicat
the most out of the three. It offers this bee-stung color to your lips that is highly desirable because it looks very nearly natural.
It is also summer and what better matching color than to wear a shade that looks like you just crushed ripe raspberries on your lips to stain them at dessert time and then bit them for good measure with on top of that a dusting of creamy powder? Quite a happy picnic for the lips.
Available from beautyheaven.com.au, asos.com