Perfume Review & Musings: Couture! by Moschino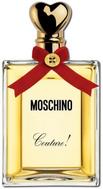 Couture! was released in 2004. Its top notes are bergamot, a hint of pepper, mandarin orange. Middle notes are yellow poppy, jasmine, pomegranate blossom, poppy seeds. Base notes are benzoin, vanilla, and cedar wood.

Couture! opens up with a very soft, sweet, even suave accord, enlivened by citrus as well as slightly peppery notes. It smells distinctive, a good point in the context of a market that privilieges copy-cat perfumes. It is, at the same time, reminiscent for me of the contrast found between citrusy tanginess and a sweet flowery richness in Roma by Laura Biagiotti. Both have prominent citrus in the opening and rich jasmine in the heart notes combined with a warm woodsy base. However, the slightly tart and sickly sweetness found in Roma is much more subdued here.
I find that this perfume tends to numb one's nose, so that the closer one gets to the scent, the more this one seems to vanish, with only a ticklish sensation remaining and marking its continued presence. Later, only a waft of air brings back the scent to my consciousness.
The perfume is warm without being heavy. It tends however to become harsher in the middle of its development and by that I mean that it smells a bit of Castille soap. "Soapy" is a term that is part of the vocabulary commonly used to describe what I am trying to get at. As far as I know, there seems to be two principal meanings ascribed to that term.
Soapy can mean that a certain scent makes me feel as if I had just taken a shower and there is a residual, pleasant soapy/clean smell lingering on my skin. Soapy can also mean that the smell makes you downright think of soap itself, that there's a certain lurking pungency to it that is reminiscent of bathroom liquid soap in public spaces (not of the best kind) and perhaps of Castille soap turned a bit rancid. Yes, "rancid" is the word. It is as if the oils in the soap had degraded. For example, I smell that very characteristically in Tabu by Dana (no offense meant to Tabu fans). Unfortunately, in my view, Couture! has a bit of the rancid type of soapiness.

There are probably some aldehydes, although these are not mentioned. Reportedly, certain aldehydes can smell like tallow candles, hence the rancid note. That explains to me also the constant tingling sensation I get when inhaling the scent.

However, if I stop deconstructing my sensations I am able to better capture the ensemble. The fragrance is sweet and mellow and evokes fresh petals of flowers after a while. The perfume warms down to a deep and soft drydown which is very pleasant. It is quite vanillic due to the combined presence of vanilla and benzoin as well as very woodsy. The overall impression the perfume gives me is that of a sensual and dressed-up scent, projecting an aura of sophistication which may prove useful to add a little fancy touch to your outfit in the workplace.
I see it more as a social perfume meant for others rather than for oneself, that is, a perfume able to send an image of chic and self-control, but which has also the effect of masking your real personality. I don't think I would want to wear it at home, it's too self-conscious of its effects on others and a little bit guarded.
In sum, I see it as a more toned-down and updated version of the power-perfume of the 80's (compare with Roma by Biagiotti which was created in 1988). I would still prefer to wear Cinnabar by Estée Lauder for the same effect (Cinnabar's notes are also similar to those of Couture!) because I find it to be more generous, frank, and ample as a perfume, freer. Cinnabar has a richer and better drydown. I also am able to stand aldehydes in Lauder's perfumes much more than in other brands.
A perfume for women who need to respect conventions, even for a day, and keep up appearances in public or at work, while sending a message of sophistication.


Photo is from www.fann.cz