Etro Man Rose (2017)// An Uninhibited Rose Scent for Men {Perfume Review & Musings}

Perfume Review of Man Rose by Etro
"If someone loves a flower, of which just one single blossom grows, in all the millions of stars, it is enough to make him happy just to look at the stars." (Antoine de Saint-Exupéry, The Little Prince, 1943).

"Si quelqu'un aime une fleur qui n'existe qu'à un exemplaire dans les millions et les millions d'étoiles, ca suffit pour qu'il soit heureux quand il les regarde." (Antoine de Saint-Exupéry, Le Petit Prince, 1943)
ManRose by Etro is a full-blown rose perfume for men which straddles the opposite genres of the dewy rose of the morn' and the dark rose of the night while painting its more somber nuances in ways different than just with a fumigation of oud. Its name, if spelled correctly and creatively as ManRose, attached, aims to convey the sense that roses can become extensions of manliness - and a work on olfactive norms for gender was indeed conducted...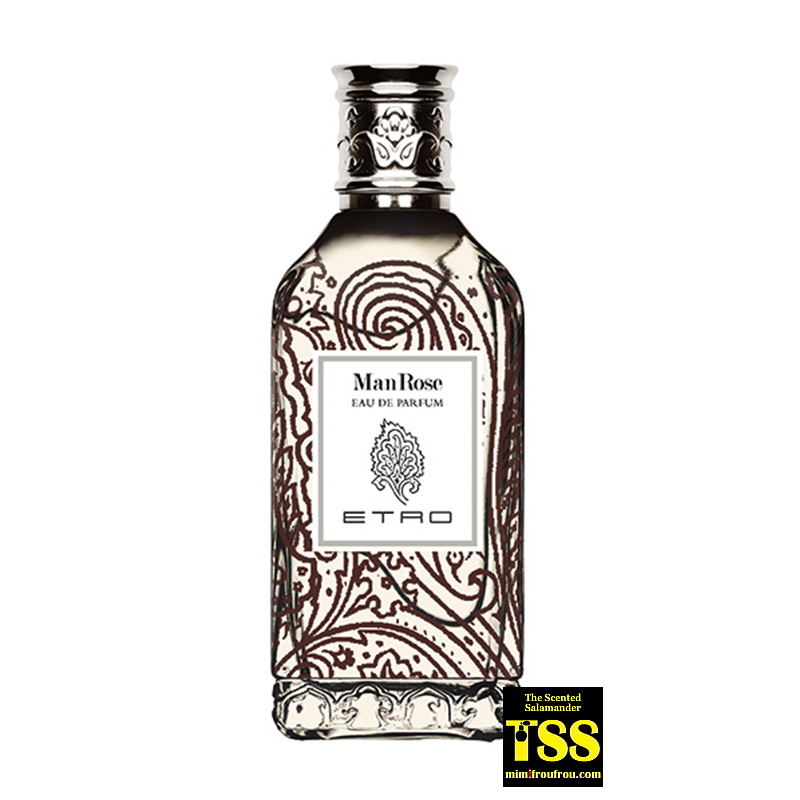 It could be at first another rose & oud scent destined to be frankly masculine in countries west of the Middle East where rose is reserved for women. But it turns out to be rather a rose-geranium scent rethought to be heavier on the rose while adding a few unusual nuances.
The masculinity of Man Rose can be experienced in the particularly strong blast of citruses which opens up the composition. It is borderline overdone but thankfully, it softens down past the initial explosive notes.
In terms of the gendering of perfumes, one can surmise that an element of dynamism was purposefully added to the scent to make it come across as manly, to rival the sensations that cars, speed, extreme sports and risk-taking generate, while fitting comfortably within the imagined universe of active men.
Just like the Fast and Furious movie franchise targets a market of young men thirsting for some kind of intense action, those top notes are there for the same group, except they are also cross-sectioning with fashion and style lovers. After all, we are invited to smell a rose for (real) men, not for boys.
Stylistically, Man Rose is both transparent-aquatic and dark-smoky. Etro is known for its predilection for the note of incense, which is showcased with particular daring in Messe de Minuit, which smells like a Gothic crypt with a very deep staircase leading to the bowels of a humid and dark earth. Here, the incense is not so ominous and sarcophagus-like but refines the composition adding a sense of softness and a layer of antiquarian, bookish and wordly dust.
The discreet originality of the fragrance lies in the counterpoint of green notes that underlines the presence of incense creating contrasted impressions of depth and freshness, decay and renewal, thanks to the "green peel of Calabrian bergamot", cardamom and geranium range of emerald notes. The house proposes to read both "innocence and passion" into the fragrance, which takes inspiration from the mythical rose of The Little Prince.
Etro Man Rose is bracing like an eau de Cologne on steroids, with hints of smells crisp, green and bitter, but also gentle, soft, refined, meditative, and restful thanks to the elemi, "the resin used in the East to fumigate meditation crystals." You could imagine a bottle of antique eau de Cologne sitting next to a leatherbound, old book on a metallic, green table under an orange tree in a garden whose leaves leave a trace of bitterness on your fingers when you crush them to smell them. The rose is a once crunchy, almost hard, but also fruity and soft. The advertized leather note is not very prominent as such, melding with your skin.
Etro's plan is to make male wearers accept their feminine part. It results in a rose perfume with both hard and soft edges rather than in the acculturation effort of adopting an overly romantic rose scent. A woman can wear this fragrance if she is willing to get rocked a bit by its sense of overdrive.
The composition is refreshing both literally and metaphorically since Man Rose eschews the comfort of bottling the expected rose-oud adaptation for the Western markets. It is an invitation to explore further the many possible nuances of rose perfumes for men, with less inhibition.
Fragrance notes:
Head: Calabrian bergamot, Sichuan pepper, cardamom and elemi Heart: Turkish rose, geranium and incense Base: patchouli, vetiver, musk, leather, ember, precious woods.