Kenzo World (2016) // Doing the Cultural Splits {Perfume Review & Musings}
Kenzo World (2016) // Doing the Cultural Splits {Perfume Review & Musings}
Kenzo Parfums' latest major fragrance launch, Kenzo World, is an olfactory incursion into how different worlds can meet and meld. Sometimes, varied universes collide and instead of exploding into a ball of fire, explode into an extrovert, patchwork-y bouquet of multiculturalism made up of sea raft debris, jasmine, pickled peony buds and milky ambergris chews.
Francis Kurkdjian is the name of the perfumer. His acolytes are Carol Lim and Humberto Leon. Their inspiration is Kenzo, nature, culture, food - but also one pioneer in perfumery, Womanity by Thierry Mugler, which dared do for the first time a savory-sweet caviar-and-milky-fig split. We like to think of it as a grand-écart accord, with quite a bit of cultural tension due to newness...
Kenzo World opens on a salty peony impression; It is more precisely the sensation of smelling fresh peony blooms put to macerate in a cedarwood barrel filled with brine and ambergris. This quirky smell appears to be the main accord around which the composition pivots.
Secondary nuances of raspy musks and vanilla are there to dress up the core olfactory signature of World, whose main goal is to cultivate eccentricity.
The commercial by Spike Jonze promoting the new scent confirms this intention: it showcases a wild, grotesque choreography by Ryan Heffington ( Sia "Chandelier") danced by Margaret Qualley in an eye-popping performance, with all the attributes of a tour de force. It is impressively physical, primal, expressive, unininhibited, frenetic, demented, possessed - and to sum it up, creative. The dance explores a register of human feelings inspired by the divine destructive energy of goddess Kali - eyes dance in Indian choreography - but also the grotesque of medieval gargoils, court buffoons and Hugolian street monsters. The primal aspect of the dance is a reference to the Kenzo gorilla figure, in part; it meshes with the drums of the original track by Sam Spiegel & Ape Drums feat. Assassin "Mutant Brain".
Meanwhile, if Kenzo World eau de parfum is weird, or wyrd as we underlined previously, it is not as relentlessly out-there and savage as the commercial. But it is on the outlandish side.
The salty, floral peony accord floating in brine and ambergris is accentuated with an almost neon-like raspberry note, while a milky white caramel accord - we're thinking White Rabbit brand - finally drowns all the psychological asperities of the composition in a gentle, sweet milk bath. You can perceive a star anise nuance, which together with the smell of White Rabbit caramels, feels like looking at Chinatown with a whimsical looking-glass; star anise is one of the most typical aromas of Chinese cuisine, if you had to guess blind-folded.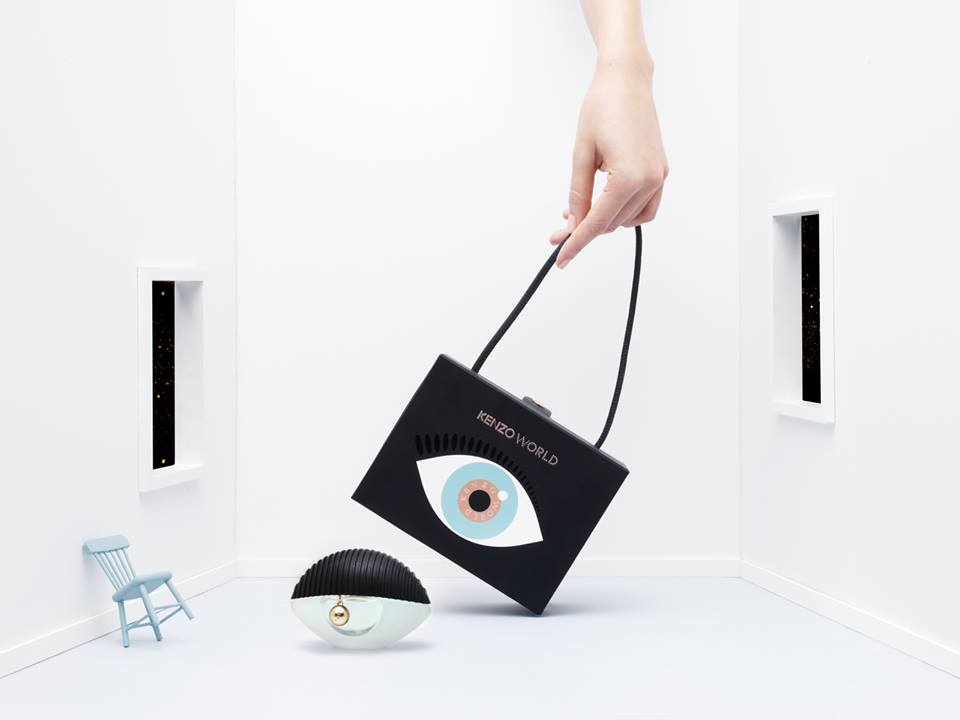 This first perfume launch under the artistic direction of Carol Lim and Humberto Leon turns out to be very much a conceptual work. The composition visibly focuses on quirkiness. It manages to smell slightly odd, but also strangely appealing. It remains a fairly linear work, which stops smelling different from the time it has said what it meant to say. After hitting your nostrils with improbable notes, Kenzo World caramels its way down to the smell of your sweet, milky, jasminey skin, with a hint of tart fruitiness, a speck of powder and a whiff of aromatic spice.
It is the interplay of milky white caramel, spicy star anise, jasmine and Ambroxan in which the volumes of the notes modulate differently in the drydown which confers a sense of evolution to the perfume. But the means are very economical. There are no new additions. It is just a matter of bringing out some nuances better, in a variegated manner in the long drydown. It is a bit like presenting the same object to the sun; it shines where the sun hits as you turn it around.
The fragrance composition is both conceptual / intellectual and sensual /addictive. It snags your attention but then also simply smells really good and warm on skin.
Fragrance notes officially divulged are: peony, fruity jasmines and Ambroxan.