Calvin Klein CK2 ≈ Blade Runner Take Two (2016) {Fragrance Review & Musings}

CK2 by Night © CHANT WAGNER 2016
CK2 Eau de Toilette by Calvin Klein ≈ Fragrance Review & Musings
When we first smelled CK2 on the fly last spring, we thought that it might be one of the more interesting fragrances to scent the streets of Paris, New York, London, Tokyo, Beijing, or Seoul. One of the reasons why we reel off the names of megalopoles like the beads of a hefty, world rosary is that CK2 offers a very urban, multi-confessional and culturally neutral vibe...
The perfume smells clean - evoking the cleanliness of concrete - mineral, but also vegetaly making you think of 21st century suspended gardens of Babylons. Trees and mini forests integrate the vertical human habitat that will help tentacular cities have healthy green lungs and their inhabitants look at blue skies with naked mouths. CK2 in a way, is an ode to clean living, one which will relegate surgical masks to hospital wards rather than witness them continuing to spill out occasionally onto the streets.
You can witness a movement towards more abstraction in perfumery manifest itself in this fragrance composed by perfumer Pascal Gaurin of IFF. If you wish to avoid frankly edible perfumes and the master-narrative of gourmands, CK2 is the scent for you. It is not completely untethered to the grand scheme of perfumed things identifiable as happiness-is-in-your-fridge-and-your-bottle-of-perfume - hence a sweet base note of transparent tonka and/or sandalwood - but it does keep its distance from the idea of gourmands notes as junk food within a binging culture whose leitmotiv seems to be to eat till the last chip or scoop of ice-cream has been made to R.I.P.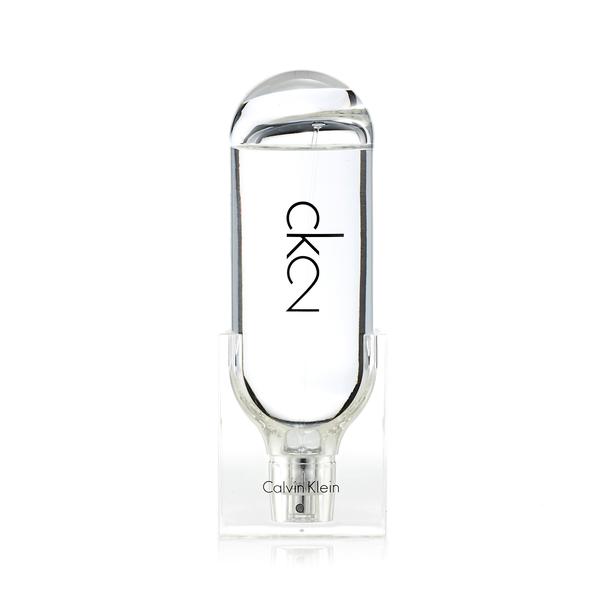 A perfume which would mute the great organs of greed today would have to have zero sweet notes.
CK2 is grassy and a bit sweet. It plays with our trigeminal sensations - an avant-gardist approach in perfumery which is apparent in L'Incendiaire by Serge Lutens or Panorama by Olfactive Studio and before them in the largely ignored Fo-Ti-Tieng by Marilyn Miglin. CK2 feels prickly, mustardy, and Wasabi-like for one of its facets.
Calvin Klein famously championed the no-gender perfume often dubbed « unisex » from 1994 with CKOne. It makes you think of an oddity like a siren's fish tail whose sexual parts are fused. This latest incursion into the territory of freedom from gender is careful, likewise, not to smell of a man or a woman - or of horses, goats and musk deers. Instead, it smells of air, metallic water, silver angels, and crystal-transparent skin. It smells a tad fluffy but feels mostly clear as water. Even its Wasabi note evokes detox rather than sushi, although sushi-lovers will appreciate the suggestion of iodine.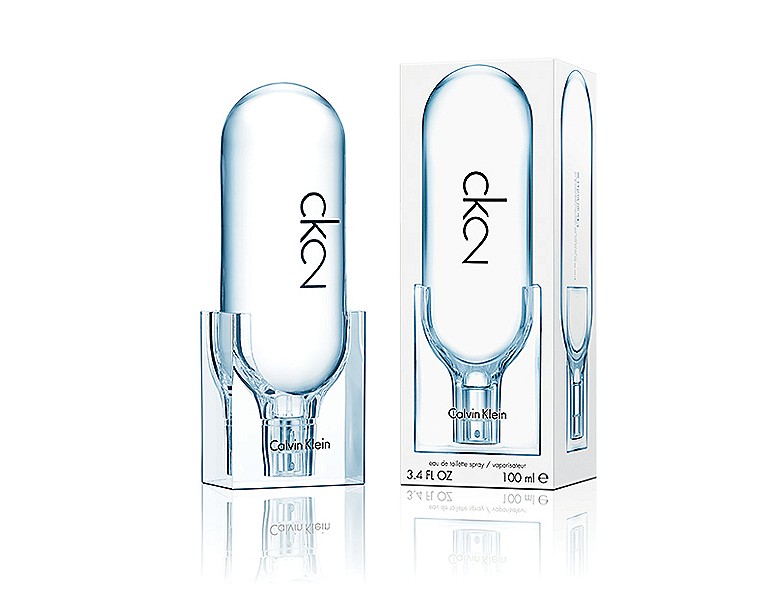 If you want to waft of the year 2016, with the hint of a throwback to the 90s, and another hint of futurism, CK2 blends all these trends in its upside-down flacon, which is like a dripping bottle of olfactory purity that you need to carry as if you were a tank of oxygen. It makes you think that if there were to be a remake of Blade Runner (1982) today, whose action is supposed to take place in 2019, there would be a lot more plants, greenery and crisp, transparent, ethereal beings in it.
Fragrance notes : Wasabi mustard, mandarin, violet leaf absolute, wet cobblestones, orris concrete, rose absolute, vetiver, incense and sandalwood.