Olfactive Studio Panorama (2015) ≈ On Palimpsests {Perfume Review & Musings}

© Miguel Sandinha
Olfactive Studio Panorama Eau de Parfum ≈ Perfume Review & Musings
Today is World Photography Day, so we thought why not shine the light on a perfume which comes with a photographic point of view, Panorama.
The opening of Panorama is very strong in terms of the potency of its green notes and the effective mimicking of a rush of Wasabi mustard up the nose, amplified. The composition feels mostly resinous, peppery, green and fresh. This greenness edges towards vegetaly, a good impression of the vegetal walls seen in the photograph by Miguel Sandinha, a commercial and fashion photographer who for a time turned to landscape and architecture with this panoramic shot. I'm not familiar with his work, so I'm going by his website. French niche brand Olfactive Studio describes the photo writing in French that the scent is just as much inspired by the architecture of the Sheats Goldstein House overlooking Los Angeles, than by the photo itself capturing the view from a specific angle,...
« c'est depuis la Sheats House, écrin de verre et de béton qui domine la Cité des anges depuis West Hollywood, qu'Olfactive Studio s'élance et présente son Panorama, nouvel opus olfactif. Hymne à la beauté 360 °. Dans cette maison comme en apesanteur, conçue en 1963 par l'architecte John Lautner, disciple de Frank Lloyd Wright, la révélation a lieu. »
The brand adapted the text in English as,
« It is best enjoyed from a high altitude: The Sheats House - a glass and concrete house in West Hollywood overlooking the City of Angels - is where Olfactive Studio rises and presents its Panorama, a new olfactory opus.
This airship seems to be resting on a lively and welcoming bed of greenery. A luxurious jungle suspended in the Californian sky, taking the pulse of the urban vibrations in the distance. »
Since the fragrance house is not just about perfumery but also about photography, let's pause for a moment and contemplate this picture. The image is breathtaking, but also highly referential. One could see it as a palimpsest in which the silhouette of another photo is perceived, the new one failing to cover the old one - instead revealing it.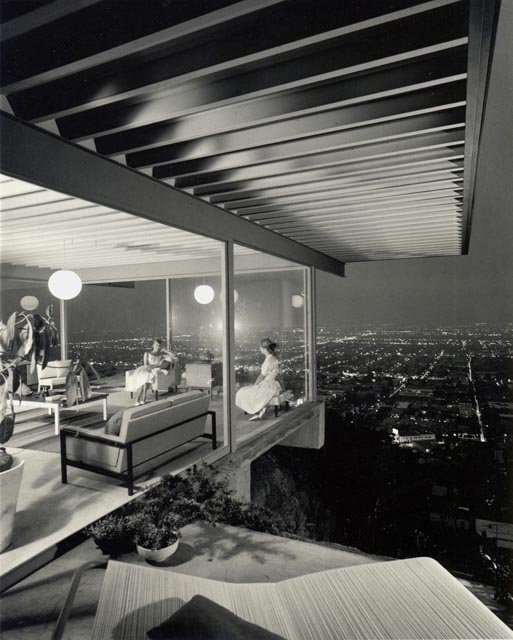 Stahl House Case Study #22 - Two Girls © Julius Schulman
The work by Julius Schulman, whose photograph of the Stahl House overlooking Los Angeles is clearly referenced here is not cited, except visually. The picture is like a vegetalized, über eco-conscious interpretation of his iconic photograph, Stahl House Case Study #22 - Two Girls; there is also a Stahl House Case Study #2 - Playboy, in color. The way the corner of the house of glass protudes and then seems to fly over the City of Angels is not only visually arresting, it is also highly symbolic of a city where dreams and irreality are produced on an industrial scale.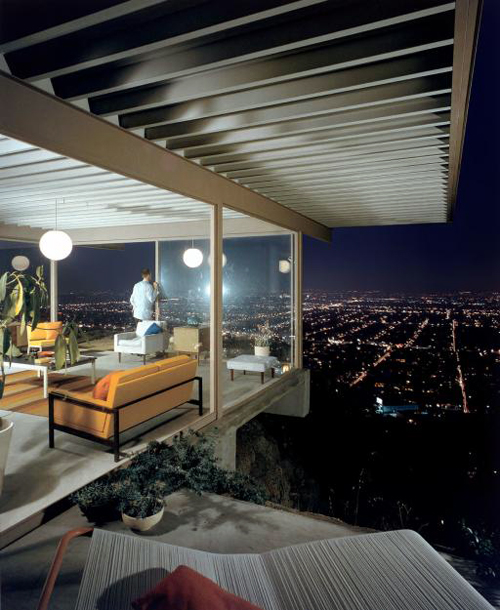 Stahl House Case Study #2 - Playboy © Julius Schulman
Perhaps it is due to the photographer's practice as a fashion lens man which has encouraged him to use a cultural reference and play with it. The picture is never called an homage. Fashion creators routinely use derivation, although the photograph is not presented as a magazine spread but rather as an artistic piece, one with a particular vision. This vision however is so close to that of Julius Schulman that one cannot escape the impression of a subliminal superimposition. The original photograph (shown above) has become since then and in Schulman's own terms a « historic » shot.
One might have been perhaps felt more enthusiastic about a photographic curatorial effort - especially coming from a niche brand - less based on derivation.
As for the fragrance by perfumer Clément Gavarry of IFF, it clearly borrows quite a bit from the aesthetics of Comme des Garçons and perfumer Mark Buxton in particular. The scent is green, but it is also about woods and spices and resins and a contemporary signature familiar to those who smell confidential perfumery. The composition reveals a non-advertised unisex fougère personality whose lavender-infused barber-shop accents won't make you feel like the bearded lady, nor effeminate - just fresh and clean and a bit edgy.
The main idea, by artistic director and brand founder Céline Verleure, was to showcase a Wasabi olfactory motif, which since last year when it was introduced, has picked up steam. Now more perfumers are following this lead. Radish-like accents in fine perfumes have appeared before but it is very Zeitgeist-sensitive to have released a Wasabi perfume around the same time that the agro-alimentary industry released Wasabi flavored potato chips into the mainstream. Something green, Japanese and mustard-y is in the air.
Past the statement stage of the fragrance development, Panorama is much softened by a myrrh note whose nuance might make you think of Serge Lutens La Myrrhe.
All in all, Panorama reveals itself to be a conceptually well-defined, hip perfume. Like well-crafted design objects it reflects all the necessary contemporary codes to feel urban and in-the-know, if not entirely original. Its forceful note of Wasabi is typically niche in its single-mindedness. It pounces saying I'm free of restraint. You discover an interesting odor, a cool sensory overload - more than a complete perfume. It is not a very deep composition, more a surface, palimpsest-like one - and technically, it is too thin in the base.
What is missing is the leap from the Sheats Goldstein House's cornice into the unknown and into the inscrutable green and tangled wilderness below. Panorama edp despite its renewed, central Wasabi motif and convincing green, organic bouquet does not really seem to leave the beaten track of well-established urban perfumery conventions.