Yves Rocher Accord Chic (2016) ≈ Elegance for All {New Perfume}

Yves Rocher Accord Chic Eau de Parfum
Mass-market company Yves Rocher have released a new perfume for women which is meant to capture the very idea of a masterful, creative, witty and playful form of elegance with a scent called Accord Chic, showcased in the Secrets d'Essences series...
This is a departure from the usual focus of the collection which so far has been on perfumery materials such as rose, vanilla or amber. This more abstract proposition seems to reflect a natural progression of thinking in the history of perfumery which has gone from nature-inspired scents to man-made atmospheres...to again Nature-Print scents but rolled into sophisticated compositions.
Accord Chic is co-signed by perfumers Olivier Cresp and Marie Salamagne of Firmenich.
According to the press copy, the eau de parfum is a spicy floriental which is both sophisticated and mysterious. Its brand of femininity aims to be perceived as being daring, elegant and singular.
Notes are pink peppercorn, elemi, iris, benzoin, and incense.
A 50 ml spray bottle of edp is priced at 57€ ; the current introductory price is 29,90€.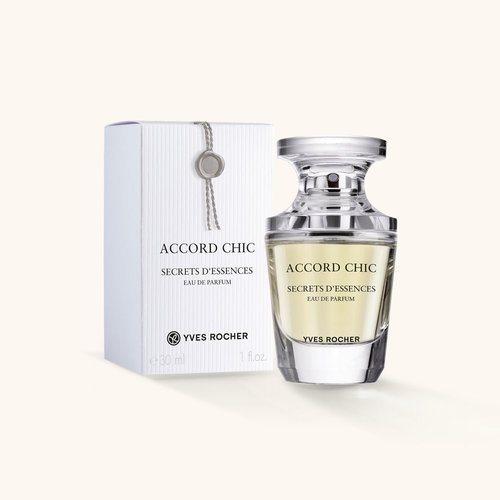 The company have also issued a new 30 ml size priced at 39,80€, at the current introductory price of 22,90€.
The prices are arguably not that cheap for a mass-market label but the company's rebate and loyalty program means that customers can and do get around full prices.