Michael Bublé By Invitation ≈ Cozy Chalet Romanticism (2016) {Perfume Review & Musings} {Celebrity Fragrance}

Michael Bublé By Invitation ≈ Perfume Review & Musings
By Invitation, the debut perfume by soft-hearted, mellow-voiced crooner Michael Bublé hits a range of notes which will sound familiar to his fans. I can't call myself that, but I've listened to several of his songs courtesy of Spotify's curatorial skills. I still remember a chill Spotify weekend selection which in the eye of my mind was illustrated with a photo of a mug, warm, brown tones, wooden panels and perhaps a fireplace. And I remember « Home » in particular, one of his best known hits, as an efficacious wind-me-down song...
The fragrance By Invitation is completely in adequation with this atmosphere of cozy, chalet romanticism where respose is part of the charm and a hot cocoa with mini islands of marshmallows floating in it is within reach against a snowy backdrop. In Home as it happens the singer is in Paris and Rome but he couldn't care less. He wants to come home to the country inhabited by the spirit of Maria Chapdelaine, his. Canadian - now also dual Italian citizen - Bublé has said that one of his early epiphanies came at age five when he listened to Bing Crosby's White Christmas, and since then one might argue that his music of love has always kept a cosy, christmastime touch which seeps into his songs all year long even when it's not Christmas (it is in the inner folds of his child's heart, we're pretty sure).
Another of his epiphanies came when he discovered the Mills Brothers, who were not called for nothing in the beginning The Four Kings of Harmony. Listening to them today is listening to exceptionally sensuous music. It is easy to understand how Bublé works with this gold standard in mind. His universe is very much mid-century-inspired, slightly old-fashioned, with an added modern touch which evokes uncynical 90s rom-coms like Sleepless in Seattle (1993), You've Got Mail (1998) or When Harry Met Sally (1989), way before Friends with Benefits (2011).
Perfumer Karine Dubreuil-Sereni was the lead perfumer to attempt to transcribe Michael Bublé's ethos and music into perfume. She explains that from her standpoint,
« I always want a fragrance to smell as natural as possible, like the living flower, which often is the biggest technical challenge for a perfumer. »
She also adds that,
« Like Michael's music, this fragrance is modern and transcends time and fashion. I created a feminine and elegant accord around a floral heart, using iconic love flowers, but I treated it in a natural way thanks to a floral harmony revealing a mischievous lily of the valley, a wild jasmine and the spicy and transparent inflexions of peony. I dressed this floral bouquet with tempting red fruits and radiant bergamot shades. The base is oriental around an addictive praline vanilla wrapped in a warm sandalwood-musks duet. »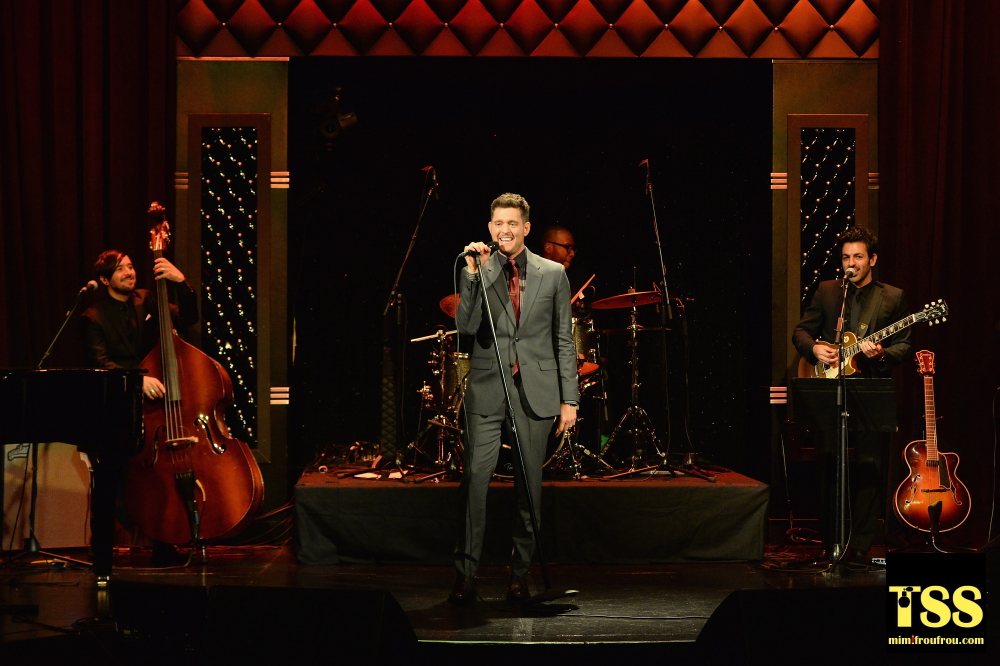 What strikes the nose is the fact that By Invitation offers a very consistent palette of notes. The patchouli confers it a light smokiness which is a good illustration of the sensuality of the kind of music Bublé defends ; it evokes a veiled, husky voice, with a suggestive touch. The composition is also on the gourmand side, but without exaggeration as well, offering lactonic and sweet nuances. The bergamot adds an efficacious fresh kick which operates mostly behind the scenes. If you smell the fragrance while listening to the upbeat Haven't Met You Yet for instance, you will realize that there is a fresh air current in the perfume, and it's not because you're watching the scene of love at first sight taking place before a row of supermarket fridges.
By Invitation blends fresh and warm notes with a bent towards pyrazine notes ranging from roasted pineaple and pecans, burnt caramel to smoky, subdued woods smoldering in the fireplace. You will also catch suble nuances of peony and candied oranges if you smell up close. I get a sense that there might be an unadvertized nuance of Champagne as I'm reminded at one point of the Champagne-incense accord in Golden Goddess by Baby Phat.
This is a simple but not overly simplistic fragrance. It re-uses the template of La Vie Est Belle but transcends it well enough that you don't think much about it. The projection is satisfying although it could have been fuller and richer ideally but it is expressive enough to suggest intimacy rather than a technical flaw. The overall effect is that of a streamlined gourmand floriental with an ambergris base meant to be worn like a sensual skin perfume, i.e., close to your heart as it draws a circle of love and intimacy. Now you know what that circle on the perfume box means.
We're adding this breaking news as it relates to the singer's family life as it was posted 3 hours-ish after this post by Michael Bublé on his wife Luisana Lopilato's Facebook page. Your prayers are needed. His 3-year old eldest son Noah has been diagnosed with cancer.
"We are devastated by the recent cancer diagnosis of our eldest son Noah who is currently in treatment in the United States. We've always talked a lot about the importance of the family and the love we have for our children.

Katie and I are going to spend all our time and attention to help Noah to get better, by suspending our professional activities for now.
During this difficult time, we ask that you pray for him and please respect our privacy. We have a long road ahead of us and we hope that with the support of our family, friends, fans around the world and our faith in God, we can win this battle.
Michael Bublé"