Robert Piguet Gardénia (2014)// Mid-Century Tiki Atmosphere for a Non-Violent Scent {Perfume Review & Musings}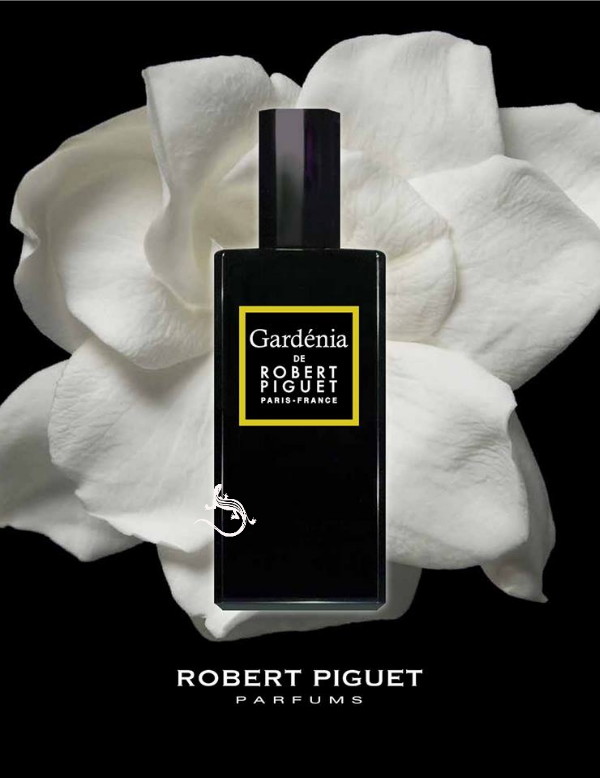 Gardénia Eau de Parfum by Robert Piguet
Perfume Review
Gardenia perfumes, like their visual, live counterparts, come preceded by a reputation of mythological proportions. They hold sway over our imagination. Their scent and physiognomy set them apart as memorable natural objects. Gardénia by Robert Piguet, launched in 2014, revisits a flower and a floral type of composition, which can pretend to smell, if done right, spellbinding...
Perfumer Aurélien Guichard of Givaudan is the author of this new gardenia soliflore for Piguet, a brand with roots in the 20th mid-century; it puts constraints culturally on taking into account the historical popularity of gardenia perfumes in that era, but also that of the tuberose in Fracas (1948).
If you're thinking "dame", film noir, old-Hollywood glamour of the 1940s-1950s, then the scent which wafts in that atmosphere is very likely to be the scent of a gardenia perfume. They were huge; they are still huge today - but they smell different.
Piguet's Gardénia has a slight retro flavor, in as much as it does not exploit any of the very fresh aspects of a contemporary gardenia perfume made possible by the technologies of living capture and molecular editing. It also has a very salicylates-inflected aromatic profile, resembling the smell of early retro sun-tan lotions.
Marylin Monroe in the Tiki Craze Era
The gardenia of Piguet has been treated here mostly to give off a subdued exotic floral trail; the Tiki-Tiki-themed party scene of the 40s-50s comes to mind, with its mix of urban demeanor, hedonism, fake tropics - and social conformism. There are accents of ylang-ylang, lily, frangipani - and carnation. The woods linger in a hushed manner. It's a subtle scent.
This is not a statement-work like Fracas. The main idea has been to recreate a retro, exotic, and paradoxically, shy gardenia supported by ylang and sweet, creamy vanilla from Madagascar. One thinks of the Guerlain-type of ylang-vanilla combo. The slightly shrill aspect of the scent is due to the leather note, which remains however understated. A bandita wearing a crown of freshly plucked gardenias, it is not.
Tiki Lounge
The main reason why you might want to select this gardenia from among other gardenas - and make it your own - is due to this old-school solar quality. There are however better and/or less onerous ways to come by this sensation as of 2017.
The composition, while feminine, is a bit middle-of-the-road; it lacks body and projection; it does linger in the air, but discreetly. Its positioning as a counter-type gardenia as well as a counter-type Fracas is not what you would have expected from Robert Piguet's tradition of bottled feminine fierceness - especially regarding soliflores of flowers reputed for their bombshell aura.
If you're looking for a subtle, office-type gardenia scent with an understated exotic, mid-century signature, then look for it. It's an apt choice. Don't, if you expect to waft of the larger-than-life gardenia of your dreams.
Having said that, and comparing it to Frédéric Malle Carnal Flower, I have to say that Robert Piguet Gardénia is subtler holding its ground better than you anticipated at first, making the first one come across by comparison as more violent - a technical term in perfumery; I wager that you might admire more, yet get tired of Carnal Flower more quickly. The very quality of Robert Piguet Gardénia is to feel unobtrusive on skin; it makes it easy to use for a touch-up. In the end, it's a matter of life circumstances and style preference.
Top notes: gardenia, lily and ylang ylang
Middle notes: vanilla
Base notes: black leather, cashmeran and woods