Comme des Garçons Black Pepper // Eternity on a Loop (2016) {Perfume Review & Musings} {New Fragrance}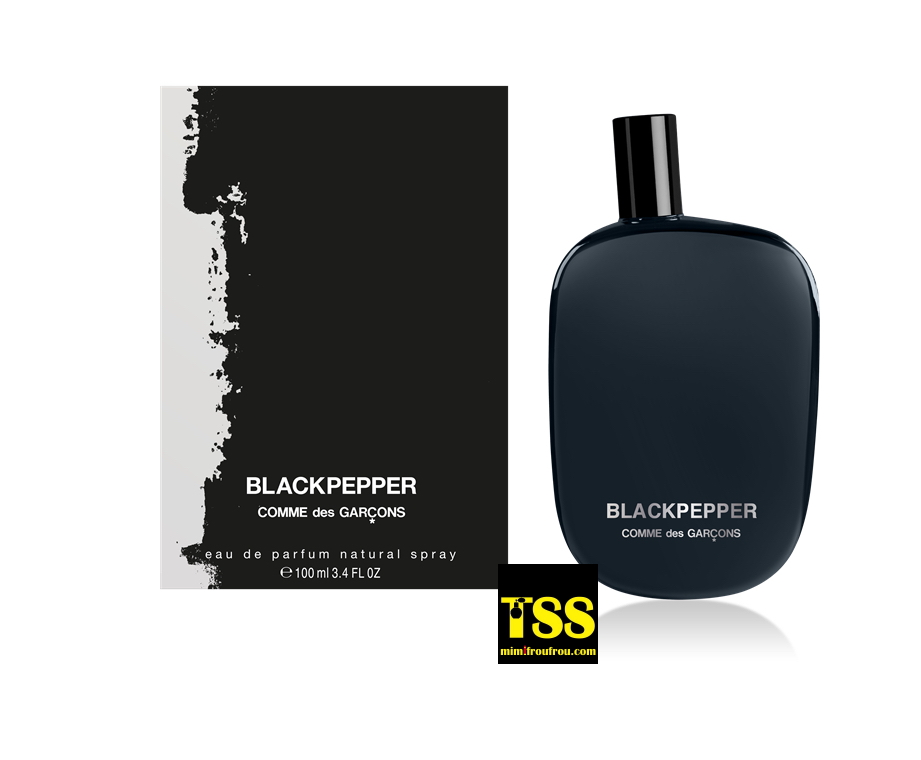 Black Pepper Eau de Parfum by Comme des Garçons // Perfume Review & Musings
Black Pepper (BLACKPEPPER) by Comme des Garçons is a complex composition bearing a simple name. Past its peppery facet, the perfume reveals itself to be a small universe of sensations where nearly every main olfactory nuance can be found. In the few days that I've been wearing it, it's never ceased to surprise me. It seems to always smell different from what you recall it smelling like from the previous day - or moment. It makes you think of a time-form which is endless eternity...
I don't know how perfumer Antoine Maisondieu of Givaudan has done it exactly. But what I can say is that there is much more to the scent than just an ode to pepper.
True to its spicy dedication, Black Pepper offers an explosive opening in which a pepper hand-grenade has been triggered. It almost reads as a joke for the nose since the pepper is sprayed not on an attacker, but on yourself; pepper-spraying has never felt so comforting.
The perfume plays up the anchoring power of woods, the centering virtue of incense, the ductile, life-like quality of oudh, the calmness of an oboe-like palette of woody notes which has been associated with the inquisitive branch of perfumery since the turning point that was Féminité du Bois by Serge Lutens. Long before Serge Lutens, there was Charles Baudelaire who wrote about oboe-like perfumes. This is a perfume rich like the sound of musical woods.
The fragrance on the first day of September smells of the autumn, evoking the dry-fresh scent of fallen leaves and bonfires whose scent travels so characteristically well on soft countryside air, reminding you of the activities of people even when they are invisible. The fragrance is smoky, resinous, and almost winey in its ability to conjure up a moody atmosphere when men and beasts have retreated indoors to face their thoughts by the fireplace. Your lap is warmed up by woolen garbs, furry companions and vessels of steamy drinks filled with warm wine.
Black Pepper also plays a suite of Japanese nuances suggestive of scents like that of Hinoki but also Shiso and Far Eastern incense. There are cultural markers in this composition, which is only logical since the brand has Japanese roots, but they are not as clearly on the forefront of your consciousness when you smell some of their other compositions. In this scent, you do think about a palette of Japonisant aromas.
What I've noticed in-between the interstices of the perfume - and which explains its unadvertised, deeply buried floral character - is what I perceive to be a magnolia accord. At some point in time, Black Pepper despite all of its elusive yet ever-present personality lets out a nuance reminiscent of Tocade by Rochas' core magnolia accord by Maurice Roucel. Knowing that Maisondieu has worked on a magnolia perfume in the past for Acqua di Parma, I cannot help but think that he might have inserted here a secret effect of his own, which might explain in part how the perfume operates invisibly and almost subliminally to the nose revealing infinite nuances.
How helpful is a blog when memory is only human? I typed in « Maisondieu + magnolia », a search which retrieved the scent I was looking for, Magnolia Nobile, but also that other composition of his, Rose Velours by Van Cleef & Arpels about which I already noted in 2013 that it smelled of Maurice Roucel's Tocade accord of rose + magnolia + amber.
How to further describe the effect of the scent? It's made me think that I might be developing a new, more spontaneous appreciation for iris when the perfume betrays some of its velvety touch combined, it seems, with a leather note reminiscent of Dzing ! by l'Artisan Parfumeur. The composition is kaleidoscopic and dark as if you were in a dark room playing with a kaleidoscope configuring and reconfiguring shards of glass in elegant, mourning colors.
For me, this is a WOW! perfume for its capacity to smell endlessly subtle, surprising, and enticing.
Expect to see a big unveil this fall when the commercial by photographer Katerina Jebb will be shown. The bottle which appears to be blue-black on the visual has actually quite a bit of pink hue in its black.
Notes are pepper from Madagascar, cedarwood, Akigalawood (patchouli + agarwood), tonka bean.