4 Rose Perfumes in Search of an Ideal Across the Market Spectrum: Part 2: Van Cleef & Arpels Rose Velours: A Keepsake Rose in a Bergamot Box (2013) {Perfume Review & Musings}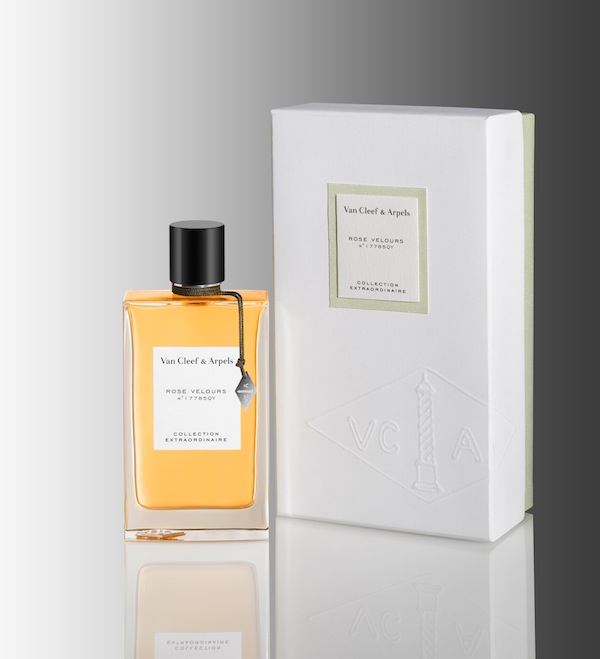 By Chantal-Hélène Wagner
Yesterday, I started wondering about the endless inspiration that the rose is in perfumery. My first impression of Rose Velours by Van Cleef & Arpels is drawn from a succession of detailed olfactory motifs. I perceive unfolding, an oud-y, incense-y rose perfume with a helping of violet-colored plums and cedar shavings. The rose is fruity - a mix of Bulgarian and Damascena. Little by little, the composition fades into a white vanilla sensation becoming creamy with a hint of green and the metallic accents of a rose whose thorns must have been galvanized. The ferrous nuances make you think of an unsheathed sword battling among Chantilly lace (vanilla) like the juxtaposition of masculine and feminine principles. As the perfume melds further with skin it smells of salty-sweet skin and becomes more perfume and less series of discernable accords. It is a warm composition with an inebriating aspect evoking the honeyed beverage Hydromel...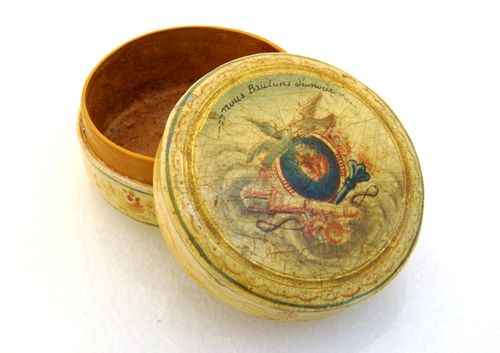 The take-away for me however from this haute and pleasurable rose composition signed by Antoine Maisondieu of Givaudan is in the end, unexpected, and it is about a bergamot set like a precious stone in this perfume mostly advertized as a velvety rose. Upon subsequent wears and living-in experiences it is this trait which stays with me the most and is the most original. The bergamot is delightful - like a light-spirited witticism - delicious - like an infusion of Earl Grey tea, and precious - like an 18th century bergamot box. The surprise of the nose for your nose is to discover this bergamot note weaving its way from begining till the end, vertically. Ever-present, it is continuously refreshing but also soft, distilling its perfume in little sparkling and refined puffs. I never stopped to think whether I liked bergamot or not. This is the first time that I feel a new appreciation for it.
Antoine Maisondieu has managed to recreate the idea of those dainty bergamotes as in the 18th century when the eponymous boxes were made out of the pulled-out thick peel of the fruit, a specialist production from Grasse in France based on a craft originating from Sicily where the best bergamot continues to be cultivated today. The ancient boxes which can be seen in museums are pale canari yellow as a sign of the living fruit, with blue shades and often pink colors, as they were exchanged as gifts between affectionate relations or lovers but also given to patrons. They could be layered with paper mâché and would be painted with cherubs and doves or molded into the shapes of novelty objects, but the reference to the fruit remained underneath the lacquer and inside the boxes where pieces of the dried fruit peel walled the containers with its scented bark.
The incongruous note of bergamot imposing itself to my attention through its sheer insistence reminds me once again of a confession made in the past by the perfumer in an interview, who said that bergamot was his favorite note, or one of his very favorite perfumery notes if I recall correctly. He has tended to overdose it at times to demonstrate his commitment to it but this time he has made it both persistent and subtle, and most importantly still as far as perfume is concerned as a companion for your skin and person, enjoyable and a breeze to wear.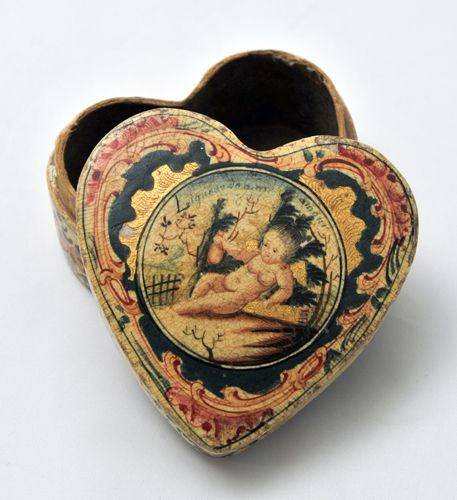 It is in this middle path virtue that I recognize the force of the personality of this rose and bergamot composition: it is a very enjoyable rose perfume to wear. It is exactly proportioned so as to diffuse its pleasurable influence all day long - for a few hours at least - so that you do not tire of it, finding on the contrary renewed enjoyment in it. I have never smelled a bergamot box, nor sat near one but if they had a pot-pourri effect, they would have diffused continuously in a similar fashion.
Rose Velours being an opus in the Collection Extraordinaire by Van Cleef and Arpels, you might think that wearability is not at the forefront of the mind of a perfumer who has in this case more room to create freely for a smaller group of people. Maisondieu here innovates with this bergamot leitmotiv - a very personal touch of his and a genuine obsession - while creating a perfume as fluid as water and as easy to drink or rather wear, and this in the very best sense.
Just today, I announced the news of a new perfume by Juliette Has a Gun called Anyway which follows a similar logic. This might be considered a sign of maturity from the niche fragrance industry rather than a defeat of artistry, while following a trajectory from designer to niche perfumery. It means that strong statements are not necessarily needed at all times to impose your voice but rather that the quality of being in the lives of the wearers for the long run is sought out, even in the most personal segment of the perfume industry.
Rose Velours is actually built on the famous rose-magnolia-amber accord by Maurice Roucel for Tocade by Rochas contributing a sense of familiarity and anchoring, yet it renews our sensations, if not our ideas. If like me you thought that Tocade was remarkable but stifling at times, this is an answer to your prayers. The crowing glory of Rose Velours is simple yet precious: eminently enjoyable wearability, which is rare. From Tocade, which means crazed infatuation, to Rose Velours which suggests softness, comfort and richness, a French rose perfume has matured.
Fragrance notes and quotes here
Pictures from Cité des Arts