4 Rose Perfumes in Search of an Ideal Across the Market Spectrum : Part I {Perfume Reviews & Musings}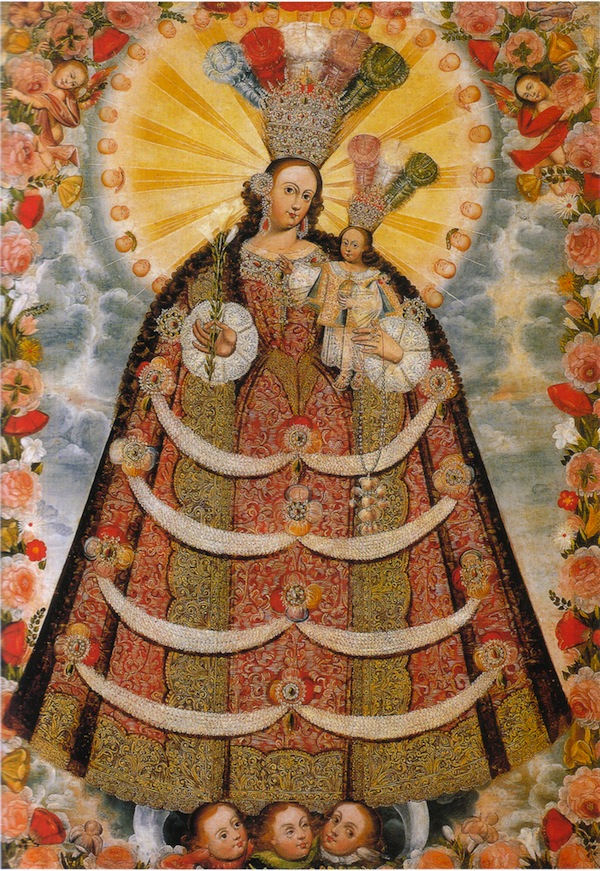 The virgen of Pomato, Cuzco school, Peru, 18th century
By Chantal-Hélène Wagner
The perfume of rose is one of the most idealized notes of perfumery. It can and does pretend to the status of holygrail of olfactory expectations and sensations in which a quest for it is launched yet never quite attained. Hope remains however. When I think of a full-blown rose perfume I think without thinking of Nahéma by Guerlain, Une Rose by Frédéric Malle Editions de Parfums, and a moment later, of Tea Rose by Perfumer's Workshop, then a while later I remember Sa Majesté la Rose by Serge Lutens. The penultimate fragrance is a mass-market perfume which gets the full respect of the demanding nose of Malle. The scent of rose can be as simple and refreshing as that of rose water, or it can be as complex as that of a rose unfolding throughout the day and night, or that of a deconstructed rose although having said that, I cannot conjure up any unrose rose. Its nuance is unmistakable when it is included in a composition although there are substitutes and adulterations which you can read as "rosy" rather than rose like in particular with geranium, or rosewood. You notice something suave, natural and rich. Perfumers add it for authenticity even when not focusing on it. Natural rose is one of the richest scents of nature, and a short-hand for the real natural world in perfumery even when and precisely because it makes use of synthetics...
There is also a sense of deference towards the rose in perfumery. It is a value-note. It creates a sense of centrality; you could say that it is like the North Pole not only of floral notes but of perfumery. Perfumery to some extent reflects not only nature, but culture. And rose has an all-encompassing historical symbolic and spiritual heritage to tackle outside of the history of perfumes.
Looking for a rose perfume is looking for higher standards of beauty and grace as in the case of few other perfumery ingredients. Precisely because it is ubiquitous and even banalized yet particularly rich with symbolic promise, you always keep looking. Idealized as an impersonation of feminine beauty and grace in Christian culture as the bloom and scent associated with the Virgin Mary, whether you are religious or not, you will feel the influence of this longing for exquisiteness - a remnant of intangibility - in rose compositions as the perfumers themselves are well aware of its centrality. You can expect more than in other cases, a bravura composition but also idealization and sensitivity while seeing it olfactorily translate as a cultural symbol of beauty.
In the 17th century Meditations on the Litanies of the Virgin Mary, the Virgin Mary, whose names in the Catholic church and Loreto Litanies in particular are Rosa Mystica and queen of the most holy Rosary -with the tradition of adorning her with a garland of roses giving the word "rosary" - is approached through a litany of rose appelations. She is called the Mystical Rose, the Rose without Thorns, the Rose of Sharon, The Rose who is Always Blooming, the Hidden Rose, The Nascent Rose, the Odoriferous Rose, the Sacred Rose, the Delicious Rose... Perfumers and perfume lovers alike have been spelling the name of the rose in a comparable endless fashion on perfume bottles and when dabbing on scent for centuries on end without necessarily thinking always about this mystical background although it is well present in this tradition, as well as in others.
In this article, we look at four new rose perfumes that have been crafted with different commercial niches of the market in mind. Going back to the four examples cited above, which are about four different market niches: design, high perfumery/alternative, alternative and mass-market.
Fragrance marketing and perfumery more often than not do not mesh and present the odd phenomenon of talking two separate languages which you need to learn to decipher on each separate level then check back and see if they coincide.
Do our four perfumes at hand all smell equally good in their own right or are there all too visible differences in terms of quality? Can we dissociate quality from satisfaction from our reactions to a composition i.e., do we notice in the end result anything less than what is promised by the beauty of a rose in the quality of our own sensations, imagination being one of the intangible ingredients that the perfume wearer brings with herself of himself?
Next up is a perfume review of the new Van Cleef & Arpels Rose Velours in the Collection Extraordinaire.
You can also check out our Rose Notebook