New Fragrances: Inessance Miss France Beauté & Elégance (2013)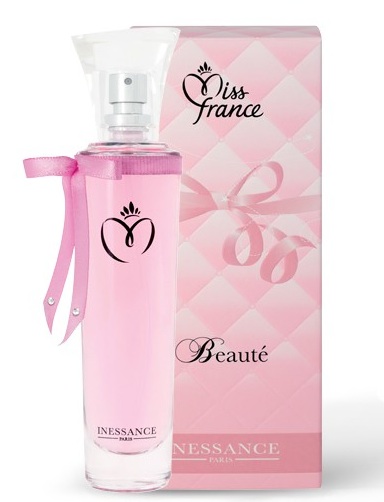 French beauty queens elected under the title of Miss France now have a duo of perfumes to represent them named Beauté and Elégance developed together with Inessance. The fragrances target the mass-market and were created by Emilie Bouge of Charabot and Serge Marjoulier of Mane, respectively...
Marine Lhorphelin is Miss France 2013
Beauté (in pink) is a fruity floriental. The composition opens on top notes of Cassis, Mandarin, Star Aniseed with a heart pf jasmine, rose, peach and licorice and a base featuring cedar wood, sugar cane and vanilla.
Says Emilie Bouge, "Beauté is a daring and ultra-glamorous perfume built around the color pink, which is also feminine and delicate. The heat is sensual and soft with its blend of rose and violet petals brightened up by fuschia and purple touches of raspberry and cassis."
Elégance (in peach) is a woody oriental. Head notes are bergamot, licorice, limette with next a heart of rose, vanilla and heliotrope before fading into a base of patchouli, musk and sandalwood.
Serge Marjoulier explains, "Elégance is a subtle skin fragrance of great sensuality. Limette brings in the beginning an opening which is zesty and licorice-y. The floriental heart is dominated by rose, the sublime Queen of Flowers and heliotrope imparts an almondy note which is nearly gourmand. Musk harmonizes in the base with sandalwood revealing a creamy, tender and textured facet."
Price: 10-12€ for 50 ml.