Bulgari Eau Parfumée au Thé Noir Eau de Cologne ≈ Drinking Tea in Your New Car (2015) {Perfume Review & Musings} {Men's Colognes}
Bulgari Eau Parfumée au Thé Noir Eau de Cologne // Perfume Review & Musings
Eau Parfumée au Thé Noir by Bulgari is one of the four official descendants of Eau Parfumée au Thé Vert (1992), a seminal fragrance for modern perfumery since it launched a whole school of tea-inspired perfumes in culture. Thé Vert was composed by perfumer Jean-Claude Ellena, with an idea originating from his research inside the fragrant tea-leaves bins of Mariage Frères, who to this day continue to propose some of the most expertly blended fragrant teas in the market. Perfumer Jacques Cavallier, now appointed in-house perfumer for Louis Vuitton, is the author of Thé Noir...
He's worked with a black tea from Yunnan, selecting Yunnan Dian Hong Jin Hao for its complex aromatic profile. The resulting perfume strikes you as a robust - even a bit « violent » - concoction in which the intensity of a strong black, smoky tea brew has been reinforced with lashings of leather and oud, the latter said to be exclusively based on natural sourcing (Aquilaria agallocha).
The nose explained that his black-tea accord is based on a natural maté extract, to which he's added notes of magnolia, rose and patchouli coeur, to recreate the impression of a black Yunnan tea with olfactory depth.
The leather strips dipped in your tea smell wet and fresh. This parti-pris of going for the intensity of a trio of notes alreay known for their potential vigour is only tempered by the soft back-pedalling of a vanilla note, which plays the role of sugar cube in your tea cup. Few people would actually sweeten a cup of Yunnan tea, but if it had leather shavings swimming in it and oud resin having just touched your spoon, they might need it.
Powerful ingredients are of course difficult to work with in perfumery since they quickly get out of hand. And no, you don't need a mound of oud in your perfume to make it smell precious. You just need to find an exquisite sense of balance for it within a composition.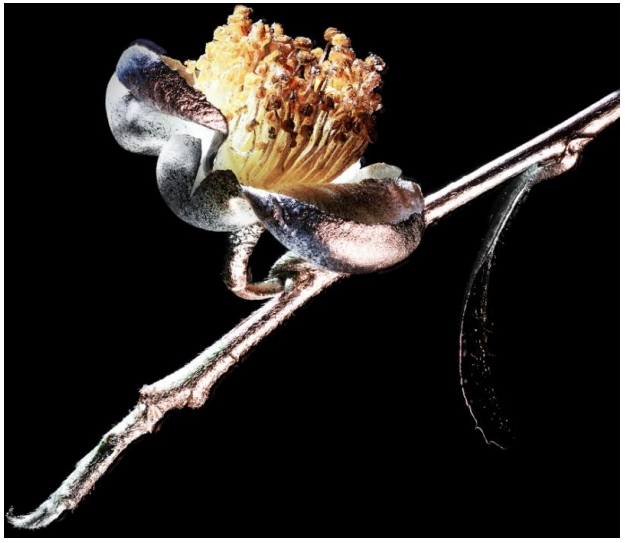 Jacques Cavallier however has chosen to convey character rather than luxury. This has translated into an overdosed scent where tea sensations tend to get overshadowed by leathery notes. We find the fragrance to be a bit too much. The scent certainly skews masculine and mucho-macho biker-like for those who are looking for a frank and unambiguous leather scent. While many men's fragrances are just great for anyone, Thé Noir, which is in principle unisex, is on the dominatrix side if you're a woman - and probably suave and just yourself, if you're a man with a taste for a gamut of manly trappings.
Damas rose has been paired with oud due to natural affinities in the game of winning perfumery combinations, but Thé Noir is not very rosey in the end, except as an undercurrent. Subtle floral nuances are better expressed in the drying-down stage; this is the time to enjoy a delicate magnolia and fruity rose when the leathery facet has started to recede from the foreground to the background.
Eau Parfumée au Thé Noir has been composed as if the real prospective wearer of this fragrance is the lover of new-car smell, rather than any precious aesthete sipping slowly and quietly an infusion of Yunnan tea rich with golden tips. We realize then that had the leather accord been closer to the scent of old leather, that it would have been more palatable and in-tune with our idea of aged tea. As it is, if your heart desires the scent of a factory-fresh car more than tea leaves, then simply unglue the label on the bottle. The flacon suddently looks exactly like it's made of tinted car window glass. As for its intensity, it's been accentuated further with a new Bulgari Eau Parfumée au Thé Noir Eau de Cologne Intense - "The Power of the Orient" indeed.
Fragrances notes : rose absolute, bergamot essence, black-tea accord, magnolia essence, oud wood, patchouli.