Annick Goutal Tenue de Soirée (2016) ≈ Picture-Perfect Chypre {Perfume Review & Musings}

A Vintage-Fashion Gallery at the Palais Royal © CHANT WAGNER 2016
Annick Goutal Tenue de Soirée Eau de Parfum Review
Tenue de Soirée (Evening dress) by Annick Goutal offers a first impression which is as immediate as a snapshot of an elegant passerby. You are taking in an elegant, perfumed composition, as you would a street photograph offering a fashion twist. It is a fleeting impression - and not necessarily where you expect the impression to be captured - yet, somehow, complete. Chypre scents are meant to symbolize elegance, but you usually need to let them fully develop to confirm that their fundamental mission has been fulfilled. Not so in this case, where the composition is conclusive, from the start...
In the grand perfumery tradition, perfumes - and chypre perfumes at that - are fastidious dandies leading you by the hand to a soirée where, finally, all the expectations you had prior to entering it, are realized. Tenue de Soirée is more like the instantaneously recognizable sight of elegance on the street.
Perfumes are meant to be worn in this transient mode; fragrances are of-the-street; they have sillages; they want to lure you, shadow your presence while you disappear at the corner of a building leaving a puzzling trail behind you; fragrances are of-entrance-lobbies - that intermediate space between everyone's street and your sanctuary. In those spaces, social relations are as fluid as a perfume and its sillage. Your perfume speaks for yourself, replacing you, doubling your presence here, filling your absence there.
Courtesy picture © Annick Goutal
Tenue de Soirée goes back to the tradition that Guerlain set up with Mitsouko in 1919 : to think of a chypre as an elegant, carnal, and festive fruit-bowl, with peach compote on the menu, ready to melt in your mouth. Its scent is simple to assess, direct, yet psychologically complex. The new eau de parfum is fruity like its forebear; it is not as atmospheric as its ancestor, save for its capacity to spell the world « elegant » in the space it inhabits, as legibly as if you read it on a neon sign; the composition's style is economical, like for Mitsouko. Despite the subliminal kinship link, it does not smell passeist.
Annick Goutal's « gourmand chypre » introduction signed by perfumer Mathieu Nardin of Robertet is equally indebted to the current popularity of La Vie est Belle by Lancôme; Tenue de Soirée would not smell the way it smells, had it been composed prior to 2012.
The composition integrates the voluptuous, feathery and gourmand iris of La Vie est Belle, together with the round, tart, and relatively juicy, yet abstract peach of Mitsouko as in a photoshopped, hybrid portrait of both. It adds an apricot nuance from Trésor by Lancôme; and a dash of face powder from Coty; also, it plays with tart raspberry, which is the most recent update on elegant fruits.
In other words, Tenue de Soirée is filled with historical references. It is an elegant creative exercise in tapping into perfumery's tradition to propose a contemporary update of well-known Roman-coin profiles. It is like a 3D-print technology replica of Mount Rushmore : you recognize the faces but the material is different - and it has been made portable.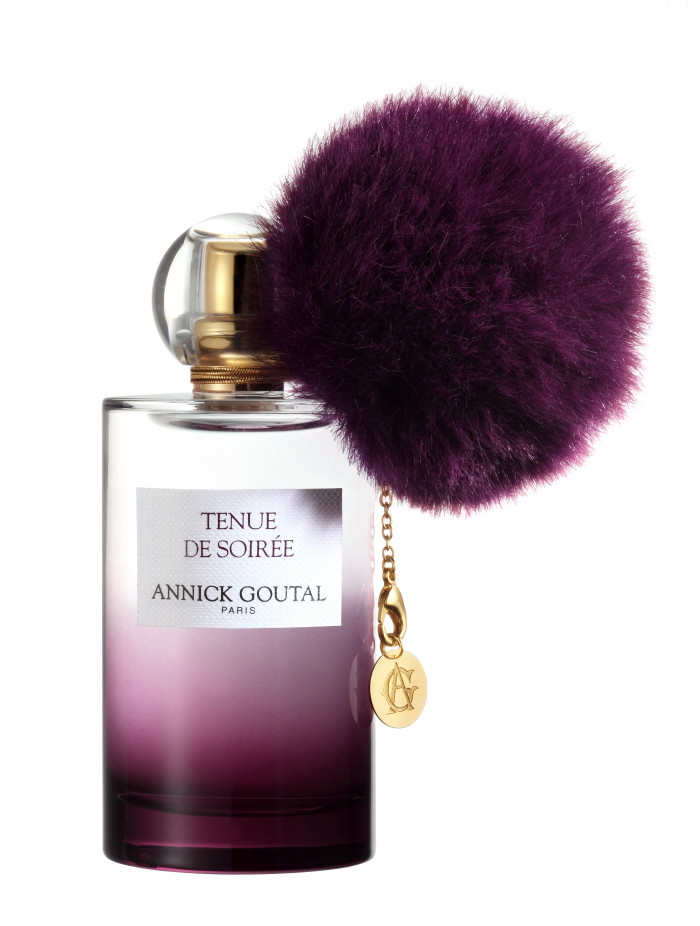 Courtesy picture © Annick Goutal
You will have an opportunity to discover a well-rounded modern chypre thanks to a photographic approach to its theme. It is instantaneously visible; and projects exactly the impression it wants to project, which is to shout silently « I'm elegant » by taking a few, well-known shortcuts. It would be an au-courant, hipster chypre, if not for its photographic quality. More than the smell of a chypre, it is the real-world smell of an elegant chypre lingering faintly on a tweed sleeve, mixed with cigarette smoke, as even the patchouli has been turned into a telling detail of this story of glamour. The perfume smells very good - and unmistakably ritzy.
Fragrance notes: Annick Goutal did not want to release a list of notes, judging it unnecessary to appreciate the scent.