Perfume Review & Musings: Eleonora Duse by Laura Tonatto

The color of this perfume is mauve, with brown overtones. It is dark, yet airy. It is like a clear, airy room, maybe decorated with some white marble in which antique polished wooden furniture is to be found, faintly glowing of a warm ambery light, small vases of violets placed atop of them. A soft breeze is blowing through the windows and diffusing the violet scent, mixing it with the polished woods...
Mauve and brown are the colors that for me color Jicky by Guerlain as well. Here I sensed the mauve color before it evoked the smell of violet. It also made me think of lavender, either because it is there or because the mauve color is influencing my perception of the perfume.
I smell lavender, violet, and woods. The scent starts off with a sweet violet note combined with a medicinal accord that seems to comprise camphor wood, perhaps teak wood too. This is soon tempered by the violet becoming more pronounced, softer, and rounder. Then, the perfume becomes more powdery. Finally, the drydown is very woodsy, soft, and warm with new nuances playing out in which I seem to recognize birch wood. There are rich wood accents in this perfume. The final impression I have from this perfume is that of a soft, suggestively powdery veil of violet lingering on the skin.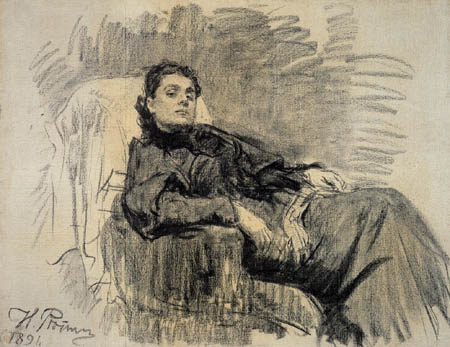 Eleonora Duse by Ilja Jefimowitsch Repin (1844-1930)
The violet used in E.Duse is viola odorata Victoria cultivated in Grasse since 1875. It is a very woody violet with a powdery base reminiscent of orris. It was used by Italian thespian Eleonora Duse in a water she would order from Harrods. The perfume was created with the expert advice of historian Alessandra Marini and an Egyptian amber note was added to contribute to the ancient feel of the perfume.
It smells ancient but not in an outmoded way but rather as if you were transported back in time to a quieter world, a world where noisy machines were more easily shut out. It makes me think of the Belle Epoque, of women in a Renoir picture whom I could easily see wearing this perfume. For some reason I also think of Lake Como in Italy, of a room in a hotel by its side, of Eleonora Duse vacationing there in the 1920s. She is preparing to go out for the evening; she dabs on some of this scent before leaving the room and it suits her very well. I find this perfume to be very seductive. The staying power is not impressive, but I suspect that people around you might perceive it better than you.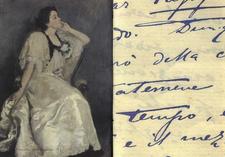 Eleonora Duse or simply Duse (1858-1924) is considered to be the greatest Italian actress of the end of the 19th century. Her fame was only rivalled by that of Sarah Bernhardt whose roles she often played. She was also the first woman ever to grace the cover of Time Magazine on july 30 1923. She and Sarah Bernhardt were rivals for they represented two very different schools of acting. Her own style was very naturalistic and she privilieged being in-character. She is considered by many to be the first modern actor. Her writings also reveal a person with great humanity.
Her acting genius was so much admired by Constantin Stanislavsky that it inspired him to found the Moscow Art Theater in 1897 and to work on the codification of what would come to be known as method acting. He would present her as an ideal point of reference to his students. Through his method we can consider James Dean, Marlon Brando, Natalie Wood, and Robert de Niro for example, to be the heirs to her artistic legacy.
You can find a biography of Eleonora Duse by Helen Sheehy here.
E.Duse is a limited edition. You can find it at Luscious Cargo for $100 for a 100 ml flacon.
Photos from Luscious Cargo and Laura Tonatto's website.