Scented (Good) Thoughts: Happy Mother's Day! & Charity Fundraising for Orphan Foundation of America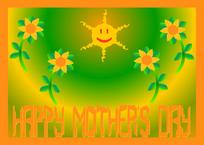 Starting today just past midnight and until midnight I will donate $1 to the Orphan Foundation of America for each message that you leave on this blog today. This effort is part of the Benevolent Blogging effort organized by Katie from Scentzilla!
I will also hold a drawing for a bottle of Eau de Patou from amongst all the people who leave a comment (please see my previous post for more details about the charity event). If you do not wish to be included in the drawing for privacy reasons, for example, please let me know. I will ask either my husband or my three-year-old to draw (preferably my boy if he is not in too mischievous a mood!) You can leave a simple Hi or if you want, you can tell us what perfumes or scents you associate most with your mother as a way of celebrating Mother's Day. You could also tell us what is the best perfume compliment you ever received or the one that pleased you most.

When I think of my mother, I think mostly of four perfumes that seem to have marked different periods of her life: Eau de Calandre, Chloe, Joy, and Femme. But to tell you the truth, she is not that into perfumes.

Orphans are children who one day lose a necessary presence in their lives and are made even more vulnerable than other children because of that. I hope we can help them a bit, but I also know that beyond this action we are undertaking today, what they most need is to find a good family.
I have a friend who is an orphan who was abandoned at birth and she told me that, "Anything is better than the orphanage." She was saying that to explain to me how she had had the will to survive the mistreatment, even the torture, inflicted upon her by the companion of her adoptive father who would sometimes burn her legs with cigarette butts.
There are many different reasons why children are given up for adoption. I saw a program on TV once where a woman decided after having had 3 children to give up the one she was pregnant with, mainly for financial reasons -- it was a matter of survival for her, for her family, and for the child. The program showed her giving birth and then not even wanting to take a closer look or have a close contact with the baby. It was heartbreaking to see the physical distance separating her from her baby and to think of the future life of that child.

Coco Chanel was abandoned by her father who left her in an orphanage after the death of her mother because he could not see himself taking care of her as a single parent.
A friend told me that her father had been abandoned by his mother as a little boy in the midst of a crowd at the open market during winter. He remembered how she had let go of his hand at some point. That man, her father, buit a family afterwards but he was only able to speak about this event when in his fifties. She told me that her father had been so unspeakably scarred by this event that he had been able to talk about it and allude to the scene of his abandonment to his family only then. They never knew. I remember meeting her father and thinking how hard this man was, not mean. Just something in him felt as hard as stone.

I wish that orphans may find other people who will love them. I also wish all of you much love in your lives.
Please visit other blogs participating in Mother's Day fundraising!

Beauty Addict for Orphan Foundation of America
Blogdorf Goodman for FINCA International
Brain Trapped in Girl's Body for FINCA International
A Girl's Gotta Spa for Orphan Foundation of America
MonkeyPosh for Humane Society of the United States and Muscular Dystrophy Association
Mother Hen's Place for Aga Khan Foundation Canada
Legerdenez for Orphan Foundation of America
One Child Left Behind for Heifer International
Perfumery for FINCA International
The Scented Salamander for Orphan Foundation of America
Scenteur 7 for Orphan Foundation of America *Participating May 10th through the 15th
Scentzilla! for FINCA International
SmellyBlog for FINCA International
The Soap Blog for UNIQUE
That Obscure Object of Desire for FINCA International
Urban Chick for Womankind Worldwide *Participating May 12th 'til she returns from holidaying a few weeks*
Victoria's Own for FINCA International
Yankee Family goes South for Orphan Foundation of America