Scented Thoughts: Patriotic (American) Perfumes to Wear on the 4th of July - Some Modest Suggestions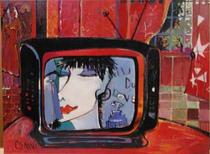 A Comedic, yet Serious Essay on What Fragrance to Wear on the 4th of July
Patriotism on holidays which celebrate national independence is expressed through many semiotic activities and foci of symbolic activities worldwide. In America, manifestations of patriotism vary from region to region of the American motherland (or is it a fatherland we should be speaking of?) -- in Boston for example, people feel Bostonian by going to listen to the Boston Pops -- but we can rest assured of two things: there will be national barbeque-partying and fireworks illuminating the many corners of the sky all over the 50 United States tomorrow.
From an olfactory standpoint, we can muse on and imagine that the 4th of July smells in the base notes of gourmand smoky burgers, burning hot coal, gunpowder, tangy, sweet, and sticky tomato ketchup, rich boozy beer and maybe sweet cotton candy and apple pie with spicy cinnamon - and let's not forget, musky sweat. In the heart notes there are green grass, tangy-green lemongrass candles, soft wheat, aqueous cucumber, sweet corn, iceberg lettuce notes - and a dash of car interior and car polish. In the top notes you might find fresh mint, tart pink lemonade, Coca-Cola, frosted ice cubes, light, cool, and fresh baby powder notes. This olfactory rêverie may smell like the pits of hell to some but since each year the same note combinations reappear, and people still throng the 4th of July events, we're in safe territory.
Napoleon once remarked, "Impossible n'est pas français" (something like, "the word 'impossible' is not to be found in the French language.") This seems to be the motto of many a perfumer today and since many of them are French you might get a phenomenon of double-whammy hubris due to the fact that they are French - and due to the fact that they are perfumers.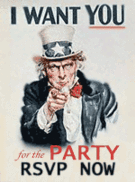 In any case, since no one has yet dared to combine these multifarious aromas of the Fourth in a single bottle, let's turn to alternative, ready-made solutions to express patriotism and love of the motherland through perfumes. How shall we convey that patriotic message? It is often said that olfaction is the neglected sense and hence, in our case, a clearly neglected source of rich patriotic symbols. As of today, it is not consciously tapped into by the vast majority of the population to express patriotism alongside with wearing star spangled sartorial signs. So if you contemplate wearing something more celebratory of Americaness than just deodorant, please read on and see what my practical suggestions are (rad more after the jump)...
The first, most logical idea that may come to your mind is to make a point of wearing an American designer's fragrance. This makes a lot of sense. This is the day of all days to forsake your French perfumes and show you can be independent from old-world perfumery. Let America remain untouched, if only for one day, by foreign smells such as those escaping from a Guerlain or Chanel or Shiseido or Myrurgia flacon and instead, dab on some of that Donna Karan, Perry Ellis, Hilfiger, Arden, Lauder, what not, that you have been shamefully neglecting these past few months. Better still, make a point of buying, for yourself and for your loved ones, brand new flacons of *American* perfumes to support the economy and in particular the American perfume industry and prestige fashion image abroad. I think that I am actually inching towards the idea of a national perfume day celebration but since it's probably too forward-thinking (even the French don't have it), I will stick to scenting the air on the 4th of July in a meaningful way. There are already so-called "national fragrance weeks" that are organized in the US but the term "national" is a misnommer because they are really local celebrations organized through private means.
The psychological advantages would be enormous. Studies have shown that wearing perfume boosts self-confidence. Wouldn't that be most appropriate on the 4th of July for people to feel even prouder of themselves than the rest of the year as a nation?
Scenting our bodies may not be enough. I also suggest that local municipalities contemplate replacing the water in their fountains by some all-American cologne, like Old Spice, for its foundational colonial reference, or Hoyt's for the luck it may secure for the nation at large. Just to show the folks at the Château de Versailles that you know how to party around a perfume theme too. Early settlers also had a predilection for musk and civet, so we may consider using synthetic variants of these. It will add a powerful punch to your local 4th of July celebration while paying homage to the spirits of the nation's forefathers and foremothers.
Patriotic symbols can be derived not only from national brands but also, as we have started to see, from historic symbols. One perfume, or rather cologne, takes pride of place in the hall of fame of American perfumes. This perfume was founding father George Washington's favorite cologne and it is still produced by the oldest American perfumery, Caswell-Massey. This cologne is Number Six by Caswell-Massey, a spicy, fresh cologne sold at a very affordable price, that is, at a democratic price, perfect in all respects for the 4th of July.

George Washington liked it so much and thought it represented the image of America so flatteringly that he offered two cases of it as a diplomatic gift to the French Marquis de La Fayette to thank him for his assistance in the Revolutionary War of 1780. When La Fayette returned to American in 1826 forty six years later he stopped by Caswell-Massey in Newport to buy another case, proof enough that the jus was appreciated in the choosy, Parisian quarters. Number Six was also appreciated by successive generations of inhabitants of the White House. They include, John Quincy Adams, Dolley Madison, Herbert Hoover, Mamie Eisenhower, John F. Kennedy, Ronald Reagan, and Hillary Clinton. Amongst famous artists, it was also worn by Sarah Bernhardt, Carole Lombard, Cole Porter, George Gerswhin, Errol Flynn, Katherine Hepburn, Judy Garland, Humphrey Bogart, Rosalind Russell, Shirley MacLaine.
A personal favorite of mine in their collection is the Newport cologne created in 1890. It simply smells to me like a man is supposed to smell. It oozes masculinity.
Historical American perfumes of a less official nature are Florida Water, Kananga Water, and Hoyt's Cologne. The two first are linked to the vodoo heritage of America and the latter was considered to bring luck in gambling. I can also think of Old Spice for Women by Schulton, issued in 1937, a reference to colonial America; I just bought a bottle of it and will review it in the future, stay tuned. Closer to home, plain old-fashioned Old Spice cannot miss the mark. Recent historical colognes which I find pleasant are the ones in the series by Caswell-Massey issued for their 250th Anniversary. I love Helio based on heliotrope, but perhaps the most resolutely American is Purple Sage which is meant to evoke the vast expanses of the Western Plains and refers to the Western myth of Americaness.
Purple sage as a fragrance note should be privilieged in our quest for a patriotic American perfume because it refers to a plant that held importance for the early settlers in the West. It has a soft, sweet, and woody aroma. The perfume line, Perfumes of the Desert, has also a perfume called Purple Sage to help us rekindle the spirit of the frontier. They offer Cactus Blossom as well which may appeal to those of us who have particularly strong affective memories linked to the desertscape. Other western-inspired perfumes would be Chaps by Ralph Lauren and Lonestar Memories by Swiss perfumer Andy Tauer. The latter fragrance is based on Tauer's personal impressions of Texas.
The nation and the motherland being abstract representations, you may need to turn to a regionalist approach to express patriotism. Your corner of the world may be, understandably so, your most vivid representation of the nation. It is therefore perfectly acceptable to affirm your identity by wearing your locale or neighborhood on your sleeve. A good resource would be the Bond no 9 perfumes; a neighborhood of New York might stand for the whole nation in a very quotidian and concrete way for you.
Ava Luxe has a perfume called The Beach which aims at capturing the smells of beaches in Massachusetts and in Cape Cod in particular. Consider also CB I Hate Perfumes and in particular his At The Beach 1966, it's an American beach all the way. Here the abstraction of the vaguely-defined locale may help foster a stronger all-American feeling for those who prefer an all-encompassing, yet understated patriotic olfactory message.
As an aside, CB Outside from the same house is not so patriotic in intent or inspiration, but it is darn practical as it helps you repel bugs while smelling good all day at that 4th of July barbeque party. And after all, this illustrates deep, core American virtues: a hands-on approach, impressive practical sense and problem-solving skills. While we're at it, let's add CB Memory of Kindness, because kindness is also a much vaunted core American virtue. Perhaps much more flaunted than practised, but at least it's there as a value. Also, because there is a comforting cookie note in it.
You may just decide which scent or flower symbolizes your region of predilection best. For example, for Hawai it might be pikake lei. Café Noir by Ava Luxe might just do the trick if you are from Seattle!


In the sphere of morality, we might also turn towards the newly released Wonderful by American Beauty. This should help us feel upbeat. American Dream by the very same brand is another suggestion to affirm the value of idealism. You should also give a whirl to Freedom and True Star Gold by Tommy Hilfiger. Highly symbolic is the torch of freedom burning in the hand of the Statue of Liberty and one perfume captures that idea, Lady Caron by Caron.
If you see a star or the colors of the American flag or the name America or some derivation of it on a package or flacon, then it's a safe patriotic choice. Perry Ellis released a perfume on 4 July 1996 called America that is still available. Cosko has a jus called Spirit of American Sport for Women which has the American flag, stars, the word "American" on it of course, and even a bald eagle! It can help women assert an American brand of feminism and stress values pertaining to American sports culture. Hilfiger' Tommy is patriotic in style and the upcoming Tommy Girl 10 and Tommy 10 were expressly created to symbolize a journey through America with notes purposefully originating from different regions of the US. The description of their notes is a lyrical ode to America:
"Tommy Girl 10 has top notes of tart Nantucket cranberry, luscious Marion pear, sweet Pixie tangerine and Indian River grapefruit; a heart of Mississippi magnolia, California honeysuckle and Virginia water lily, and a drydown of Vermont cream, butterscotch and Rocky Mountain birch."
"Tommy 10, for men, opens with notes of Seattle rain, Hawaiian pineapple, Fresh Kentucky bluegrass and tart Cape Cod cranberry; has a heart of wet violet, Rocky Mountain blue spruce and Arizona saguaro cactus flower, and has a drydown of Long Island driftwood, Vermont red maple wood and Wyoming cottonwood."
America, the land of the multitude of commercial brands, has many iconic smells and we can consider ourselves lucky Americans that Christopher Brosius has already bottled many of them. The Demeter line is a mine for evocative, symbolic foody American aromas: Apple Pie, Pink Lemonade, Sugar Cookie, Chocolate Cookie, and why not add Lobster and Sushi to your list of possibilities? Are we missing a cultural reference? How could one fail to mention a Coca-Cola perfume based on the uber-iconic American drink? Yes, it exists and it is done by a French brand called L'Aromarine. Do not neglect to check their scent called Cola.
Another iconic smell that has been captured, perhaps inadvertently by Mona di Orio, is the car interior note found in Carnation. Due to the presence of a styrax note, we get a rubbery/leathery aroma that is the realistic replica of this smell. I initially thought to myself, "leather flowers" but when I stepped into a car that very afternoon I had to revise my olfactory associations and switched to "car interior." I am reminded of a Rita Rudner's quote. She seemed to know a thing or two about American men and so, she once famously said, "To attract men, I wear a perfume called 'New Car Interior'." Very cute.
Finally, let's not forget that America was built upon Plymouth Rock or at least, its myth, and thus, most fundamentally, on an ideal of religious toleration. One scent that perfectly captures this ideal of religious pluralism in America is MoslBuddJewChristHinDao (Unifaith) notes by Elternhaus. Initially intended to express the richness of world religions in the world at large, we can decide that, like many other things, this ideal was most perfectly realized in America and celebrate this idea by wearing that perfume. The only problem in this case is the price tag attached to the neat message: $300 for 50 ml. Very pluralistic but very undemocratic.

I personally will probably wear Café Noir by Ava Luxe, a sophisticated, sweet and tonic coffee scent that has been recently reviewed by my fellow perfume blogger, Marlen. He inspired me to revisit the scent and I absolutely love it! Especially, I find that it works very well in the hot weather and revives your stamina. It symbolizes for me countless pre-dawn or early morning hours in America, waking up to the scent of a new day of work, looking forward to the task ahead and getting all excited about it, well, huh, many, many times. Now, isn't that a good symbol of the good ol' work ethic, American style? ---- Mimi Froufrou
Picture is "All-American Perfume Ad" 36 x 48 acrylic on canvas by Cherie Salerno.