Perfume Review & Musings: Lonestar Memories by Andy Tauer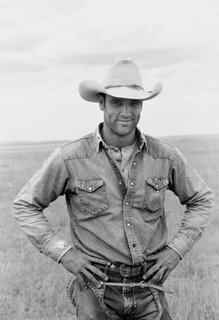 Lonestar Memories is the latest creation by Andy Tauer. People who are familiar with his first two perfumes, both introduced in 2005, Le Maroc pour Elle and L'Air du Désert Marocain, will find that it departs from the previous two in that it is not a perfume with Oriental references anymore, but rather an ode sung to the naturalness and freedom expressed by the myth of the American West.
I will add that it is also, to me, a perfume which contributes to defining without any ambiguity or restrictions a classic ideal of rugged masculinity as conveyed in fragrance form and it is rather efficient at that.
In case we had forgotten, Tauer reminds us that certain perfumes just might smell more erotic on a man's skin than on a woman's, if we are to recognize that to be able to provoke "trouble" (in French) could be a perfume's ultimate mission...
Lonestar Memories starts with, to my nose, a slightly boozey accord reminiscent of whiskey mixed with the sweetness of dry fruits preserved in liqueur then segues very quickly into its dominant theme, Leather. Whereas Ambre Russe by Parfums D'Empire evokes a cosy and plush library with luxurious leather armchairs, aged liqueur, and a roaring fireside, Lonestar Memories evokes vast open spaces, the warmth of a cattle herd, coffee, and a campfire. The leather accord that develops in Lonestar Memories is dark, raw, smoky, animalic, with sweet undertones. There is also a bit of a fatty aroma that ties in well with the theme of the prairie. Later it will become drier. Cedar, birchtar, and a smokiness evocative at times of Lapsang-Souchong tea and at other times of a campfire weave their motifs. The dry down is woodsy and reminiscent of the base notes in the other two perfumes by Tauer but with less of a marked sillage making it more masculine in that sense too.
We are transported to another place. I feel as if my nose were pressing against horse trappings or that I am back in Anatolia visiting a local saddlery. It is very evocative of the olfactory impression made by a freshly made horse saddle that has not quite lost touch with its origin and thus it also evokes raw hide. Even more than that, this very animalic leather, to my nose, goes as far as to suggest the live animal and its perspiration, the fume of its very presence however transfigured enough as to be evocative rather than present.
I have no trouble imagining what Andy Tauer probably wants us to picture in the eyes of our minds: horses, cattle, a man, a fire camp, pasture with some medicinal herbs scenting the air, and even dark syrupy and smoky coffee drunk by a virile and nonchalant solitary cowboy staring silently into the fire. He is of course sipping his coffee and resting from a day of hard work, half-leaning on a horse saddle that bears marks of sweat. It is a multi-sensory experience.
Now, you can even hear the clicking sounds made by the horses' trappings as the animals move, their neighing in the background, and contemplate the mauve crepuscule descending upon the prairie. This scent is both eminently evocative and realistic.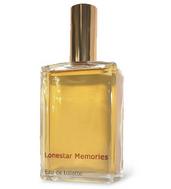 For people who fall for the idea of unabashed virility (like I suppose I do when smelling this perfume), this is an über sexy scent.
This is, to me, going deeper into our unconscious, how a centaur might have smelled had it ever existed. Once, in the depth of history and mythology, there was a being who was half-animal, half-man. Then civilization separated the two essences. The human essence often feels nostalgia for its fuller nature, and at times attempts to recreate its former state. Being a horseman or a cowboy is one way. Using a perfume to recreate that fuller essence is another way. Lonestar Memories hints at a type of human energy based on deep nostalgia allied with raw eroticism, an energy that lingers on like the memory of ourselves originating from our archaic animal natures.
As a woman, I would much prefer to smell this potion of love on a man but if you like your leather dark, smoky, and very rustic, this is a perfume that should be made part of your collection. Of course, as we know, rusticity is an urban invention, so it is actually a very sophisticated leather scent that simply toys with our fantasies of or nostalgia for the primitive, the unadulterated, and the raw.
Mr. Mimi Froufrou just came in and a few drops later he says that he likes the scent and that it evokes for him "civilized wilderness." I did not communicate with him about my impressions; he just got it from the perfume.
Notes are: Geranium, Carrot seed, Clary sage, Birchtar, Cistus, Jasmine, Cedar wood, Myrrh, Tonka, Vetiver, Sandalwood
You can purchase Lonestar Memories for $65 on Andy Tauer's website or $80 at Luckyscent.