Perfume Review & Musings: Insolence by Guerlain
I will first review the advertisement for Insolence and then the perfume. My illustrations are in reverse order though; hope you're not confused already.

So I thought it wouldn't be a bad idea to review the new Insolence by Guerlain as it would help me clarify my own impressions of it. A little trip to Sephora last weekend allowed me to get hold of a generous sample of Insolence as I felt that the couple of spritzes that were drying off my hand wouldn't be enough to get to the bottom of it. After all it's a perfume by Maurice Roucel, the author of Musc Ravageur, 24 Faubourg, Iris Silver Mist, and Be Delicious, to name a few; there might be hidden complexity there. It is a also a newly heralded Guerlain generation of perfumes as the very bourgeois and posh perfume house is attempting to break its classic image and reach out to a younger set of women. With this battle plan in mind, Guerlain has decided to appeal by putting out a rebellious, insolent perfume and hiring Hilary Swank/Million Dollar Babe as its icon.
Swank is perfect to embody insolence, the value, but the strange images used in the advertisement campaign seem to want to deflect the potential threat posed by the representation of an insolent young woman: the actress looks stultified, frozen, immobile; in brief, her insolence is safely put away in a place that looks like it might be a locked Swiss bank safe with the key completely lost in the netherland of aborted rebellious dreams...
Vogue Germany has released some images of the TV campaign and in them, Swank looks slightly less dead because she...moves and her hair are wildly flying in all directions, a clear demonstration of the rebelliousness of her hair, yet the expression on her face remains painfully inert, expressionless, vacant, and...hmmm, perhaps we can detect a little frown of annoyance if we pay closer attention. Turning to my Merriam-Webster for clarification about what the virtue of insolence might be thought to be by the average person, I find a two-pronged definition: 1) Insultingly contemptuous in speech or conduct: overbearing. 2) Exhibiting boldness or effrontery: impudent. Syn: proud.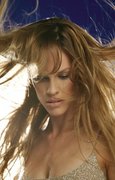 Now I understand: I was stuck with definition no 2 and the ad people didn't read past definition no 1. Contemptuous, overbearing, proud, yes, indeed, now I see why Swank wouldn't smile nor condescent to betray any spark of liveliness, effrontery, nor freedom of expression. The form of liberty that is insolence (in my book) seems to be entirely lacking from the imagery put out by Guerlain. I do pay attention to these things. I do not like women bashing.

But back to the jus itself. Do we feel that the perfume reeks of insolence? No, was my first answer to that question. It did not appear to be particularly young either at first blush. I envisioned more a woman in her mid-thirties wearing it than a woman in her twenties, especially since in the language of today's fragrances, infantilization ( i.e, candy smells) appears rampant. So actually, I should say it smells like a woman past her forties could wear it very well. Subsequent sniffage told me I had to change my mind.

At first, it smells readily of a soft, hazy violet. Then something slightly darker and animalic enters the stage. As the perfume unfolds, it becomes both rounder and more strident depending on how you inhale it, lightly or deeply. It feels as if there were an upper layer of violet that was soft and slightly powdery and dreamy but that when you inhaled more deeply it revealed a foundation, a bottom layer that was more like an assertive chypre, tarter (you are getting my impressions in real time). Those are two very different atmospheres and it is intriguing that they seem to be juxtaposed at the same time rather than develop in succeeding stages. Now that reminds me that Guerlain did claim that the structure of this perfume was anything but the classical pyramid of notes timed to unfold each in turn.
The upper layer, I reiterate, is not insolent at all. But the bottom layer is sort of insolent and fresh (in both senses, moral and olfactory) and certainly more agressive. Is this a statement on insolence seen as a hidden force rather than as exhibited as immediate proof and demonstration of one's mettle? It could very well be. I think that the soft violet recedes to leave more room to the tart red fruits. At some point it seems to get fresher with some mint surfacing. Then the violet comes back. I actually remember now that it was said that the structure of the perfume is that of a spiral. Wait, Sephora even lists a "spiral accord" in their list of notes! I do believe them now. Indeed, there seems to be a to and fro movement. And beneath this avant garde structure you can still identify traditional Guerlain notes, those of the iris and Tonka in their signature base called Guerlinade. There is a woodsy, rooty, and dry character to the fragrance that makes me think of patchouli.
In the end, my impression of this perfume is that of a very modern perfume concept. Before I analyzed the perfume I simply thought that it was an elegant violet scent resembling, superficially I now see that, Violette Menthe by Jean Claude Brosseau. My first impressions at Sephora were to see in it a twin of that perfume; I even detected a similar mochi accord. It is really completely different: Maurice Roucel has managed to make a perfume smell all at once like a soft violet skin scent and a tart red fruity chypre, all at the same time, concomitantly, in an alternating and juxtaposed fashion. Fascinating. And yes, it does smell good. As a moral manifesto on insolence it seems to say I have that spirited aspect to my character that I do not need to show but that is there. I can also show it if need be. And then I can hide it again. It makes me think of a cat showing its claws, then hiding them, then showing them...you get the drift. Hmmm, I still think that the advertisement is more cliché than the perfume itself. Here's a plea: please, stop showing women with that narcissistic, slightly angry and aloof air that is so cliché and common on runways and cover magazines; delete the mean pout as well while you're at it.
Notes include: Spiral Accord, Iris (Orris), Orange Blossom, Rose, Violet, Sandalwood, White Musk, Tonka Bean, Raspberry.
You can also find more images of Hilary Swank in the Guerlain TV advertisement in Vogue Germany