Perfume Review & Musings: 1740 Le Marquis de Sade by Histoires de Parfums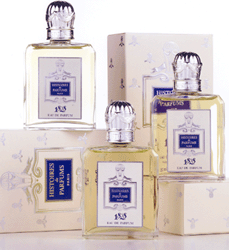 1740 is the year the Marquis de Sade (1740-1814) was born. As with the other eaux de parfums in the collection by Histoires de Parfums, it is the name of one of their historically-inspired perfumes.
The memory of the sulfurous Divine Marquis is said to have inspired the composition of a fragrance meant to convey the essence of seduction.
The French text likes to stress that this is the scent of the most libertine of all the seducers and proposes itself to be the instrument of limitless seduction. This program will be carried out with the help of a "woody and leathery alchemy".
Head notes are Italian bergamot, South Indian Davana Sensualis. Heart notes are patchouli, coriander, cumin, Indian cardamom. Base notes are patchouli, cedar, birch, Spanish cist labdanum, leather, vanilla, Everlasting (Immortelle)...
The perfume starts off with the notes one might expect to smell upon walking into a gentlemen's smoking room. It is boozy, then sinks into tar and leather. There is the smell of leather rubbed with sweet dry fruits and tobacco as well as that of an Eau de Vie in which dark prunes have macerated. This is a somber and smoky scent whose composition evokes all the traditional masculine vices: smoking, drinking and enjoying the pleasurable company of other men (still in a heterosexual atmosphere).
The fragrance smells more of a men's club than of a boudoir, hence an idea of seduction that is very much held in check as hidden feral force or potentially threatening lethal weapon only. It is not fully displayed. For instance, no animalic notes indicate the sexual act. 1740 is an intense scent with a certain masculine roughness to it. Since there is little allusion to the feminine universe in this perfume we are therefore reminded of the metaphysical trappings of the seducer: intense and deep solitude. Despite these perceived nuances, I find it eminently wearable for a woman.
The composition is creative and gorgeous, or so I thought unreservedly at first. As I was already planning ahead to get a bottle of the marvellous perfume, it started to smell somewhat cheap and synthetic in the dry-down giving out those unnaturally strong notes that hurt your nose just like neon lights might hurt your eyes.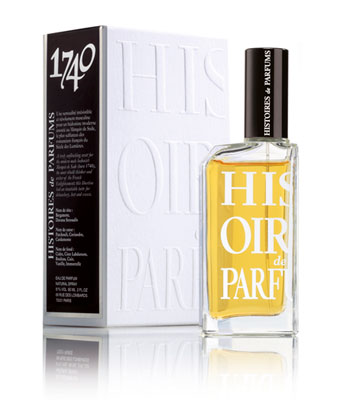 Some perfumes just make you think of bad nylon. I have waited for two months or so to see if it might need to age a bit in order to quiet down. It does seem to have improved a bit but it still betrays some of the fire red-engine subtlety I was referring to. I must add that I discern that garish olfactory coloring in other perfumes by Histoires de Parfums. I have to conclude for now that the composition is superior to the materials used.
Histoires de Parfums have a website in both French and English. The Four Seasons carry part of the line but they are currently out of stock on all their HdP perfumes. I recently saw Sweet Chic* was carrying some of their fragrances as well; although the perfumes don't appear on their website currently, Sweet Chic has confirmed to me that they carry 1804, 1826, 1873, 1876, Noir Patchouli, Vert Pivoine, and Blanc Violette. You can read my previous post on Histoires de Parfums here.
* It's now defunct.