Perfume Review & Musings: Gucci Eau de Parfum by Gucci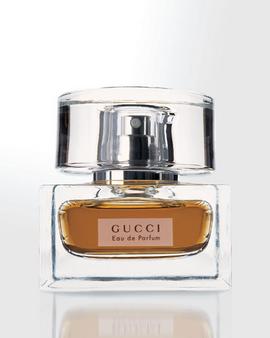 Certain perfumes call to imagination the supernatural. These slightly unsettling scents retain an original magical quality about them and subconsciously impart to us the idea that they are the direct descendants of a witche's brew, are secret elixirs whose recipes have been closely guarded for centuries in the muted darkness of a dungeon, or equally, are love potions transmitted through a line of strong females who decided in the course of time to lay at rest their warrior suits to engage instead in the war of seduction. That type of scent, of course, is first handed down from mothers to daughters during a mysterious sylvestrian puberty ritual and marks their symbolic passages into womanhood.

Gucci Eau de Parfum has the irresistible aura of deep seduction. Its color, to me, contributes to its charm. The jus is dark brown, the color of root-beer with shades of greenish black. I personally love dark brown almost black-colored perfumes like Youth-Dew oil or Royal Secret as they seem to have macerated with the most profound secret spices you could imagine. My anticipation when I see those hues is that the perfume will reveal a complex, multi-layered hidden beauty that was captured in rare concentrated form and that the power of the plants was fully harnessed.
The perfume was created in 2002 by nose Daniela Roche based on an idea by designer Tom Ford. Head notes are orris, heliotrope, orange blossom, and vanilla absolute. Heart notes are cistus, cumin, and thym. Base notes are patchouli, vanilla, and deep musk. At the time of its release, Ford declared "I wanted to create a classic fragrance that is very, very Gucci, something that is incredibly feminine and chic". The house of Gucci was confident enough to assert that Gucci Eau de Parfum "has the power to last far beyond the moment, and become a signature scent that is worn for a lifetime". To me it indeed reveals enough substance and character to be contending for a signature scent spot in any woman's life...

The flacon is "extravagantly" heavy as put by Gucci. Its style is reminiscent of the Mod era of the 1960s-1970s. I know that the subsequent Gucci II, whose bottle is very similar except its juice is pink, was designed by three high-end glassmakers: Saint Gobain, Pochet, and Brosse. It is a beautiful flacon and it looks better in real life than on the picture.

One decorative suggestion: in case the perfume does not agree with you it will very easily be converted into a stylish paper weight and even if it does too.

Gucci Eau de Parfum has the quality of an elixir. It is an extremely seductive perfume, the more so since it is not what I would characterize as a perfume that is easy to love. It takes time to fully appreciate it but then one falls under its spell. When I first experienced it my first impression was that it was an interesting perfume and I intuited that I would love it but that it would take time to get accustomed to it. It took about 2 to 3 months of very episodic trials. Now that fall is upon us the weather calls for exactly that type of perfume and what had seemed a bit too much in the summer feels right just now. I have been reaching for it repeatedly and with great pleasure. Gucci Eau de Parfum has the typical lusciousness of luxury perfumes (in the best sense of the expression) and the character of a niche scent combined. It is potent and very womanly. It is deeply sensual.

On initial approach, a soft powdery trail of heliotrope escapes from the shut perfume bottle. As you lift the very heavy glass cap the smells becomes more medicinal. Upon spraying it, it smells rooty, herbal, and woody with a distinct reference to patchouli. It should also be noted that it then smells slightly rubbery and licoricey. The scent slowly settles into sweeter and more amberey notes all the while retaining a peculiar character. The initial relative harshness is progressively overcome by mellowness. But an uncompromising accord dominated by heliotrope, cumin, cistus, and thyme continues to offer the charm of its controlled dissonance. As the accord winds down further it takes on a fruiter character as it plays with the sweet cherry facet of heliotrope also called the cherry pie plant; but that may just be the vanilla. Here some pondering leads me to see a kinship with People of the Labyrinths but it is not meaningful at all. I am offering this more as a reference point than as a factual connection. A very dirty musk runs throughout the perfume reminding you of what it takes to be in the business of full-fledged womanhood.
I am adding a note about orange blossom as I am more sensitive to this facet today. I see how it contributes to the softening of the juice; it is a very gentle, tender, and round note that adds a delicate touch to the perfume.

Gucci Eau de Parfum is ultimately a harmonious perfume but that deeper sense of harmony and serenity and profound sensuality is reached after you have crossed a precipitous mountain to finally reach a happy valley. The base notes are very warm and sensuous and even sweet but the strong herbal accord remains 4/5 of the time and adds a lot of character to the brew. Gucci reportedly wanted to inject an androgynous quality to the perfume by resorting to the herbal notes. The scent definitely calls to mind the idea that it could be worn by a man without trespassing too many Western olfactory conventions although its sweetness anchors it for me more in the feminine realm. If you want to think of a masculine scent that is as sweet while being classified as a masculine fragrance, I would suggest the Karl Lagerfeld reference point. The staying power is excellent; after one night the perfume is still deliciously scenting the skin, having turned into the longer dry down, here made of warm vanilla and musk. Simply irresistible. I call it a hidden gem.

You can find the perfume in discount stores, on eBay, Nordstrom, and at Neiman Marcus.
Sources: Women's Wear Daily and Cosmetics International. Photo is from Neiman Marcus.