Perfume Review & Musings: Magical Moon by Hanae Mori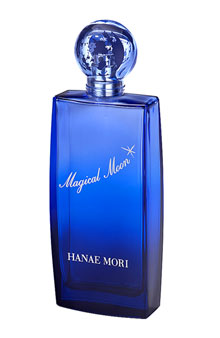 Magical Moon is the latest perfume launch by the grande dame of Japanese haute couture, Hanae Mori. It makes its debut eight years after the design brand's previous fragrance creation, Haute Couture. The name of the perfume is said to be inspired by a flower harvesting ritual that takes place according to an ancient lunar calendar. The festival of Tsukimi or moon-viewing and the representation of a rabbit to be found in the moon reveal enduring beliefs in the magical character of the moon in Japan. The Nordstom site tells us that either in reality or in a dream or perhaps in an atmosphere evoking a little bit of both "Magical Moon was blended in a vat lined with blue moonstone. It was bottled under a full moon." It specifies that "Hanae Mori celebrates the rising of Magical Moon, the first fragrance whose creation was ruled by the moon..."
The fragrance offers a superb polished feel. I cannot help but note that just like Soir de Lune by Sisley which took about the same amount of time to bring to completion it seems to have benefited from the attention devoted to it instead of having been rushed due to multiple competing perfume launch projects. It is almost as if time itself allows perfumes to undergo a process of technical refinement as if having been sifted through a conceptual sieve...
The bottle, especially the stopper itself, is a work of art. The flacon was designed by Pochet Glassworks. I day-dream that the stopper could have been designed so that it could have been used as a pendant fillable with a small dose of perfume. It looks so much like a glass jewel. I find its charm to be slightly mystical...magical and especially in indigo color, reflexive. It looks better in reality than on the picture.
As one lifts the beautifully shaped hollow round glass cap of the Magical Moon flacon one experiences the most exquisite fume of sandalwood spiraling out in the air like a scented silken ribbon the movement of which is reminiscent of those young Chinese gymnasts tracing a delicate choreography in the air with fluid red ribbons. The textile metaphor runs throughout the perfume as is not surprising and best describes to me the feel of the perfume. The sandalwood has the finesse of fine incense laying on a sweet and subtle bed of flowers and fruits. Magical Moon feels like a tightly woven fabric printed with a wealth of delicate fruit and flower motifs. It could also be likened to a precious stone due to its multi-faceted aspect brought about by the complexity of the notes or more precisely a shimmering material which would be jewel-like. I later recall that Hanae Mori is famous for her richly decorated textiles full of butterflies and flowers. Inspired by the traditional Japanese art of kimono weaving, her couture collections and now latest perfume reflect her aesthetic beliefs as well as her life experience. Brought up in a small village she recalls how "The winters were very cold, while the summers were very hot with fields full of flowers and multitudes of butterflies."The silken and luxuriant impressions left by these souvenirs were transported into the realm of fashion and Magical Moon is like the print of a luxurious kimono as well as a refined aesthetic manifesto from Hanae Mori.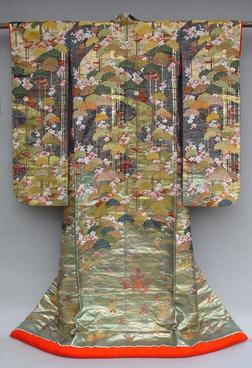 The opening of the scent is fresh with candied undertones and even deeper woody notes supporting the architecture of the scent. A subtle patchouli arises with facets of berry fruits. The fruity scent segues into a luscious creamy floral accord resting on a slightly savory cocunut milk note as well as on rich guava nectar. The scent deepens and becomes richer while being contrasted with a drier counterpoint of patchouli and cedarwood. The floral note that dominates, to my nose, is the tea-like plum-y scent of osmanthus.The blend warms up further developing its creaminess to the full and then, slowly, from the impression of wetness and succulence emerges a sensation of dryness and spiciness; a very light and refined veil of incense and sandalwood emerges from the unctuous concoction that just titillated your nose now suggesting the most refined of textures to your imagination. A seductive subtle cedarwood adds its slightly fleshier presence to the dry down. In the end, your skin is sweetly scented and made to feel more innocent-smelling by the lasting impression created by a gentle and subtle powdery accord that evokes an interplay of fruits, vanilla, candy, and spices, all very refined. The perfume, to me, can certainly support the idea that it reflects Hanae Mori's biography which appears slightly dual, a simpler childhood transfigured into refined adulthood.
(A wedding kimono by Hanae Mori)
Magical Moon thus manages to use sweet comforting notes such as sugar cane, cotton flower, and tropical fruits but to give them a sophisticated and refined aura thanks to the very fine textures of the incense and sandalwood. The perfume conveys a message of refinement both for the senses and the mind through appeal to the dual quality of notes like sandalwood and incense evoking both sensuality and contemplation.
Notes are: Osmanthus Flower, Porcelain Rose, Sugar Cane, Cotton Flower, Coconut Milk, Vanilla, White Musk, White Sandalwood, Red Cedar, Incense, Litchi, Patchouli, Pineapple Pulp, Guava Nectar, Star Fruit, Frangipani, Orange Flower absolute, Chili Pepper and Pink Berries.
Magical Moon is currently exclusively sold at Nordstrom.
(A Hanae Mori design)