Two Cleopatra Perfumes by Kanebo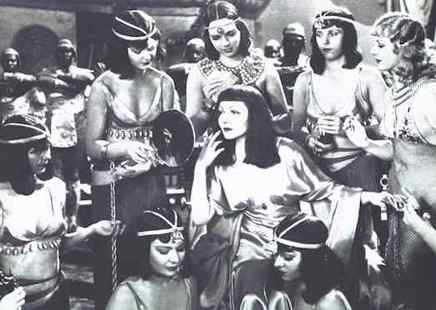 Claudette Colbert in Cleopatra (1934) by Cecil B. DeMille: What to wear this morning? I can't concentrate with all these ladies in waiting swarming about me.

Perfume history buffs will appreciate the effort put out by Japanese company Kanebo and in particular its chief perfumer Ryoichi Komaki in attempting to recreate two fragrances that Cleopatra would have loved to wear in her days. This historical-reconstitution project was undertaken to add a layer of sensory depth to the touring exhibition Egypt Sunken Treasures, now in Yokohama...
One fragrance is a floral composition revolving around Cleopatra's known taste for saffron flower, damask rose, rose alba, iris and violet.
The other perfume is inspired by
Kyphi
, a very antique perfume recipe carried by wine. Here red wine was infused with essential oils of frankincense, myrrh, saffron, cassia, sultana, honey and spikenard. You can also check out the limited edition Africanimal by MAC this summer for a Kyphi-type scent.
Although meant to convey the idea of a body scented with these scents, the fragrances must have been devised in reality as "room sprays" to diffuse in the atmosphere of the exhibition.
Kanebo promises that it's only the beginning of more things to come,
"In coming years we will be introducing our technical finesse to the general public in similar settings. We hope to give people as many opportunities as possible to experience the bewitching mysteries of scent,"


Via
Cosmetics International