See, You've Got to Love Fragrance to Sign a Celeb-Scent Deal: Case in Point George Clooney {Celebrity Perfume}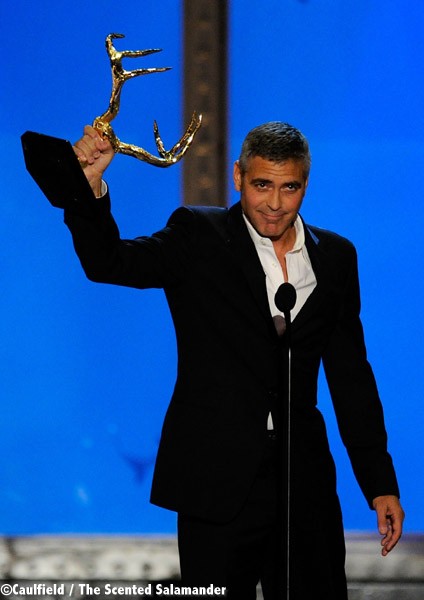 Spike TV Guys Choice Awards, June 2010
Actor George Clooney was reportedly only mildly interested in making a fragrance line under his name in collaboration with Coty, Inc, which specializes, among other things, in celebrity scents. They are the people behind the upcoming Lady Gaga scent. Only, he wanted a good paycheck to make it worth his while before he rolled up his sleeves. In exchange, the star was willing to commit to a several-year contract which would guarantee public sightings of the Clooney at the perfume counters for throngs of adoring (male? female?) fans...
I have personally never understood the supposed iconicity of George Clooney, whom some people seem to think embody an ideal, universal type of masculinity in the modern age, but what I know is that he just let go of an opportunity to build on his sex-symbol status, his Cary-Grant-for-a-new-generation aura. Well, perhaps what I do get after all, is that he is one of the last suave-gentlemen.
The Page Six of the New York Post reports that according to their sources, George Clooney's team were working on nailing down a fragrance contract with Coty, Inc, and it apparently just fell through. The invoked reason is that the actor was not willing to wade into the project unless he earned 30 million, at the very least. A source said, "George seemed to be not that keen, unless the deal really made it worth his while. But Coty pulled out, saying this figure made the deal impossible."
Although the insider account might point to money as being the big motivator for fragrance deals with celebrities, to me it also reveals that money is not enough to create a celebrity perfume. You have to be interested in perfume.