L'Artisan Parfumeur Batucada (2011): An Aquatic-Plummy Scent Drawing an Orb from Day to Night {Perfume Review & Musings}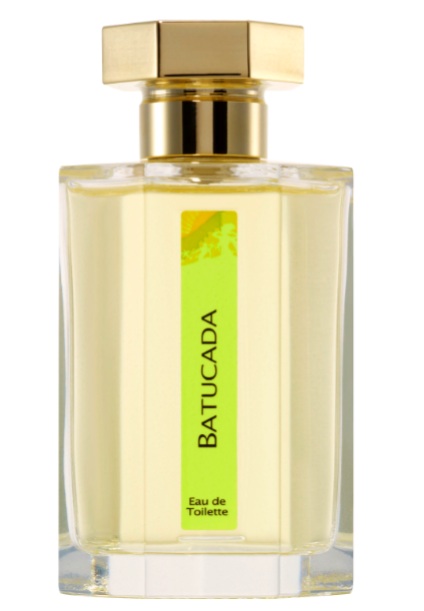 L'Artisan Parfumeur Batucada Eau de Toilette - A Review
Batucada is the new opus by L'Artisan Parfumeur and is reportedly inspired by the passionate, effervescent rhythms of Brazil hence its name which means "beat", the name as well of a specific style of Samba.
The house - and this is one of their trademarks - offers a collection of fragrances which are perfumed versions of travel diaries: Bois Farine, Timbuktu, Dzongkha, Fleur de Liane... But this time, there is a new element. Instead of sending off a "nose" to explore the flora and cultures of an exotic locale (Jean-Claude Ellena, Bertrand Duchaufour...) the creative process was made so as to include two long-distance perfumers communicating with each other. One is living in Grasse, France, she is Karine Vinchon, the other one resides in Sao Paulo, Brazil and her name is Elizabeth Maier...
This conversational exchange between perfumers across different olfactive cultures and markets is quite common in the fragrance industry in the age of computers and the Internet. Here, it is highlighted by the brand to reveal L'Artisan Parfumeur's insistence on fact-checking missions, authenticity and cross-cultural collaboration.
Heloisa Pinheiro, the original inspiration for the song Garota di Ipanema
Batucada, as it turns out, is a fresh aquatic perfume with a dark, fruity-oriental twist.
The development is like a narrative structure reflecting the passing of a day, from morning energy to quiet nocturnal atmosphere. Contrary to a symphonic-type of perfume composition, there is here less of a cohesive framework and more of a series of tableaux. The top notes show this tendency at its most, flying by like clouds chasing each others in the sky.
If you stopped at the top notes, you would only catch Batucada in the morning. You have to wait until the fragrance has written "The End" on your skin to fully read its story. This fragrance is not meant for people who do not like their perfume to "change" as it could be suspected of appearing too changing even to those who tolerate such shifts. Batucada is metamorphic and there is this sense of a journey, across a day. It is a perfume of passing moods.
As it hits the skin, the eau de toilette starts off by offering a delightful citrusy and fruity opening which makes you think of a cocktail drink: Capirinha, the national drink of Brazil. The lime note is vivid, even raspy and sappy (spearmint), spritz-y. Creamy hints of tiare flowers and vanilla soon temper the effervescence. It now smells of sugar wetted by a beverage. We are invited to feel the beat of Brazilian life and be hedonistic.
As the composition develops, it becomes obvious that while the citrus fireworks are part and parcel of this joyous and fizzy juice, it does not stop at this impression. Softer, more vegetal-y nuances become more characteristic turning Batucada into the perfume equivalent of a delicious, sing-song-y and soft-as-can-be suave Brazilian accent. Imagine hearing pronounced the name "Vinicius de Moraes", which can feel like cream to the ears.
There is thus a more vegetal-y Amazonian forest ambiance succeeding to the upbeat beginnings. There are very light woody touches - like drenched woods in the rain forest.
Putting the scent in the context of recent launches, it becomes obvious that it reinforces the trend this season of seeing very pale, aquarelle-like perfumes among new introductions.The fact that the scent was launched in the fall shows that ligthness is considered a style trait rather than a season-appropriate characteristic although summer starts in December in Brazil.
After a while, this scent which at the beginning seemed to be simple, laid-back, a Havana-sandal-styled perfume, reveals even further complexity. It now smells more darkly fruity, being suggestive of prune and davana.
It is a bit like smelling a later work by Edmond Roudnitska, Eau Sauvage, say, and going back in time to encounter Femme by Rochas by the same author, all in the same fragrance.
The new smoky glass flacon for Batucada ca. 2016
This is no mere chance. One little-known ozonic-aquatic fragrance by the famous French perfumer is the discontinued Ocean Rain for Men by Mario Valentino launched at the cusp of the 1990s, the decade which saw the height of favor for watery perfumes; it presents the same kind of duality we see at play here. This duality is reflective of Roudnistka's research and evolution from gourmandy chypre to more ethereal hesperidic, luminous structures as he was trying to cast away gourmandise as being too facile in his view.
The new book by Frédéric Malle De L'Art du Parfum also reveals how Le Parfum de Thérèse by the same perfumer was intially known for a very long time under the code name "La Prune." As Editions de Parfums Le Parfum de Thérèse is this mélange of watery, melon-y notes with darker prune, one sees a definite conceptual link to Le Parfum de Thérèse in this quest for olfactory duality.
What started as an extrovert perfume ends up smelling dusky, a bit dark, and quiet. It is like starting with a Samba dance on the beach and seeing the sun set on the hills of Rio de Janeiro. Going back to the press materials, one realizes that this is a willed effect. The perfumers wanted the composition to reflect a day-to-night cycle.
The composition has a tendency to thin down instead of maintaining a pervasive sillage. It is not easy to create the quality of being both light and persistent, but it can be done. See for instance Osmanthe Yunnan by Hermès signed by Jean-Claude Ellena (not all of his creations are always that diffusive.)
The drydown is discreetly powdery, with touches of water and prune. The skin becomes salty and musky. It smells of sugared plums.
One is reminded of yet another perfumery reference, L'Ombre Bleue by Jean-Charles Brosseau signed by perfumer Michel Almairac: there is prune, there are solar accents, and there is musky powder. Another reference which comes to mind is Pomegranate Noir by Jo Malone, for its dusty, sweet and savory dark fruit effect on the skin.
While Karine Vinchon and Elizabeth Maier no doubt imagined together the scents of Brazil by showcasing some motifs - Caipirinha, rain forest, coconut toddy, exotic flowers, sun - they also paid due respect to academic tradition by unearthing a lineage which is little known: the aquatic-prune-y perfume. Come to think of it, Jean-Claude Ellena, a former student of Edmond Roudnistka, worked on that same tension in Un Jardin en Méditerranée by Hermès, a pruney aquatic.
These acts of creative rewritings reveal the patrimonial turn of mind of perfumers, their constant tapping into the past to legitimize and offer foundations to the fragile, evanescent art of olfactory beauty. It gives this art further tangible historic shape, authority, and triggers a movement of instinctive recognition, including for the perfumers themselves.
But what if Roudnistka had not already united the threads of his disparate sources of inspiration into one perfume, Ocean Rain? Would others have thought of doing so? What if, that is the question...
Notes: Lime, cachaça accord, spearmint, tiaré, ylang-ylang, coconut, aquatic note, musk.