Salvatore Ferragamo Signorina (2012): Reenactment of the Vestal Virgin {Perfume Review & Musings} {Perfume Images & Ads}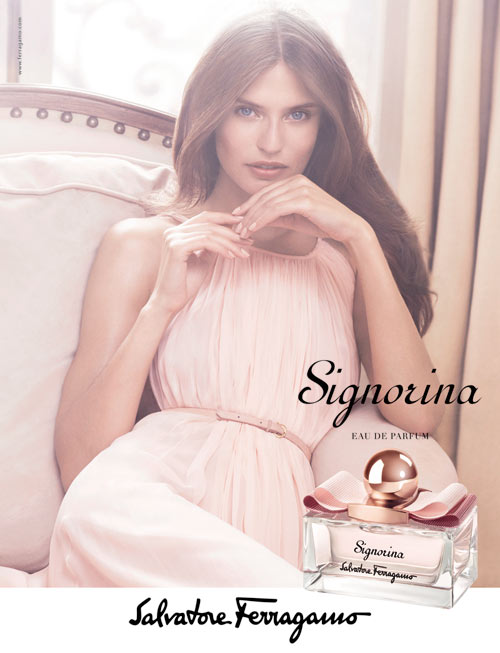 Genre: Fresh & Crisp Powdery Floral
Young women's perfumes are always interesting to look at and smell because they participate in constructing social identities through the fashion and beauty worlds, addressing themselves to a group which is particularly open to playing with their self-representations.
While the cap of the fragrance lets out that there is gardenia in the perfume, once the scent is sprayed on, it smells more of crisp peony. The opening has been worked in such a manner as to come across as bright and sparkling with citruses, tart berries and crunchy greens. They feel rather requisite in character, meant to catch your attention with an automatic commercial smile full of mindless optimism and good spirits, of course. Soon, a candied ethyl maltol note surfaces: Signorina by Ferragamo is yet another debtor to Angel by Thierry Mugler but it is not as compelling and complex in its sense of lineage as its worthwhile heir Pink Sugar by Aquolina.
Having said that, Signorina straddles the divide between green tanginess and sweet creaminess very well, but the effect is discreet. The Italian Panacotta accord adds its creaminess and softness for a more personal twist brought to the archetypal gourmand accord impressed upon us by Angel since 1992...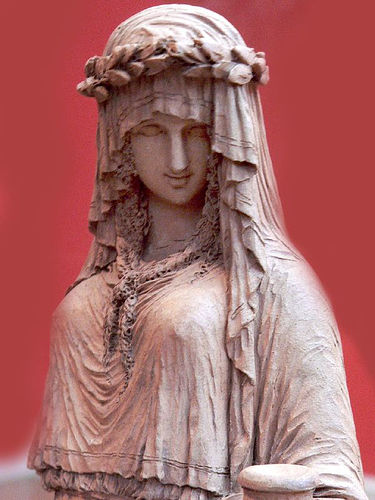 Vestal Virgin by Morin, 1791
You will not get a strong, recognizable signature from this new Ferragamo perfume. What you will get is a delicate, petaly effect for a veil-like perfume with fresh, green accents. It is pleasant and agreeable. One can appreciate a certain subtlety and delicacy about it. You can even accept the idea that the perfume aptly embodies the young Roman patrician spirit of today. Visions of gelatos, cafe terraces, polished interiors, La Dolce Vita, and of course creamy Panacotta cue in. The advertisement certainly reflects well the olfactory palette of the scent with its predominating colors of hazy pink and beige pastels. The bottle is lovely, with a good heft, and the shoe-buckle-like design is both fun and elegant.
Those who will appreciate Signorina most are people who like to give precedence to the scent of their skin over perfume. It comes across as a natural scent enhancer rather than an oeuvre. If you are in a light mood, it's perfect.
I think that perfumers Sophie Labbé and Juliette Karagueuzoglou can be proud of the work they did, but for those who expect this to mean that Signorina is a show stopper, it's not. It shows perfumery as its most humble and self-effacing, in a good way. More technically speaking, I feel that the ethyl maltol could have been tuned down and the scent be more tenacious. But the perfumers listened and they produced a subtle, sensitive rendering of what they thought a young, almost virginal Italian woman would like to smell like.
Once you start thinking in that direction you realize that model Bianca Balti in the advert is dressed like a Vestal virgin, a reference to Roman history and mythology which is subliminally used to convey values about femininity and women's role at home. Vestals were chosen based on the purity of their looks, like Balti. Vesta was the goddess of the hearth and therefore the young woman is seen inside her home rather than outside. Her suitor in the commercial comes to meet her inside her town house. Her classical leanings can be read in the delicate, atemporal pleatings of her fluid yet structured dress. The soft focus in the image translates immediately as soft femininity.
The commercial by Mikael Jansson reveals a somewhat strange disconnect between a representation of the modern society of consumption (shoe galore, modern design furniture, radio) and the final image reproduced in the print ad which wants to make time stand still and represent the eternal young woman, and no doubt, future mother (note the effort that was made to have Balti offer to the eye of the camera an ideal waist-to-hip ratio signalling optimal fertility and health).
You cannot escape the feeling that the Ferragamo ad campaign is an encouragement to train young women to think of themselves as the pillars of their households. Perfume is always more than just about smelling good. It carries a host of connotations and social implications along with it, especially palpable in its imagery. Or perhaps it is the case that it is just about smelling good really - some of the most experienced perfumers think of it as the ultimate test for a perfume. But somehow, it works in such a way that you are also handing money over to fund and encourage certain notions about femininity. In this case, it's unrealistic and constraining to demand of young women to be vacuously ideal, both modern, active and traditional, passive. Please, could advertizers make an effort, kill and thow away these types of ideological corsets? One feels that the WWII Italian Fascist ideal of the woman is rearing its head in the background, closer to us in time than the Vestal.
For young women, it might be time to become aware of your perfume vote.
Fragrance notes: red currant, pink peppercorn, jasmine, rose and peony, vanilla, musk, patchouli, Panacotta.