Diptyque Eau de Lavande Eau Florale (2014) {Perfume Review & Musings}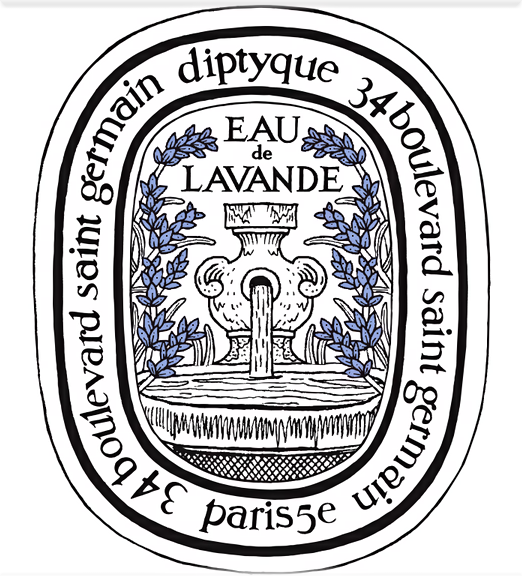 Exploring the Dark Side of Lavender Water
Eau de Lavande by Diptyque opens on an impressively musky and pungent top note riding on the animalic back of lavender. The spicy note of nutmeg amps up all that is potentially excessive in the floral scent, prolonging it. The fragrance soon segues into an equally in-your-face leather accord, with herbaly nuances. This lavender seems to be wearing a studded and chained, thick leather biker jacket and be part of a Hell's Angels gang. It is a very unconventional beginning for a lavender fragrance. It visibly shows that the perfumer was hyper conscious of the pedestrian and stereotypical character of your average lavender spritz and wanted to shake up your expectations...
The composition is signed by independent perfumer-composer Olivia Giacobetti who is well-known for her knack for subtle, ethereal textures, like vapor of rice and water in particular, although her artistic range of expression goes beyond that.
Eau de Lavande is a much "harder" fragrance than one might expect to smell when it comes to a perfume bearing her signature. Is this due to her new geographic location, New York City? It is in many ways a harder city than Paris. Perfumers like painters are bound to be influenced by the environment in which they create. Her best-known leather opus called Dzing! by L'Artisan Parfumeur (1999) is for instance much more sueded in feel, smooth and polished. Here, the composition is heavy on the leather to the point where it feels that the lavender was left out. It seems that in doing so the perfumer declared defeat on the front of renewing your perception of lavender by drowning it in inky hide, although the effort at originality can be felt from the start.
For a good while, the leather weaves its heavy-booted path in the composition - imagine, say, a Robert Piguet Bandit wafting of Provençal lavender and aromatic spices, minus the sophisticated chypre trappings. There is that same type of boldness but expressed with more abruptness. After some time, you can pick up again on a subtle subterranean lavender trail. But you will have to wait for the horde of barbarians to roam past. The trampled field of lavender plants and flowers seems to be reborn from its ashes but it's been scarred permanently by the imprint of a battle. It doesn't smell of charred remains, but of leather armors.
Past this raucous phase, Eau de Lavande softens down all the while keeping an aromatic and leathery edge. The house explained that Eau de Lavande is a dark and woodsy lavender meant to evoke the scent of dried up lavender under the sun, a stage at which it releases a different range of olfactory notes. To get that effect, they tied up three different sorts of lavender together: a rare and costly Provençal lavender absolute, a lavender essence from the Vaucluse region and a Lavandin from Valansole.
There are dirty and animalistic nuances to it but it seems that Giacobetti took the plunge of pushing those elements in the direction of a leather interpretation despite the fact that no leather note is mentioned. All the same, this is how it smells. The sillage of the fragrance is - as far as we can tell - delicious. It reverberates towards you with an overall sweeter note thanks to the cinnamon leaves. At this point, it does not smell of uncouth, noisy barbarians anymore but smells like a well-mannered and urbane, complex niche perfume trail.
Eau de Lavande had a few olfactory stereotypes to shed: cleanliness, airiness, freshness and most of all, blandness. It seems that Olivia Giacobetti decided to get wild with Eau de Lavande, making it come across not as "in majesty" as her colleague Fabrice Pellegrin did for that other modest bloom, geranium, but rather make it be a "terrible", overbearing lavender as in the expressionist take by Alexandr Nevsky on Ivan Groznyj, Ivan the Terrible. It might not convince everyone, but it does manage to keep your attention. We think that only time will tell whether you go back to Eau de Lavande or you get tired of it. It's got enough asperities to invite you to mull it over. You are then reminded that Giacobetti did create a perfume called L'Eau qui Pique (Prickly Water) by Iunx. She's certainly capable of provocation. This is one such case, perhaps at times a bit exaggerated due to the reputation of meekness of lavender. It's a bit like in a thumping-of-the-chest contest where there is more effect than real display of power.