Bulgari Aqua Divina: State-of-the-Art Aquatic (2015) {Perfume Review & Musings}
Fragrance Review of Bulgari Aqua Divina by Chantal-Hélène Wagner
There is something thrilling about wearing a new perfume - and by that we mean one which is newly out of the starting blocks. And it is doubly thrilling when you get a sense that the jus brings something new to a genre, the aquatic perfume...
Aqua Divina by Bulgari is the latest launch by the perfume branch of the jewelry house. It is said to be inspired by the myth of Aphrodite emerging from the sea, in particular the Botticelli depiction of the myth in which Venus is framed by Zephyr, Flora and Hora. Roses are blown in the direction of the goddess which have been replaced in the composition with magnolias. The fruits of summer visible on Hora's cape are epitomized within the perfume by a "sunlit quince" accord.
The blend could have been influenced by Aqua Fiorentina by Creed which is both aquatic and quince-y, but I can't verify the hunch as I can't locate the fragrance bottle. So, you do that for me.
The composition is signed by master perfumer Alberto Morillas of Firmenich who is an unescapable influence on the designer perfumery landscape today. Thanks to his palette and technical range, you are better able to experience lasting, radiant, luminous sillages. Thanks to him, we have powdery white musks and weightless formulae.
The new Aqua Divina struck me at first as a perfume with character, like you can say that a cheese has character. Trying it on instead of just smelling on paper confirms the impression that this is no pallid, lip-service perfume to the art of aquatic fragrances. The general impression is that the water of Aqua Divina is equal parts water and powdery flowers with further on a complex work on space-age cleanliness.
This is a water which has been sifted through a very modern sieve and it smells of one of the many shades of water, pushing the enveloppe in the direction of ozone-infused water, but also a bit of sexualized water, and finally of the water tones found in men's colognes like in YSL L'Homme, but more designed and with a more tapered line.
You could say that it allies two axises of Morillas' olfactory research, the one on powdery white musks and the one on transparency. If his Bulgari Man felt a bit feminine, his Aqua Divina feels a bit masculine.
Aqua Divina is not a predictable aquatic fragrance. It is both an aquatic and solar perfume, with a much more complex texture than is usual for this type of compositions. Yes, you will find a range of expected Calone-like notes but the aquatic accord feels new enough that you suspect a new molecule is at work here.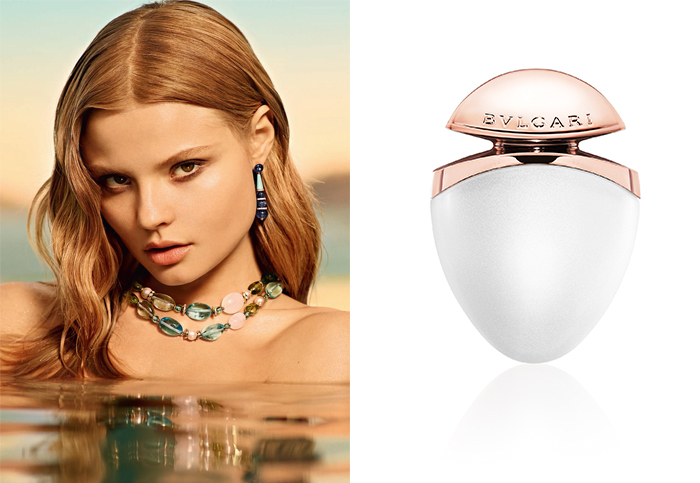 Each time that you smell transparency, you will also smell powderiness. Each time that you detect the coolness of water, you will also perceive the rays of the sun playing on the surface of the sea. There is a warmth to the perfume which is that of warm, dry skin. In other words, Aqua Divina is a full-bodied and sensual aquatic fragrance. It presents the features of being weightier and richer than usual as far as water-themed perfumes go. This is not a blend which wants to just refresh and tonify you or accompany your sports efforts. It is more about a conceptual interpretation of water in perfumery.
Unlike Kenzo L'Eau Originelle which comes out in the spring of 2015, also signed by Alberto Morillas, it is less about the pure scent of water as about the possibility that this water might be a medium to express desire.
Without going into too much detail about what sexualized waters might mean, let's say that it is more reminiscent of Sécrétions Magnifiques or Yves Saint Laurent L'Homme with their allusions to sex, than to the clear mountain stream that Kenzo L'Eau Originelle evokes. But here, there is the added suggestion that we might have the scent of a woman as well.
The aquatic component has been amped up, but so have also the fleshier notes. A discreet note of decay makes certain the jus does not veer pretty. Noblesse oblige, this is the fragrance of a jewelry maker so an impression of richness and preciousness is part of the mood of the fragrance.
If you want to smell a state-of-the-art aquatic perfume for women, this is one to try.
Fragrance notes: Salty Bergamot, Pink Ginger / Magnolia, Sunlit Quince / Beeswax, Nude Amber.