Perfume Review & Musings: Garçon Manqué by Des Filles à la Vanille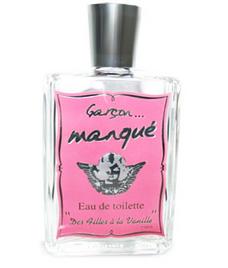 Garçon Manqué by Des Filles à la Vanille will no doubt make the lighter and tender you come out. It will perfectly espouse the mood of spring, renewal, and children's laughters in public gardens with a little detour to the baker's at four o'clock right on time for the goûter. You might be you on your own or with children awaiting the ritual of biting into the pain of chocolat and other scrumptious baked goodies.
In Garçon Manqué (Tomboy), there is this characteristic smell and whiff you get upon entering a neighborhood boulangerie and if you approach your nose close enough to a tarte aux fraises (strawberry pie) you get the even more distinctive smell of a crème pâtissière on which fresh and juicy strawberries rest.
My mother exclaimed upon getting a whiff of it, "it smells like a cake!" Yes, but not just any cake, it smells of the lovely crème pâtissière religiously decorating the shell of any self-respecting French strawberry pie. It also conjures up for me images of the kiosques à bonbons from the Jardin du Luxembourg, of the candies displayed there mingled with the freshness of the air and the scents of the trees in the park; the perfume manages to be both sweet and airy....
Garçon Manqué starts off with a fresh, citrusy, woodsy accord and evolves quickly into a deliciously light gourmand fragrance where peach and vanilla can be detected and much more. This is the point where it also becomes a buttery, creamy delight, and irresistibly evokes the sugar, vanilla, butter, and eggs composing the crème pâtissière, with touches of almond, rum, and candied roses. As it progresses, it becomes even softer and the almond, woodsy, and vanilla notes become more pronounced while the light notes of the start and the fruity/floral notes of the heart sustain themselves throughout, preventing the perfume from getting cloying, but on the contrary accentuating its aerial quality, its lightness of being. It has good staying power and although it became very attenuated, I could still smell it the next day.

It is a relaxing perfume, one that puts you in a good mood. It invites you to leave your worries aside, take a stroll in the streets at spring, make fun of yourself, and to become simpler, more innocent, and light, as when you were a child. However, it is not childish and candy-like, it just taps into our more innocent selves, our capacities to relate to childhood and children.

Des Filles à la Vanille lists the following notes: rose, white musk, jasmin, woods, peach, and vanilla.

It is available for $75 at Luckyscent with the added bonus of a free bottle of Je T'Aime with each purchase of GM. You can find it for 35 Euros in the boutiques of Des Filles à la Vanille in France.

The bottle can be used either as a splash or spray bottle.