Perfume Review & Musings: Musc Ravageur Eau de Parfum & Oil by Maurice Roucel at Frederic Malle, Editions de Parfums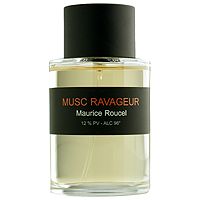 Musc Ravageur by Frédéric Malle Editions de Parfums, the edp and the oil, were created by perfumer Maurice Roucel in 2000 and 2003, respectively. Roucel is known for his creations of both luxury and niche scents such as Hermès 24 Faubourg, Guerlain L'Instant, Donna Karan Be Delicious, Serge Lutens Iris Silver Mist, and Lolita Lempicka L, among others.

Musc Ravageur comes preceded by its reputation as Malle's best-seller. The perfume's name in French points to an act of seduction verging on destruction. Maurice Roucel, we are told by Editions de Parfums, thought of it as an "act of seduction and generosity." The perfumer confesses a predilection for warm, sensual scents and Musc Ravageur epitomizes those very qualities...


Over the centuries, musk has been considered to be both animalic, due to its origin, and divine in its ability to conjure up love. Frederic Malle, the self-described "éditeur de parfums" of Musc Ravageur, wholeheartedly acknowledges and advertises the aphrodisiac properties of Musc Ravageur, the Oil, asserting with gusto, "It is a musk that destroys everything in its passage. " He further reveals that this capacity for devastation was attentively planned by Maurice Roucel from the depths of his laboratory, adding " It's freedom oil! You can put it all over. It's a technology for maximum sexy pleasure."(the oil + the scent).

Let us pause here for a moment. Did we just read the word "technology" instead of the more predictable one "art"? Does that mean that this is mostly about the social engineering of our most intimate feelings and emotions? Apparently, we have to face the possibility that the creation of perfumes could be aimed sometimes at the manipulation of our moods rather than at the rendering of an aesthetic emotion.This aspect is demonstrated for instance, in a related area, in the current predilection for the fabrication of scented environments in department stores to contribute to instinctive brand recognition.

The Eau de Parfum is sweeter than the oil and presents more olfactory contrast. The top notes are lavender, bergamot, and mandarine. The sweetness of the edp derives not only from the vanilla - it smells like Bourbon vanilla - but to the presence of a sweet variety of lavender similar to the one found in Homme by Caron. The initial clear high-pitched notes invite you to think of lightness and air. The tangy notes provide balance and contrast between ethereal and earthy feelings. The musky accord is strongly present from the very start and does not unfold principally in the drydown. There is a coca-cola accord due to the association of lemon and spices such as cinnamon and clove. This may turn off or readily attract some people. It can actually be a truly addictive scent. The edp is both gourmand and sexy. It smells very true to a tincture of musk grains, the uriney notes elegantly folding into spicy, woodsy, and ambery counterpoints, creating a delectable, sensual scent with great presence and character. The notes constituting the base are, according to Basenotes, gaiac wood, cedar, sandalwood, vanilla, tonka; Editions adds amber, while not mentioning most of the notes cited above.

The Oil lets the musk take center-stage in a more understated way. The remaining notes are much more attenuated than in the edp and there are fewer of them. The drydown in the oil is also more acrid, more evocative of sweat. Amateurs of Musc Koublaï Khan and of odor authenticity in general may appreciate this. The oil is also more linear and flat, apparently more austere too. It is more discrete than the edp, being more of a skin scent, but its discretion seems only to suggest further greater intimacy and seduction since as you get closer the sexual character of Musc Ravageur the Oil becomes more openly apparent less disguised than in the edp. The Huile à Tout Faire can be applied to your hair.

At times, I prefer the oil because it smells more authentic, purer and truer to real musk, while the edp by comparison appears to be a prettied up, embellished version of it. The perfume was composed without any floral notes. Ultimately I think I prefer the Eau de Parfum because its scent is richer, more complex, and its staying power seems to be better. But who said you needed to choose between the two? We can see them as being complementary. I think that despite the fact that both versions of MR are unisex scents men who think sweet notes are not masculine enough for their taste may feel more comfortable wearing the oil.

Sources: Le Sex Sells by Amy Larocca, Editions de Parfums.