Perfume Review & Musings: Un Bois Vanille by Serge Lutens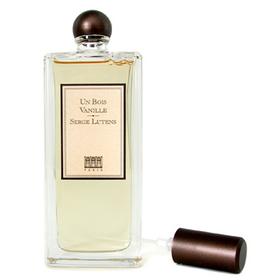 Un Bois Vanille, created in 2003, is one of the more interesting variations on vanilla that I know of and one of the few fragrances in the Serge Lutens line that seems to be willing to compromise with the idea of being, possibly, a perfume to be worn --- how prosaic, I know. The common man, the one that is looking for mere empathy in a juice is glad to have found a more self-effacing Lutens perfume.

I find a most illuminating quote by Lutens on an unofficial website dedicated to him, Autour de Serge, the gist of it being that, what truly matters to the Master is not the fragrance per say that you happen to be wearing, but the way you wear it (my emphasis). In his mind, style and representations of the perfume may supersede the very contents of the perfume; how unusually desincarnated a thought for a perfumer, one may think...

He is perhaps the least sensual of our contemporary perfumers in his approach of the art and yet, most of his fragrances could hardly be called marble cold ---- although, after all, this is debatable when I come to think of it. Lutens' capacity for abstraction is remarkable, perhaps no other perfumer or more correctly speaking, conceptualizer cum evaluator ("évaluateur") seem to equal him in this respect. He is after all, the founder of a new type of sensitivity in perfumery if I am not mistaken in my perception of his work. I say "evaluator" because we cannot clearly gauge his direct imprint on the perfume he creates, as he used to work in close collaboration with nose Christopher Sheldrake until only recently. Update: apparently the both of them are still collaborating.

Un Bois Vanille includes those elements of the rare and the unusual that Serge Lutens considers indispensable to the creation of beauty, that is, in this case, vanilla paired with dark licorice and woods, gaiac wood in particular. It is a scent that is amicable to your skin, willing to meld into that unknown territory and meet the less predictable. It is not always so with Lutens as most of his creations are much more controlled.

The first moments are dominated by caramelized benzoin and licorice notes, which appear very much pronounced at the onset despite the fact that they are officially counted as heart notes. The texture of the perfume at this point suggests thickness and slow unfolding; one is reminded of molasses slowly trickling down into thick, dark circles. This unseen movement brings appeasement and a sense of the slow passing of time that lingers on until the pungency of the burnt caramel and licorice progressively abates and softens into a softer phase where vanilla becomes more apparent. Ensues at some point a dusty phase which I fear is the most dangerous phase as it may turn into baby powder on some people.
The scent, I think, is sweet but not cloyingly so, as the nose is stimulated and distracted by more complex notes. One is reminded of a room with warm wooden pannels in a colonial style house by the seaside. Maybe it is the coconut milk note that makes me evoke the sea. Although coconut is listed as a top note, I seem to perceive it best in the drydown where it softens the vanilla further while relaying the licorice to cut down on the sweetness of the vanilla and bring out a very subtle aqueous note. We end up with a sense of the strange and of the unpredictable in the midst of the familiar.

Notes are: coconut milk, dark vanilla absolute, beeswax, caramelized benzoin, licorice, marzipan, gaiac wood, tonka, sandalwood.

Sources: www.osmoz.fr, www.autourdeserge.net
Photo is from www.parfumshik.ru