Perfume Review & Musings: Norell by Norell

Norell was created in 1967 by nose Josephine Catapano for couturier Norman Norell. It is one of the early American design fragrances. By 1970, it was advertised as "The first great perfume born in America" so as to mark the beginning of a new decade on a positive note, oblivious to a forerunner such as Youth-Dew by Estée Lauder which is especially ironic since Catapano was also a co-author of Youth-Dew in an era when perfumers were working like ghost writers, behind the scenes. She is also the nose behind Guy Laroche Fidji (1966).
Perfumer Catapano said that Norell was her favorite fragrance of the ones she had created. She reportedly commented, alluding to the neglect of Norell by the public in the 80's and 90's,
"It's a silly world. It's the best fragrance, and nobody buys it anymore"...
I concur, it is silly to neglect Norell because it is truly a wonderful fragrance. What is equally wonderful is that you can still find it relatively easily, salvaged from the 1960's and moreover at dirt cheap prices since it went downmarket - a blessing and a curse at the same time all rolled into one opportunity. By contrast for instance, people have to engage in bidding wars over rare vintage bottles of Yardley Oh! de London from the same time period.
Norell is a sophisticated, multifaceted perfume. Depending on the angle at which you place yourself, it smells sweeter, drier, lighter, or darker. The sillage or trail of the scent is somewhat distinct from the scent near your skin, and both smell, once again, wonderful.
Its affordability has not contributed to the popularity of the fragrance - quite to the contrary. Once Norell left the confines of prestige department stores, its image suffered from a less-than-glamorous association with drugstores' shelves and K-Mart. Nevertheless, it has remained in favor with a select group of people and never completely lost its old-money reputation amongst some, including the snobbiest of the snobs, (the ones that consider that shopping at K-mart for a hidden gem like Norell is one rarefied experience.)
Norell sold their rights to the fragrance to Revlon in 1971, and Five Star Fragrance took over in the late 90's. They attempted to re-launch the fragrance with an advertising campaign featuring Faye Dunaway in 1997, but the fragrance never really took off. The edt version dates back to that year as only the cologne concentration was available before then (there is also a pure parfum).
To me, the qualities of Norell are immediately apparent; it has cachet, presence, allure, character, and charm. The very start of the fragrance is somewhat bracing with galbanum offering some dry, slightly verdant sensations to the nose together with lemon, mandarin, and lavender notes. It mellows down very quickly to a warm, round and sensual floral heart composed of jasmine, hyacinth, iris, mimosa, and ylang-ylang.
It reminds me personally irresistibly of the way the ylang-ylang is showcased in Heliotrope by Crown Perfumery. Its aura, its personality are in fact very similar to that of Heliotrope but with a more pronounced aldehydic character. Mercifully, the aldehydes are tame enough, never conspicuous.
In Norell, the notes that dominate to my nose are ylang-ylang, carnation and clove. A dry, spicy counterpoint balances out the sweetness of the perfume.The base has cinnamon, coriander, cardamom, vanilla, Calla-Lily, musky vetiver, oakmoss, and myrrh.
The jus is classified as a green floral and is subtly reminiscent of the green overtones in Fidji by the same author, while being at the same time a much warmer and sensual fragrance.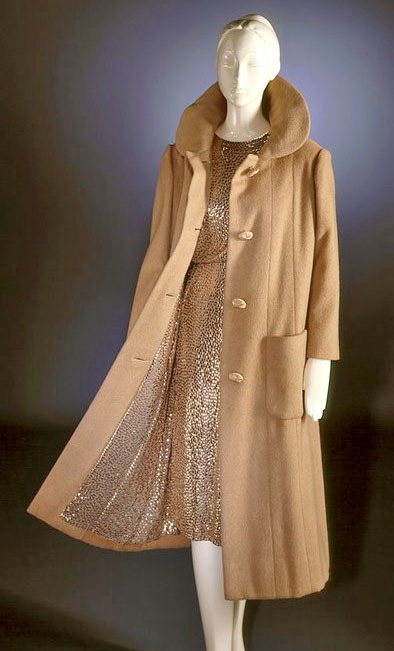 Like the Subway Wool Coat by Norell which looks classic and downtown on the outside but is uptown on the inside with its champagne-colored, sequined mermaid lining and dress, it exudes a sense of carefully hidden luxury.
This luxuriating eau de cologne reflects the spirit of a couturier and his perfumer who knew how to ally French high-style with American practical mindedness. And it smells so superlatively good it's a shame, as Josephine Catapano put it, to overlook it especially when it's available for a song thanks to the dust of times.
You can find all three concentrations on eBay.
A bottle of pure parfum is on its way and I will update my review when I receive it.
Sources: "Mink Dew" by Mary Tannen, Cosmetic News