One of the Greats, Perfumer Josephine Catapano Passed Away (December 29, 1918 - May 14, 2012)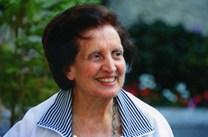 Perfumer Josephine "Jo" Catapano, one of the pioneer women perfumers working within the fragrance industry, passed away on May 14, 2012 in Scarsdale, N.Y. aged 93. She is the author of Norell by Norell, Youth-Dew, Cinnabar and JHL by Estée Lauder but also Fidji by Guy Laroche and Zen by Shiseido (the black bottle), among others.
While her international perfume creations are famous and her name is well-known among specialists, as a person, she was not widely publicized by the media as it's become more and more customary to do so today. The perfumer belonged to an era of perfumery creation where authorship was less sharply defined - for most professional noses. The profession was also more clearly invested by men...
Sophia Grojsman (Lancôme Trésor, YSL Paris, YSL Yvresse...) credits her for having been a supportive mentor when the field was not wide open to women.
Two of Catapano's creations, Norell and Youth-Dew, are sometimes reported to have been co-created with perfumer Ernest Shiftan. Cinnabar was co-created with perfumer Bernard Chant.
Norell is said to have been her favorite creation worn by the likes of Katherine Hepburn and Joan Crawford; it is a cult favorite among people in the know.
In her obituary, her friends and family write,
"She is mourned by many, including her sister, Carmella; her sister-in-law, Rosemarie; her nephews and nieces, Robert, William, Thomas, Lisa, Russell, Laura, and Gina; and the many great and great great nephews and nieces in her family, along with the millions that will be adorned by her creations for generations to come. Jo, you enriched our lives in countless ways, and will continue to do so with your sweet scents that charm and enchant so many. Your perfumes serve as a lasting legacy for the tremendous spirit that created them."
A funeral service was held today May 16 2012 at Immaculate Heart of Mary Church in Scarsdale, N.Y.
You can sign a guest book here