The 2017 Japanese Pet Fair Experiments with Cat-Paw & Dog-Paw Flavored Ice Creams {Fragrance News} {Food News}
Not Since the Egyptians
The existence of Cat cafés and of a train-station cat mascot already showed the lifetstyle importance of this most favorite of pets in Japan. Now, the 2017 Japanese Pet Fair in Osaka is experimenting with making cat-paw and dog-paw ice-cream flavors available to their human visitors...
Cat and dog owners often comment on their beasties' paw scents - and not just in Japan. But apparently, the fervor is more widely spread there where it is not just commented upon but lived as a habit, a relaxing one - and one which elicits poetic description of the smell, now a taste. Cat worship has probably never been so active since the Egyptians.
Descriptors include sunflowers; caramel crêpes; wheat. We checked with our cat pet pronto and its paws do have a nice scent, something in the range of beignets, sesame paste - and sunflowers, absolutely. Cheetos is a recurring and spontaneous descriptor for dog-paw scent in the U.S.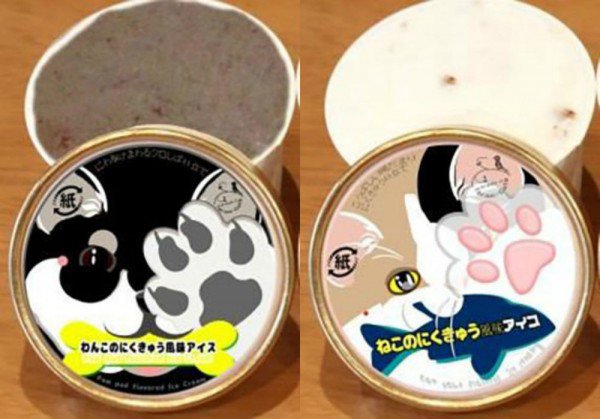 The ice-creams also try to replicate the texture and visuals of the pets' paws with suggestive food ingredients. In the cat-themed ice-cream, marshmallow morsels mimic paw cushions, and nuts, the claws. A light fish smell has been added. In the dog-themed ice-cream, the dominant scent is black sesame with caramelized popcorn to suggest dog claws.
Hard-core fans will be able to add more animalic flavor, i.e., dog and cat powder to the mix, for a more intense and authentic sensation.
This should not be too far fetched a taste in Japan where this culture blogger remembers having feasted on pre-packaged sweet-savory red octopus snacks for kids, right after school.
Grapee mentions a Japanese brand previously released a hand-cream which makes your hands smells like cat paws, Punipuni Nikukyu hand cream.