Movie Review of La La Land by Damien Chazelle {Movie Reviews & Musings} {Paris Photo} {Cultural Notes}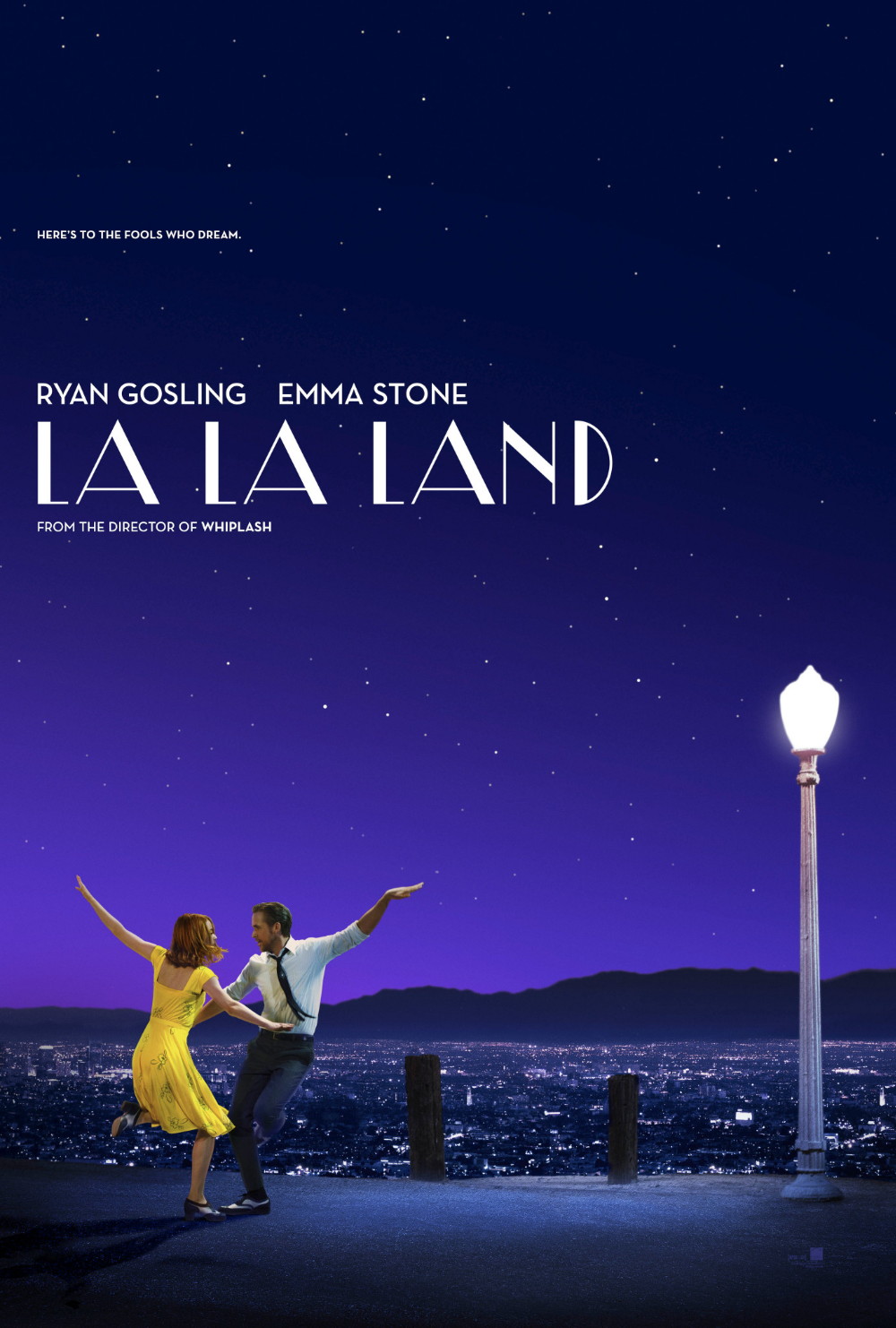 Film Review of La La Land
La La Land by Damien Chazelle (2016) released in 2017 in France, opens on a close-up of a dancer, who purposefull and consciously in non-post-racial America was chosen for her brown skin and exotic looks, just before the film plunges you into a sweeping and multicolored musical number in a Los Angeles congested with traffic come to a standstill of monstrous proportions, as it ought to be. From the get-go, you're invited to take in a mix of idealism, stereotypical references, joie de vivre and flattening sunshine - grace will come later...
In this opening scene, you can see at one level the exact opposite of the film which tackled race in America and in Los Angeles in particular in the noughties, Crash by Paul Haggis (2004), also by Lionsgate incidentally. But racial tensions have now evaporated on the freeway, if not selfishness. You are looking at an ideal post-racial America, according to the movie.
The inaugural freeway scene was a high key note that the director wanted and that in fact prevented him from making the movie for several years. To occupy himself, he did Whiplash (2014) instead. It was just too complicated to shoot the scene on a highway with more than 200 extras. But Lionsgate must have seen a familiar, archetypal L.A. emerge from the project, and got behind it.
Perhaps, when Ryan Gosling's Sebastian character says at one point in the film that jazz is dying is he saying something subtle about the state of our human relationships and hence our attitudes towards otherness. It's actually a leitmotiv borrowed from Whiplash. But there is no sign of the noise and the fury that, in fact, is taking place in reality - and even more so today around Trump's plans for America.
Both Crash and La La Land are hyper-conscious about their visual, diversity choices and, thus, both are direct descendants to the history of the city and the 1992 Los Angeles Riots in particular. Chazelle has made a conscious effort to diversify his casting, except for the main couple - but let's not be overly politically correct here. What matters most in a silver-screen love duo is chemistry, and Ryan Gosling and Emma Stone make it happen on-screen, as they have shown repeatedly. Also, Stone as a redhead with blue eyes represents the rarest genetic combination you could encounter among a rare group already.
The first few scenes in the movie are so popping with color and so vitaminic you want to say, that you think you're headed for a wrapped-candy type of movie. You're reminded of the musical Grease, of a more blended-in West Side Story, but also of the more pastel-dominant Les demoiselles de Rochefort and Les Parapluies de Cherbourg by Jacques Demy, albeit expressed in more primary colors: yellow, blue, red pop on the silver screen, nimbed in a Californian purple haze, or aquarium-like glaucous green which hints at the ambivalence of the characters.
You don't know exactly where you're led to but you suspect it might be a place called rom-com indigestion, girly-girly film, and umptieth movie about a Los Angeles-upon-Hollywood filled with oversized dreams, upheavals, and either redemption or damnation at the end. It probably won't be as disturbing as with the Dantean Mulholland Drive by David Lynch (2001), but you are sensing you will have to go through a few circles of inferno with aspiring actress Mia played by Emma Stone, who actually has all the autobiographical creds to instill veracity in her role.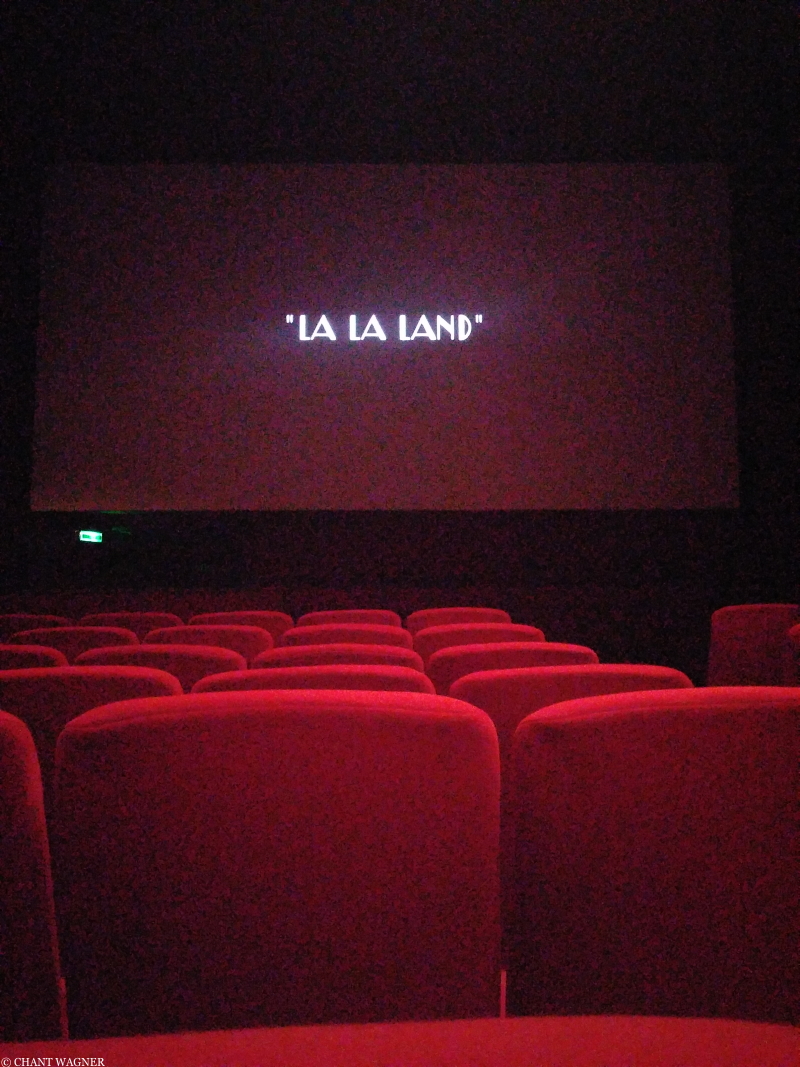 Something takes place however at one point. You almost want to check the time on a watch because it happens suddenly. It's almost intangible, but you now have to realize that a permanent smile is etched on your face in the dark of a movie theater, in Paris. Later you will feel other feelings - and they are all strong.
La La Land is a jewel of a movie from that point on where something magical happens. Everything that seemed stereotypical becomes style instead - even art; It's as if all surface ugliness, flaws and awkwardness only help to underline the essential beauty of the movie and the characters' passion, which the French poet Musset seems to have captured back in the 19th century when he said in substance that we human beings are monsters in many ways but that love is our sole redemption.
In a central scene of the movie where Sebastian and Mia quarrel in a sequence which is so effective, it is stomach-churning - but also very stylized because in real life, it would take a few more intermediate stages of anger to reach that point - you witness the ugly facets of the characters particularly vividly. At other times, this ugliness appears when ambition, or frustrated ambition, surfaces.
Both Gosling and Stone are great at being both charming, and ugly at times. It makes them more relatable - as in reality-TV relatable. The genre impacts how acting can be done these days. You can go a bit low. They won't pick their noses, but they're not always ideal in their facial expressions, which betray some of their coarse instincts, their misplaced ego. Their musical numbers are for the most part never a display of virtuosity à la Ginger Rogers and Fred Astaire either, but each builds towards tattooing the film into you. And each, in its own way, is an anthology piece. La La Land offers this rare quality of staying with you, long after the movie has ended. It has a haunting quality.
The movie is most explicitly about the tension between individualism and love, success and failure - the latter it is for the spectator to define in the end. What would have been your choices? Apart from the fact that you are rooting for Mia and Sebastian all the way, in this tension, we live anew the chasm that was so iconically portrayed in American culture with It's a Wonderful Life (1946) by Frank Capra opposing small-town America with its more cosmopolitan cities endowed with a grand, national mission. It's almost as if since all that time, it remains a burning conundrum to be able to live both a great ambition and a great love in the country of oversize me this. And I think that this is true. The problem is magnified by the vastitude of the United States as a land. How can you remain close across thousands of miles? You and I can cite multiple examples taken from real life of this, sometimes, tragic divide. You have to make a choice. You have to decide what is most important for you. Or perhaps you will simply let things-that-could-be slip by. You will be perhaps too busy to notice that life - and geographical distance - chose for you.
At a deeper level, La La Land is about life regrets, about choices not made - or not fully made. It is about unfinished dreams. Unlike in the love story of Romeo and Juliet where social forces conspire to thwart lovers, in La La Land, these external forces are replaced by, mostly, internal ones. No family or friends are here to tell you not to make your life with a man or a woman. In fact, someone, Sebastian, is here to tell you to pursue your vocational dreams. No social taboo is broken. Well, perhaps it is forbidden to fail in America, never more so than with Trump who seems trapped with a rigid ideological constraint, even just in his discourse. It is your own doing. You can be the organizer of your own descent into Dante's hell. Only that hell, is not really a hell. It is more of a purgatory, according to Chazelle. And hence, the dominant tone of the film in the end is not tragedy, but rather a bitter-sweet chord that can be as searing as a knife thrusted into an open wound.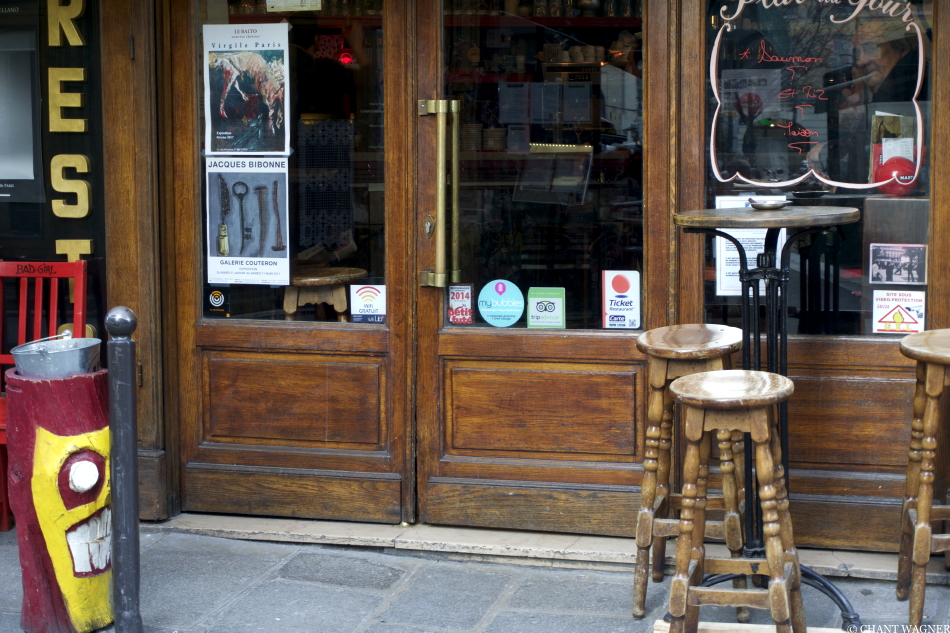 Paris, City of Dreams. Homage to La La Land and its wooden stool sat on by Hoagy Carmichael in particular. © CHANT WAGNER
A sub-theme in the movie is the juxtaposition of Los Angeles with Paris, both cities of dreams, cities that have the gift of making people dream and dream about their landscape as the ideal backdrop to a most perfect life. An American in Paris appears as a reference. So does Midnight in Paris. This is due in part to the French paternal side of Damien Chazelle, as we learned, and his love of the French musical comedy à la Demy on which he wrote a thesis at Harvard. It touched me as a spectator when sensing the connection and seeing mythical places of Paris appear including Le Caveau de la Huchette, which is just around the corner. It makes you touch with your fingers the capacity that certain places have of being factories of dreams.
Le Caveau de la Huchette © CHANT WAGNER 2017
The music by Justin Hurwitz of course helps to experience the deep sense of longing and passion on which the movie rests. He cited the number of 1900 demos to get to the results they wanted, including refining approved main themes. Passion for jazz - and Art more generally; John Legend appears as a reminder that commercial success is positive and necessary, but shouldn't make you forget your precise personal dreams. There is longing for purity and innocence; longing for love. You didn't know how musical the film was really going to be prior to watching it. The trailer is good at not giving the film away. Music and lyrics by Benj Pasek and Justin Paul are affective, playing a major role in how the film is perceived and interpreted by the spectator. In one of the most beautiful scenes of the movie, the music accompanies the silent movie of an alternate reality, replacing words. It is so poignant, you don't want to re-watch the scene alone. You know you will need to re-watch the whole movie. It's a certainty.